Even After 6 Years Of Violence, Syrian Children Won't Be Forgotten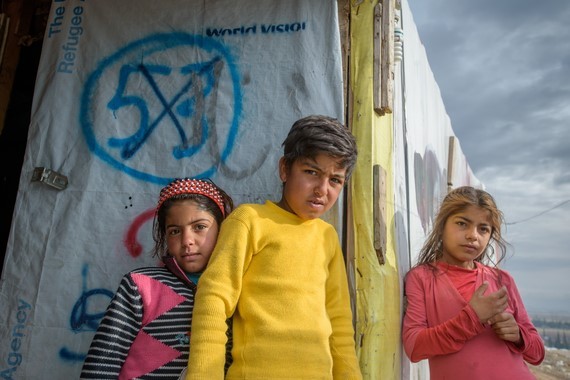 Refugee children wait out the years at a makeshift refugee camp in Lebanon. (All photos: World Vision)
With files from Josephine Haddad
For many of us, Syrian children have become representatives of displacement, hunger and hardship. I know they have for me. I had forgotten that, before the war, Syrian kids had very similar lives to Canadian children.
Until I stumbled onto some pictures that reminded me of Syria's not-so-distant past.
I was searching through the World Vision photo archives when I discovered these photos from Aleppo, Syria, in the year 2000. In the fuzzy images, children are studying at their desks, singing in the choir, and interacting with their teachers and religious leaders.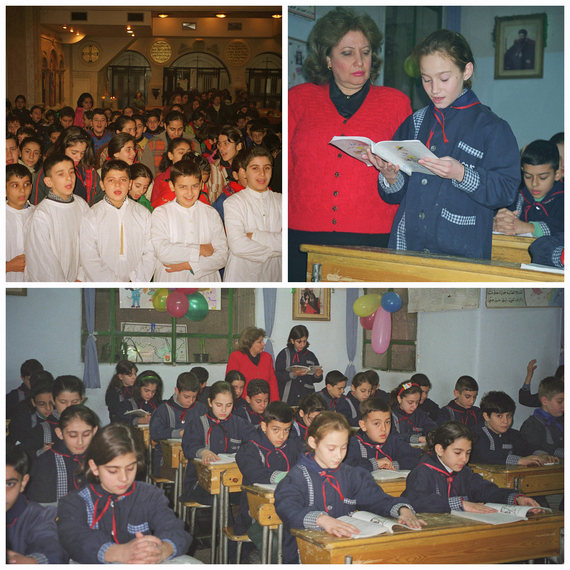 Syrian children in the year 2000: their lives look much like mine did as a child.
I was that same age
Weeks after discovering these pictures, I am still haunted by them. In the year 2000, I was a 13-year-old child doing those same kinds of things. I loved reading and singing and hanging out with my friends.
The young people in the photos have grown up just like me -- but where are they now? Have they fled their homes as bombs drop daily? What has become of their classrooms? Do they have younger brothers and sisters like I do? And do they have children who have grown up knowing only war?
Over the last few years, I have finished university, started my career, and gotten married, while the lives of millions of children have been torn apart by the civil war in Syria.
"I had a daily thought, every morning, that this day would be our last day alive."
-- Ahmad, 13
Six years into the past
It started like any other day. March 15, 2011, was a Tuesday in Syria. Children across the country went to school, practiced soccer and sang in choirs. Some took their very first wobbly baby steps. It's likely that most had no idea what nightmare lay ahead.
Six years later, and the war in Syria is still creating chaos in the lives of Syrians. Here in Canada, we've observed its heartbreaking development on our screens and in our newspapers. We've read that millions of children who used to have homes and schools now have the status of "refugee."
All along the way, pictures of the war and its fallout have moved us to tears, rage and, often, helplessness. We look into the hollow eyes of children who have seen nothing but war and wonder where things could have gone so wrong.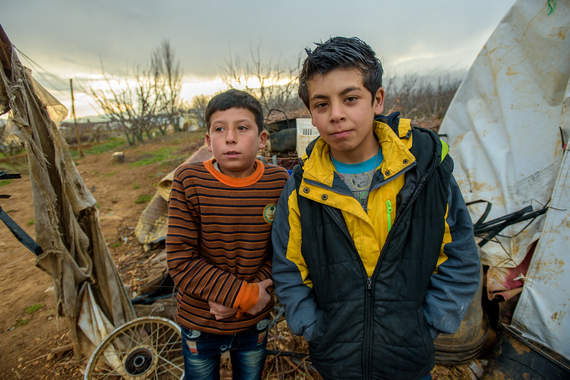 Syrian children at a camp in Lebanon shiver through the winter, trying to stay warm.
Thirteen-year-old Ahmad is one of those children, a Syrian refugee now living in neighbouring Lebanon.
"I had a daily thought, every morning, that this day would be our last day alive," he recalled.
Ahmad's fears are a stark contrast to my own childhood. When I was 13, my biggest fear was that I wouldn't fit in at my new school. Ahmad can't go to school at all. "Fitting in" at a refugee camp involves doing whatever you can to help your family stay alive.
Dreams are still possible
But Ahmad's story has had a hopeful turn. Thanks to the support of Canada and Canadians, much has been done to help Syrian children like him, and it gives me hope.
Even after his family fled Syria in 2013, Ahmad could not stop being afraid of death. Then his mother learned of something called a Child Friendly Space, offered by World Vision.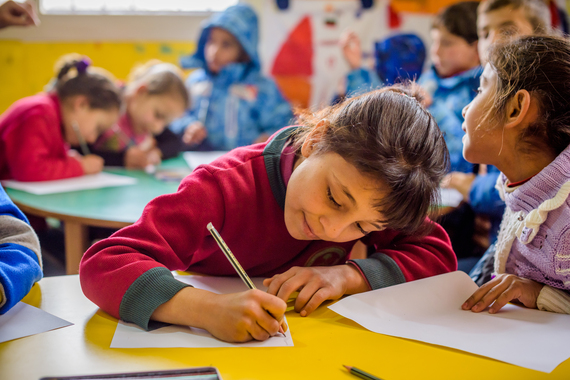 Inside the space were bright decorations, friendly World Vision staff to listen and provide counselling if needed. There were also all kinds of activities to try -- the very kinds of activities that Ahmad might have participated in at school, had the war not happened.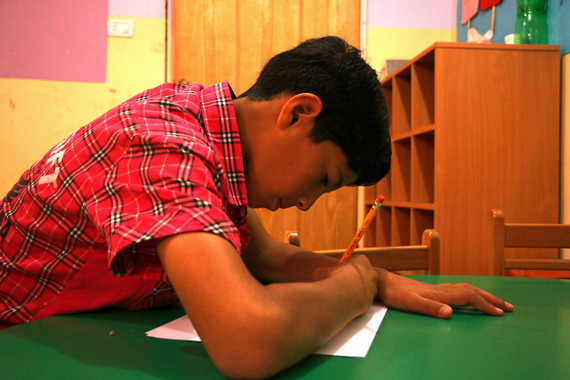 Ahmad's drawing is a welcome break from the reality of life as a refugee.
"I never had a hobby before," said Ahmad. Now, Ahmad still practices the drawing he learned at the Child Friendly Space every day, and he says it takes his mind off his family's precarious situation.
Every time he picks up paper and pencils, Ahmad gets the chance to dream. To dream of a life beyond the camp where he lives -- perhaps even a future filled with art.
'Fears and Dreams' report
Every single Syrian child has fears we can't even imagine. But, like Ahmad, they also have dreams for the future.
In their honour, World Vision has just released a report exploring the "Fears and Dreams" of Syrian children. It contains stories just like Ahmad's. I invite you to read them so that these children's voices are heard.
We must to ensure that an entire generation of children with dreams for the future doesn't get lost in the rubble.
The kindness of donors like those in Canada has given Ahmad a cherished pastime, as well as a chance to heal. Canadians continue to help provide life-saving essentials like food, water, shelter and protection, when none of these things are otherwise available.
Keeping dreams alive
After six years of violence, Syrian children need us to believe in them more than ever. We must to ensure that an entire generation of children with dreams for the future doesn't get lost in the rubble. I have been allowed to grow up in peace into a future that allows me to work for my dreams. Syrian children deserve the same.
If you feel moved to partner with these children and their families in creating a different future for Syrian children, please consider donating today, through World Vision's Syria Response.
As the Syrian conflict enters its seventh year, World Vision is continuing to advocate:
... For donors to commit to longer-term funding for the Syrian crisis
... For wealthy countries to take their fair share of refugees
... For decision-makers to use all their diplomatic tools at their disposal to stop the atrocities in Syria.

Follow HuffPost Canada Blogs on Facebook
Also on HuffPost:
Great Things Canadians Have Done So Far For Syrian Refugees
Joe Woodsworth, a senior manager with Surrey, B.C.-based Options Community Services picks up dozens of backpacks, each filled with school supplies for Syrian children. Operation Backpack is the idea of former 24Hours columnist Laila Yuile.

Malak arrived with her family in July after living in a Jordanian refugee camp for two years. Her teeth were so decayed the 5-year-old girl was kept up at night because of the pain until a local dentist stepped forward to help the family for free.

"Hopefully, together, we can prove that Canada in general and the Maritimes in particular are as generous and welcoming as the rest of the world thinks we are," P.E.I. artist Amy Seymour told HuffPost Canada.

In November, the Edmonton Oilers captain gave $10,000 to Edmonton's Mennonite Centre for Newcomers to support their work in helping to resettle incoming Syrian refugees. The donation helped the group meet its two-month goal in a single day.

The Guelph businessman made headlines last month after stepping forward to say he intended to spend $1.5 million to privately sponsor 50 Syrian refugee families to come to Canada. Estill explained he was tired of seeing refugee applications get snarled in long, bureaucratic processes. "I'm a businessperson, I'm very impatient, and we should just do it now," he said.

"It's really good to know that we're so compassionate and that we want to help," said Darrell McLeod of St. Clare's refugee family sponsorship group. "Everybody's very excited about it. Everyone's been really excited to make things happen."

Westbank Developments founder Ian Gillespie is behind many of downtown Vancouver's glitziest skyscrapers.A descendant of Irish immigrants, he made a pledge in November to furnish a 12-unit West End apartment complex and open it to incoming refugees. He also said he's exploring ways to help Syrians get jobs after they arrive in the city.

A small group of from the Keewatin Otchitchak traditional women's drum group gathered by baggage carousels to greet 17 Syrians to Treaty 1 with a song of welcome.

"I need to point out that the people who are desperate refugees are fleeing from the exact same people who perpetrated the kind of violence we saw in Paris and Beirut last week," the Calgary mayor told reporters a week after deadly attacks in France and Lebanon. "They're running away from the bad guys and, as such, we need to be able to open our arms to make sure that we can provide safety to these folks."

Christine Youssef (pictured) greets newly arrived Syrian relatives on a bus near Pearson International Airport in Mississauga on Dec. 11. Youssef and her mother are sponsoring 43 of their Syrian relatives to come to Canada. Thirteen have arrived and are staying at the family's small Scarborough, Ont. bungalow. Soon, nine of the relatives will move out, making room for more relatives to come in.

When CBC News reporter Eman Bare interviewed Mohamed Al-Noury, 21, and Athar Farroukh, 23, she realized the Syrian refugee couple had no wedding pictures. So Bare put a callout on soical media to surprise the high sweethearts with a wedding. Her request spread and within 24 hours people came forward donating a venue, suit, dress, and cake. "Grateful for a community that makes beautiful things happen," wrote Bare on Instagram below a photo taken at the couple's Saskatoon ceremony.
Follow Megan Radford on Twitter: www.twitter.com/MegRadford