Homelessness in a Land of Plenty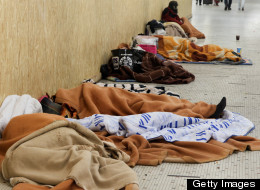 A national conversation on housing is underway. This is, in part, thanks to the federal Bill C-400 calling for a national housing strategy, which was debated at second reading in the House of Commons last week. Canada currently has no such strategy and no coherent plan to address homelessness, leaving thousands of people housing insecure or homeless. Homelessness in a wealthy nation like Canada is not only unreasonable, but hard to fathom considering that cost-effective solutions are within reach.
A home is not a partisan issue. It is a basic human need, and a fundamental right. International treaties that Canada has ratified, such as those protecting the rights of persons with disabilities and children, state that all people have a right to adequate housing -- regardless of age, ethnicity, or political affiliation. Housing goes far beyond politics, it is a human right.
Some suggest that current federal and provincial housing programs are sufficient, but that response does not address the persistence of homelessness and housing insecurity facing almost 400,000 people in Canada. Canada has an incessant housing problem that will only be addressed through targeted pro-active measures across the country.
BLOG CONTINUES AFTER SLIDESHOW
In British Columbia, a total of 96,150 people used a food bank in March 2012.

In Alberta, a total of 53,512 people used a food bank in March 2012.

In Saskatchewan, a total of 24,621 people used a food bank in March 2012.

In Manitoba, a total of 63,482 people used a food bank in March 2012.

In Ontario, a total of 412,998 people used a food bank in March 2012.

In Quebec, a total of 155,574 people used a food bank in March 2012.

In New Brunswick, a total of 19,524 people used a food bank in March 2012.

In Nova Scotia, a total of 23,561 people used a food bank in March 2012.

In Prince Edward Island, a total of 3,406 people used a food bank in March 2012.

In Newfoundland And Labrador, a total of 27,044 people used a food bank in March 2012.

In the Territories of Canada, a total of 2,318 people used a food bank in March 2012.
The government's own calculations estimate that $1 spent on housing equals $1.40 benefit to the economy. Recent costs of homelessness are pegged at $4.5 billion annually -- a figure that includes the direct costs of emergency services (such as shelters), and indirect costs such as the related strain on the health care and criminal justice systems. It is estimated that it costs approximately $100,000 in services and programs for every homeless person. It would cost considerably less to house these same individuals and provide them with the services they need.
All levels of government are spending to cope with a situation that would be cheaper to address head-on.
Strategies with targets and timelines have proved successful. Consider the At Home/Chez Soi project which saw $110 million investment from the federal government. The project took a "housing first" approach, which recognizes that homeless individuals need housing before their other social needs can be addressed. Adequate housing offers consistency that lays the foundation for a more stable life. Focusing specifically on persons with psycho-social disabilities who are homeless, participants in the program were housed 73 per cent of the time, versus 30 per cent for individuals not given shelter. This lead to substantial cost savings, "for every dollar that is spent on Housing First for these participants, $1.54 is saved through the reduction in other shelter, health and justice services."
Alberta is another success story. In 2009 a provincial plan to end homelessness established a road map for how homelessness will be substantially improved and addressed by 2018. The Alberta plan brings together a number of stakeholders, recognizing that addressing homelessness is a community effort. So far, the project has housed over 5,900 people, stabilized families, and led to dramatic savings in both the health care and justice costs.
Having a coordinated plan works, but it requires all stakeholders and levels of government. The federal government agrees. In May, 2012, federal MP Réjean Genest put forward a motion on housing and homelessness that received unanimous support from the House of Commons. The motion stated that the federal government should, "(a) keep with Canada's obligation to respect, protect and fulfil the right to housing under the UN International Covenant on Economic, Social and Cultural Rights; (b) support efforts by Canadian municipalities to combat homelessness; and (c) adopt measures to expand the stock of affordable rental housing, with a view to providing economic benefits to local housing construction businesses."
Homelessness and inadequate housing is a solvable problem for a rich democracy like Canada. Putting in motion a framework for a national plan would allow Canada to uphold its human rights obligations and is a sound first step. Federal leadership is the only way to have a coordinated strategy across the country that ensures all the necessary stakeholders are at the table.
Follow Megan Hooft on Twitter: www.twitter.com/@CWP_CSP