The Quick And Easy Way To Prepare Vegetables Ahead Of Time
Vegetable prep is a key step in living and eating your healthiest way possible. It takes a little time up front, but makes meal times much quicker with way less clean-up. It also results in far less food waste and we love that, a lot!
Don't believe me? Consider this: It's a busy weeknight. You have an importance choice to make -- cook or pick up take-out (again). Which of the following scenarios would make you more likely opt for the homemade meal?
Your fridge has a dirt-covered whole cabbage shoved to the back, a wilty bunch of kale languishing in the crisper and a soggy head of broccoli hanging out beside a seen-better-days roast chicken.
Your fridge is filled with beautiful washed, chopped and properly stored vegetables, just waiting to be steamed up and served with a homemade veggie burger.
No brainer, right?
The first step to optimizing time on the kitchen clock is to actually know what you need to be doing in there. Staring into a fridge and shuffling through cupboards does not make a meal. To save time over the long run, I will introduce you to a skill our mothers learned in their high school Home Economics classes: menu and meal planning, but without the canned creamed corn and meatloaf.
This is a skill and, as with all skills, practice makes perfect -- or at least makes more efficient and accurate. At the very least you won't suck at it. Perfection is overrated, anyway. Use these tips to help develop a system that works for you.
Meal Prep made Easy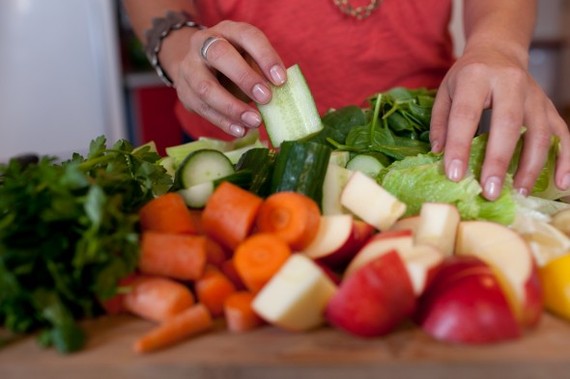 1. Set up your veggie prep station
As soon as you get home from the grocery store (or your CSA bin arrives), organize your station so it's ready for some veggie prepping action. If you get bored while chopping, set up your cutting board, knife, storage containers and green bin for waste in front of the TV or near a radio.
2. Review your handy-dandy meal plan
By looking at the recipes you're planning to make that week, you'll be able to know how your various veggies should be prepped. Maybe you want some carrots and celery in bite-size form for easy snacking, some broccoli chopped fine for soup, and some butternut squash cubed.
If you'll be enjoying them as bite-sized snacks, cut them to grab-and-go sizes and pre-pack in airtight containers, with some water inside to keep them crisp.
When chopping, slicing and dicing for recipes, cut to the size indicated in the recipe and store. Before you ask, yes there is some nutrition lost when you pre-cut your vegetables. But there is even more lost when you throw them out at the end of the week because they were too much trouble to eat.
3. Take shortcuts
Ever find yourself doing the same cooking tasks day after day? Here are some time-saving ideas:
Get Juiced: Tons of recipes call for lemon juice. Juice all your lemons at the beginning of the week and store in a mason jar for easy use later.
Chop, Chop: Throw on some goggles and chop a bunch of onions at once, storing each onion in a small airtight glass jar. No more tears!
Peel + Prep: Peel and grate your garlic and ginger for the week in advance, storing them in airtight jars.
4. Freeze your extras
One major benefit of prepping your meals in advance is that you get to reduce waste.
If a recipe calls for only a cup of broccoli and you have a whole head, wash it, chop it up, and freeze the extras on a cookie sheet.
Once frozen, transfer to an airtight bag or container and keep in the freezer for later use!
You can also save your scraps (like stalks and ends) for soup stock -- just wash them and pop them in the freezer until you're ready to get out the stock pot.
5. Relax and Reap The Benefits
Now that your prep is done, you can take a deep breath and revel in the fact that cooking is going to be super easy this week!
You will save loads of time in both prepping and washing up.
You will save yourself from throwing out produce that was wasted during the week.
You will be more inclined to snack on healthy prepped veggies.
You will save loads of moolah by not resorting to expensive ready-made meals or take out.
You will never have to look in your fridge and wonder what to make for dinner. That work has already been taken care of.
Photos: Catherine Farquharson
MORE ON HUFFPOST:
Spring Vegetables We're So Excited For
Artichokes are a one-of-a-kind vegetable. They taste unlike anything else, but their unique flavor is mild enough that they can be really enhanced by certain preparations. Dipped in drawn butter, fried, grilled or mixed into a cheesy dip, artichokes are incredibly versatile, which makes it easy to eat them every day. If you're intimidated at the thought of cooking an artichoke, don't be. See here for our handy guide for dealing with this unapproachable vegetable, and next, check out these awesome artichoke recipes.

This delicate, slightly bitter leafy green makes excellent salads, refreshing crostini toppings and sharp sandwich fillers. It's not overly bitter like some other greens (we're looking at you, dandelion), but it's spicy enough to be interesting. See here for some arugula recipes that will make you forget all about winter.

This pink and green stalky vegetable is an awesome sign of spring that we wait for every year. Whether it's in pie or a crumble, jam or a cocktail, rhubarb brings color and a distinct flavor that screams "spring!" See here for some rhubarb recipes that you have to try this season.

Move aside, kale. Spinach is in season in spring and we couldn't be more ready for our iron-rich, leafy green. From refreshing salads to comforting spinach-artichoke dip, this tried-and-true green will do you well this spring. Put that frozen spinach away and use the fresh stuff. You'll be glad you did. And if you're still clinging onto the comfort food of winter, check out the only creamed spinach recipe you'll ever need.

Ramps are super cool. Also called wild leeks, they have a very pungent aroma. They've been in the limelight for the last few years for good reason -- they're super cool because they're not grown commercially, and are instead found in forests, which make them hard to come by. Now you see why all the hipsters love 'em. We love them too. See here for some ramp recipes that will make you feel extra bougie.

Also called garlic shoots, stems or spears, garlic scapes confuse people. You'll want to set the record straight this spring, because garlic scapes are awesome. They the long, loopy stalks of garlic plants, and are "vegetable, aromatic and even herb all in one." Use them wisely with some of these great garlic scape recipes.

Don't be alarmed -- they may look a little frightening, but morel mushrooms are one of spring's most exciting offerings. They might be best prepared simply, sautéed in butter and sprinkled with salt, but they also go great with everything from pasta to meat to other vegetables. See here for some morel recipes you don't want to miss.

This approachable vegetable has a sophisticated quality about it -- maybe it's the crown it wears on its head, or how it can be delicate and a showstopper at the same time. Whatever it is, we love asparagus -- grilled, boiled, baked or raw. See here for some awesome asparagus recipes.

The best way to eat a scallion -- also known as a spring onion or green onion -- may be in pancake form, but you'd be limiting yourself if you stopped there. They're subtle and store for a long time, and they're also surprisingly easy to grow them yourself. See her for some amazing scallion/spring onions recipes.

Radishes -- those peppery and oh-so crisp root vegetables -- have that gorgeous pop of color that will deliver you from winter to spring. You might think you're done with root vegetables come April, but the humble yet mighty radish will prove you wrong. See here for some radish recipes that are sure to convert you into a radish-lover.

Also know as spring garlic, green garlic is the immature version of the "regular" garlic we all know well. Sometimes it can look so similar to green or spring onions that it's hard to tell the difference, so if you're confused, just smell the plant. Either it will smell like garlic or it won't. Green garlic is awesome because the whole plant is edible, and the flavor is slightly less overpowering than fully mature garlic. See here for some great green garlic recipes.

Pea shoots are the bright, delicate, crunchy precursor to peas. They're easy and quick to grow, which makes them a great vegetable for those early days of spring when you're itching for all the spring produce that hasn't quite arrived in full yet. If you're ready to knock the doors of winter down, go for some curly tendrils, watery stems and crisp leaves. For more about pea shoots, see here.

Leeks may be a bit underrated -- but they shouldn't be. While understated, they're really powerful in all kinds of recipes, from soups to frittatas, and even roasted on their own. They definitely require a little scrubbing, but it's all well worth it for the sweet oniony flavor they'll bring you. See here for some leek recipes and you'll realize just how important these sturdy onions are.

Talk about one-of-a-kind. Fennel is a vegetable that can't be confused with anything else. It tastes like licorice or anise, has a large and sturdy bulb and tiny, fur-like leaves. It might sound like some alien vegetable you want to avoid, but fennel is actually quite versatile -- making great salad additions, pizza toppings and even desserts. See here for some fennel recipes you're going to want to try this spring.

This peppery, watery green grows near creeks and streams -- go figure! It makes for some supremely refreshing salads and sandwiches, and is an excellent soup garnish. Once you start eating it, winter will seem like a distant memory. See here for some watercress recipes that will make you feel extra fancy.
Follow Meghan Telpner on Twitter: www.twitter.com/meghantelpner