Through Sickness And Health: Life With A Spouse With Liver Disease
My husband, Mike and I met through mutual friends and were together for seven years before we got married. The two of us never thought that our wedding vows would be put to the test early in our life together.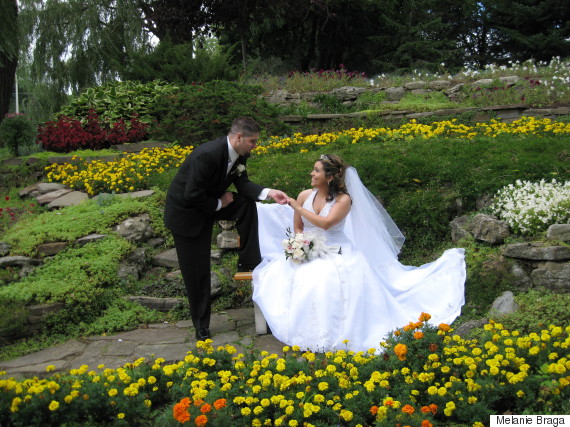 When we first met in 2000, I noticed that Mike was often hunched over and in apparent pain. He told me that he had abdominal pains since he was a child and that doctors had said that it could be irritable bowel syndrome (IBS) but he still needed more tests to confirm it. In the meantime, the pain was getting worse and we knew that it had to be something more serious.
In 2002, blood results showed that Mike's billirubin was high and his ceruloplasmin was low and he was immediately referred to a liver specialist for further testing. After an eye examination, urine test, blood work and a liver biopsy, Mike was finally diagnosed at the age of 22 with Wilson disease.
We had never even heard of it before, so the first thing I did was a lot of research to find out what to expect and how this diagnosis might affect us both.
Wilson disease is a hereditary disease in which excessive amounts of copper accumulate in the body. The overload of copper has a toxic effect on several organs in the body -- copper is first stored in the liver and once storage capacity is exhausted, copper can accumulate in the brain and cornea of the eye. If left untreated, Wilson disease can be fatal. Once the toxic copper is removed from the body, the patient must take action to prevent re-accumulation of copper in the body.
We both learned quickly that living with Wilson disease meant making significant lifestyle changes. One crucial change was in our eating habits.
There are so many restrictions such as no fried food, spicy food, pork, mushrooms or chocolate just to name a few. It can make it difficult when dining out with friends.
We refuse to let Wilson disease be a barrier in our relationship. We don't look at it as a disease but a lifestyle change for a better life.
Eating certain foods can cause Mike to experience painful side effects so I have learned how to recognize when he was in pain and offer as much support as possible -- whatever form that support might take. It might just mean staying by his side or simply making a cup of tea. Mike is always very appreciative of the care and attention.
Another ongoing challenge is both the physical and psychological changes that can occur with Wilson disease. In times of stress, Mike's mood swings tested our coping skills. We've found that open communication is the best way of dealing with these situations. By understanding what he's going through, I know not to take things personally. This has helped reduce some of the stress.
When your spouse has liver disease, the pledge to see each other "through sickness and health" takes on new meaning. Learning how the disease affects Mike has allowed me to cope and help him cope in the most positive way. We refuse to let Wilson disease be a barrier in our relationship. We don't look at it as a disease but a lifestyle change for a better life.
Knowing what it's like to live with liver disease day-in and day-out, we are committed to doing what we can to support others through the Canadian Liver Foundation. We believe the work of the Canadian Liver Foundation is essential for our community not only do they fund important research projects, but they also provide great tools for people to use to better educate themselves on liver diseases and how some can be prevented.
We are proud to state that the Canadian Liver Foundation supported the research that eventually led to the discovery of the Wilson disease gene. Moving forward, more research is needed to find better treatments and hopefully a cure.
Our livers are so important and we need to protect it the best way we can. Let's stay healthy!
Follow HuffPost Canada Blogs on Facebook
ALSO ON HUFFPOST:
Risk Factors For Liver Disease
Obesity often leads to fat build-up in our liver, which can cause inflammation — otherwise known as non-alcoholic fatty liver disease or NAFLD. Sometimes, NAFLD can progress into a more severe stage and cause additional ongoing liver damage called cirrhosis. If cirrhosis develops, the liver will slowly stop functioning.

Genetics can play a significant role in your likelihood to develop liver disease. "The genes we inherit from our parents dictate physical characteristics like hair and eye colour but they also determine our susceptibility to certain forms of liver disease," notes experts at the Canadian Liver Foundation (CLF). Several forms of liver disease — including Wilson disease, which leads to a toxic build up of copper, and hemochromatosis, which causes the body to store up excess iron — are the result of inherited gene abnormalities. On top of that, tyrosinemia, Alagille syndrome and galactosemia are examples of inherited liver diseases that can be life-threatening for infants and very young children.

There are certain liver diseases that are the result of the immune system attacking the liver, the foundation adds. "Auto-immune hepatitis, primary sclerosing cholangitis and primary biliary cirrhosis are all linked to the immune system." However, researchers do not yet know what causes the immune system to turn on the liver, or why some people are more susceptible to these diseases than others. Some believe that the trigger could be a combination of genetic and environmental factors, CLF notes.

As the organ is tasked with processing all medications that go into your body, the liver can also get injured due to toxic combinations of medications or an overdose. Acetaminophen (a pain reliever) overdose, for example, is the leading cause of acute liver failure in Canada.

This may be rare, but definitely not unheard of: Hepatitis B and hepatitis C viruses can be spread via contaminated inks or improperly sterilized tattoo or piercing equipment. Licensed studios, however, should be following strict precautions to make sure their clients are protected.

The viruses that cause hepatitis B and C can be transmitted during sex. "The hepatitis B virus is more infectious than HIV and can be spread via infected blood or body fluids. The hepatitis C virus is spread via contact with infected blood," the CLF says.

Hepatitis A can also spread through contaminated food or water, while hepatitis B is transmitted through infected blood or body fluids. "Both viruses can be contracted in Canada or while travelling to countries where these diseases are endemic. There have been a number of public health warnings in Canada related to food handlers in restaurants and grocery stores with hepatitis A, the CFL notes. To keep yourself protected, make sure you get immunized before travelling.

Besides alcohol, smoking can also cause serious liver damage and the development of liver cancer. One study notes smoking can dramatically increase your risk of getting liver cancer, and one study concluded almost half the cases of liver cancer in their research were associated with smoking, according to the American Cancer Foundation.

Certain herbal supplements (see partial list below) as well as certain vitamins in high doses have the potential to cause damage to the liver, the CLF says. For example, high doses of vitamins E, K, A and D may be harmful. The foundation has listed some potential harmful supplements: Artemisia, Comfrey, Hare's ear, Ma huang, Skullcap, Atractylis gummifera, Crotalaria, Heliotropium, Mistletoe and others. Always talk to your doctor before taking any supplements.

Garlic helps your liver activate enzymes that can flush out toxins. It also has a high amount of allicin and selenium, two natural compounds that aid in liver cleansing, says holistic nutritionist Hermeet Suri.

Eating or drinking grapefruit juice can help your liver flush out carcinogens and toxins. This fruit is also high in both vitamin C and antioxidant properties.

Beets are high in plant-flavonoids, which can improve the overall functions of your liver.

Leafy greens like spinach and lettuce have the ability to neutralize metals, chemicals and pesticides that may be in our foods, and act as a protective mechanism for the liver, Suri says.

Green tea is full of plant antioxidants known as catechins, which have been known to improve the functions of our liver.

Adding more avocados to your diet can help your body produce a type of antioxidant called glutathione, which is needed for our livers to filter out harmful materials, Suri says.

Cruciferous veggies like broccoli and Brussels sprouts also increase the amount of glucosinolate (organic compounds) in our bodies that help create enzyme production for digestion, Suri says.

We all know citrus fruits like lemons are full of vitamin C, but lemons also help our bodies cleanse out toxic materials and aid the digestion process.

Used as a spice, tumeric has been known to help our bodies digest fats and stimulate the production of bile. It can also act as a natural form of detox for your liver.

Walnuts are also high in glutathione and omega-3 fatty acids, which help support our livers through their cleansing process.
Follow Melanie Braga on Twitter: www.twitter.com/melmbraga