RECIPE: Trailer Camping Fajitas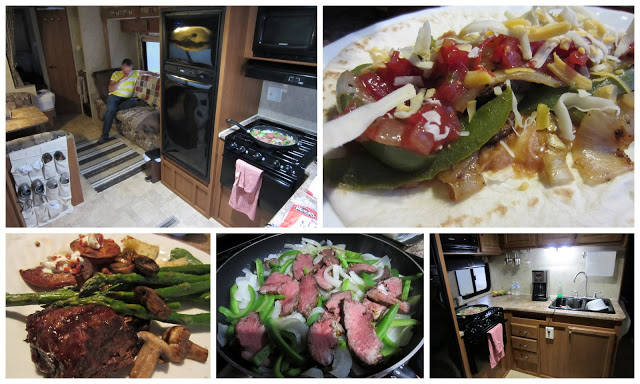 I thought it might be fun for you to see my other kitchen. We leave our farm and take the travel trailer out several times a year. I love cooking in this little kitchen. I leave it packed with staples and with a quick walk around the perimeter of the grocery store to get produce, dairy and meat...we're set to go.
One thing I try to do is to make one meal stretch to two meals. For this dinner we used leftover steak to make fajitas. Make it in your next getaway kitchen or make it at home...it's a summer winner.
2 tablespoons oil
1 pound grilled tenderloin steak, chilled and sliced
1 large onion, sliced
1 large green pepper, sliced
1 jalapeño pepper, seeded and finely minced
1 clove garlic, finely minced
1/2 teaspoon chili powder (add more according to taste)
1/2 teaspoon cumin
mexican blend cheese
salsa
tortilla shells
sour cream and guacamole (optional)
In a large fry pan, heat the oil over medium high heat and then saute the onion, pepper, jalapeño pepper and garlic until onion begins to caramelize.
Add seasonings and a few tablespoons of water and stir to combine.
Wrap tortilla shells in foil and warm on the grill or in the oven.
Spoon fajita mixture over shells and top with cheese, sour cream and guacamole.
Serves 4
For more recipes, please visit us at www.mennonitegirlscancook.ca
Follow Mennonite Girls Can Cook on Twitter: www.twitter.com/mgirlscancook