RECIPE: Spiced Pumpkin Layer Cake With Cream Cheese Frosting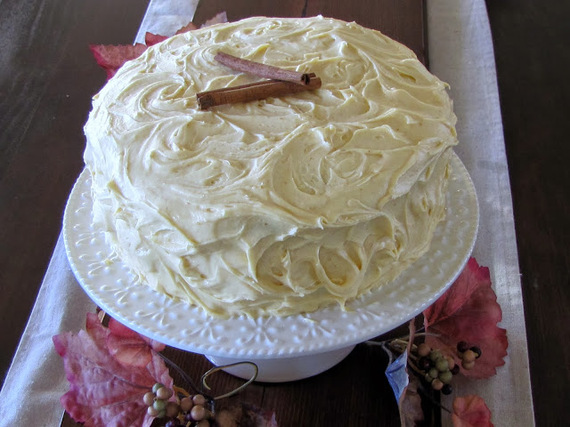 We stopped by to visit a cousin in California a few weeks ago, as we were travelling through. It felt like summer, and we had lunch in the shade of an outdoor gazebo. For dessert she brought out a moist and delicious frosted pumpkin layer cake. I'm sharing it with you today, my version of Linda's spiced pumpkin cake dessert! So whether it feels like summer where you are...or winter has already hit hard, the calendar still says autumn. Let's enjoy the pumpkin!
Pumpkin Layer Cake:

2 cups flour

1 1/2 teaspoons baking soda

1 teaspoon baking powder

1 teaspoon salt

2 teaspoons cinnamon

1/2 teaspoon nutmeg

1/4 teaspoon cloves

3 eggs

2 cups sugar

1 cup oil

2 teaspoons vanilla

1 can 14 oz/398 ml pumpkin purée (remove two tablespoons to add to frosting if desired*)

1 14 oz. can crushed pineapple (do not drain)

1 cup sweetened flaked coconut

1/2 cup golden raisins

Whisk together flour, baking soda, baking powder, salt and spices.

In mixing bowl, beat together eggs, sugar and oil.

Add vanilla and pumpkin purée and mix until smooth.

Add dry ingredients and stir until combined.

Stir in pineapple, coconut and raisins.

Pour into two 9-inch cake pans, sprayed with oil and lined with parchment paper.

Bake at 350°F for 35-45 minutes...or until toothpick inserted in center comes out clean.

Cool for 15 minutes. Then remove from pans, invert onto cooling rack.

Frost with cream cheese icing when cool.

Cream Cheese Frosting:

1/3 cup butter
1 (250 gr) package cream cheese
2 tablespoons pumpkin purée, optional
1 teaspoon vanilla extract
3 cups icing sugar
1-2 tablespoons milk

Cream butter and cream cheese together until smooth.
Beat in pumpkin and vanilla.
Add icing sugar one cup at a time, beating until smooth.
Add milk as needed to get desired consistency.
*the pumpkin purée adds a creamy colour to the frosting
For more tasty recipes visit www.mennonitegirlscancook.ca
ALSO ON HUFFPOST:
15 Pumpkin Recipes For Fall
Hershey's Pumpkin Spice Kisses make the perfect topping for these delicious chocolate cookies. The Chef: Little Leopard Book Try it here.

A wonderful pumpkin flavour that's enhanced with maple syrup and butter — and even gluten-free! The Chef: Misterbelly Try it here.

If you like pumpkin, you will love this hummus! The cinnamon gives it a slight sweetness, but the pumpkin shines through as the star. The Chef: Little Leopard Book Try it here.

Most people think of using pumpkin for sweet things like pumpkin pie, muffins and cakes but it actually works really well in savoury dishes as well. The Chef: The Foodie Physician. Try it here.

A fun twist on the classic Mexican dish, perfect for your Halloween dinner. The Chef: Little Leopard Book Try it here.

When regular old breakfast items get too common, the addition of even one new ingredient can reignite their spark. The Chef: Eating Made Easy Try it here.

The holiday favourite is made with molasses, brown sugar and pumpkin puree. The Chef: Eating Well Try it here.

A new twist on the classic. Try this burger with tortillas with lettuce and fresh tomato salsa. The Chef: Eating Well Try it here.

If you're obsessed with the version at Starbucks, try this recipe instead. (Just think about all the money you'll save). The Chef: Misterbelly Try it here.

This recipe calls for egg roll wrappers since they taste like fresh home-made pasta when baked. The Chef: Jennifer Iserloh Try it here.

As the pumpkin roasts, its skin becomes gorgeously burnished, while inside, slices of baguette, Gruyère, and Emmental coalesce into a rich, velvety concoction. The Chef: Gourmet Try it here.

The cream cheese topping on this pumpkin bread is blended with a touch of browned butter and almond extract, making it irresistible and nutty. The Chef: Kitchen Belleicious Try it here.

Another comfort food classic, this sandwich recipe is made with fresh pumpkin. The Chef: Macheesmo Try it here.

Don't forget the seeds! When you're done with your pumpkin, roast the seeds and add them as toppings. The Chef: Food & Wine Try it here.

Fried and delcious, these pumpkin fritters taste great with rosemary and cheese. The Chef: What About Second Breakfast Try it here.
Follow Mennonite Girls Can Cook on Twitter: www.twitter.com/mgirlscancook