Is This Canadian Newspaper Breaking Copyright Law?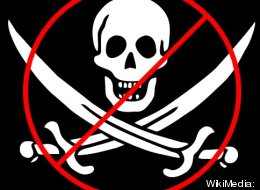 I'm a big fan of Chris Selley, the National Post writer behind Full Pundit, a daily look the Canadian editorial and opinion columns (last year Selley was also a vocal supporter of the much-needed Fire Ron Wilson campaign). The Full Pundit features a summary of the most notable editorial writing in Canadian media accompanied by quotations from the original works. I'm quite sure that Selley does not ask for permission to quote from those other works since fair dealing for news reporting purposes permits their use without the need to do so. Yet if someone wants to post a quote from Selley or anything else written by the National Post, they are now presented with pop-up box seeking a licence that starts at $150 for the Internet posting of 100 words with an extra fee of 50 cents for each additional word (the price is cut in half for non-profits).
For example, in yesterday's Full Pundit, Selley quotes John Graham in the Globe on the death of Chavez:
"Illiteracy has all but disappeared. ... Education and free health care are almost universally available. ... Improving the quality of life for millions at the bottom levels of society is no small achievement. He also imparted to these millions a sense of dignity about themselves and pride in their leader's often bombastic rhetoric."
If you try to highlight the text to cut and paste it, you are presented with a pop-up request to purchase a licence if you plan to post the article to a website, intranet or a blog. The fee would be $150. In other words, the National Post is seeking payment for text in an article that was itself copied from the Globe. Of course, it is not just Selley's work as many articles quote from other articles or sources (for example, this Post article on Taylor Swift is primarily quotes from Vanity Fair. If you highlight a chunk of text, the licence message pops up).
None of this requires a licence or payment. In fact, the amount of copying is often so insubstantial that a fair dealing analysis is not even needed. Last year, the Federal Court of Canada ruled that several paragraphs from a National Post column by Jonathan Kay posted to an Internet chat site did not constitute copying a substantial part of the work. If there was a fair dealing analysis, there is no doubt that copying a hundred words out of an article would easily meet the fair dealing standard. In fact, the Supreme Court of Canada has indicated that copying full articles in some circumstances may be permitted.
The National Post is using iCopyright as its licensing service. The company provides a fair use statement that simply does not reflect the law, suggesting that fair dealing may not apply to the use of work that may generate revenues, is not highly creative, was available under licence, is something more than a footnote, or is posted to the Web.
None of these are conditions that exclude the application of fair dealing and the recent Supreme Court of Canada decisions make it clear that the required broad and liberal approach would cover the excerpt copying for which iCopyright seeks payment. All media organizations rely on fair dealing to support a free and robust press. Those same organizations should not be undermining those hard-earned users' rights by raising unnecessary licensing demands.
What Copyright Bill Means For You
The Copyright Modernization Act, Bill C-11, will allow Canadians to copy content from one device to another, such as from a CD to a computer or an iPod. This provision, however, does not apply to content protected by a digital lock, which is any technological measure, such as encryption or digital signatures, that rights holders use to restrict access to or prevent the copying or playing of CDs, DVDs, e-books, digital files and other material. (Ryan Anson/AFP/Getty Images) Slides use files from CBC

The act will allow Canadians to record television, radio and internet broadcasts and listen to or view them later on whatever device they choose but not for the purposes of building up a library or for commercial use. This provision does not extend to content that is offered "on-demand" (streamed video, for example) or protected by a digital lock.

The act will allow Canadians to make a backup copy of content to protect against loss or damage -- again unless that content is protected by a digital lock or offered as an on-demand service.

The act will allow Canadians to incorporate legally acquired copyrighted content into their own user-generated work, as long as it's not for commercial gain and does not negatively impact the markets for the original material or the artist's reputation. An example would be the posting of your own mash-up of a Lady Gaga song and, say, a Beyoncé number on YouTube. (Photo by Ethan Miller/Getty Images for Clear Channel)

The act will allow Canadians to use copyrighted content for the purposes of education, satire or parody. This expands what is known as the fair dealing provisions of the existing law -- which until now covered only research, private study, criticism and news reporting. (Photo credit should read JOHN MACDOUGALL/AFP/Getty Images)

The act will allow Canadians to copy copyrighted material that is part of an online or distance learning course in order to listen to or view it at a later time. Under this provision, teachers can provide digital copies of copyrighted material to students as part of the course but only if they and the students destroy the course material within 30 days of the end of the course. Teachers are also expected to take reasonable measures to prevent the copying and distribution of the material other than for the purposes of the course. Critics have referred to this part of the Act as the "book burning" provisions. (Flickr: pcorreia)

The act will allow librarians to digitize print material and send a copy electronically to users, who can view the material on a computer or print one copy. (Photo by Matt Cardy/Getty Images)

The act will allow consumers who are disabled to adapt copyrighted material to a format they can more easily use. (Pierre-Henry DESHAYES/AFP/Getty Images)

The act will prohibit the manufacture, importation and sale of technologies, devices and services designed primarily for the purpose of breaking digital locks. This includes technology designed to allow you to play foreign-bought DVDs on your North American player, for example.

The act will prohibit the circumventing of digital locks, even for legal purposes -- such as the education or satire uses protected by other sections of the Act. This is one of the most controversial parts of the legislation. Many experts have criticized the government for not including an exemption that would allow for the bypassing of digital locks for legitimate purposes, such as the copying of parts of digitally locked textbooks to view on another device or for use in an assignment.

The act will require internet service providers to notify their customers that they are violating the copyright law if a copyright holder informs the ISP of possible piracy. The ISP is required to retain "relevant information" about the user such as their identity, and that information could potentially be released to the copyright holder with a court order.

The act will exempt ISPs and search engines from liability for the copyright violations of their users if they are acting strictly as intermediaries in the hosting, caching or communication of copyrighted content.

The act will prohibit a person to provide a service over the internet or another digital network that the person "knows or should have known is designed primarily to enable acts of copyright infringement." This clause is targeted at websites created for the purpose of distributing copyrighted content, such as the many popular peer-to-peer file-sharing sites used to swap video and audio, and is meant to "make liability for enabling of infringement clear."

The act will differentiate between a commercial violation of copyright law and an individual violation. Individuals found violating the law could be liable for penalties between $100 and $5,000, which is below the current $20,000 maximum.
Follow Michael Geist on Twitter: www.twitter.com/mgeist