The Human Right That Canadian Unions Ignore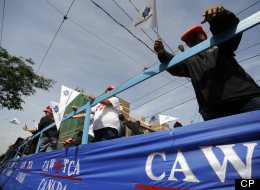 Following the approval of the Canadian Auto Workers (CAW), more than 90 per cent of the delegates from the Communications, Energy and Paperworkers (CEP) approved a merger proposal between the two organizations a few days ago. Both unions are about to merge and will form the largest private sector union in Canada.
In a free society, there is absolutely no problem when two private organizations choose to merge. In fact, freedom of association guarantees their right to do so. Leadership of both unions sees in this merger a better way to fight against attacks on the labour movement. Let's wish them the best of luck in their endeavour.
Unfortunately, union members do not enjoy the same protection of their freedom of association. Unions have set that compulsory membership in various collective agreement and dues are mandatory in Canada even when unions use them for political or ideological purposes.
This has been done in spite of the Universal Declaration of Human Rights that recognizes freedom of association as a basic right, but specifies that "no one may be compelled to belong to an association." A worker forced to pay union dues and to be a member of a union finds himself or herself in a difficult position, being compelled to join the new union and to support it financially.
In Canada, current laws violate the freedom of association. Compulsory union membership was brought before the Supreme Court in 2001. Interestingly, the highest Court also agreed that freedom of association includes freedom not to associate and that compulsory membership violates this basic right. But in a five against four decision, the Supreme Court deemed this violation acceptable in a free and democratic society.
The 2001 judgment still holds to this day in Canada, but since then, compulsory union membership has been revoked in all other free and democratic countries. The European Court of Human Rights has ruled in 2006 and 2007 that non-unionized employees have no obligation to join a union or, when a member, to pay union dues for purposes other than collective bargaining. The Court found that these two mechanisms violate freedom of association. Its decision is enforceable in the 47 countries composing the Council of Europe.
Also, neither in Australia nor in the United States are workers forced to join a union or pay the portion of union dues used for purposes other than collective bargaining. In the U.S., 22 of the 50 states have outlawed the mandatory payment of union dues entirely. This concept is referred to as the "right-to-work" because the laws adopted by these states guarantee an employee the right to keep his job even if he refuses to join and pay dues to the union.
Should the Supreme Court examine again these laws, their decision might not be the same with the changes made in Europe since 2001. When we look at the way things work elsewhere in the world, when we listen to workers whose rights are being violated, we must recognized that the laws on labour and unions must be revised. The very foundation of these laws lies in the fact that unions are associations. Hence, they may choose to merge or not as they see fit. But individual workers should also be able to choose to associate or not. It's a basic right that Canadian laws are still negating, a unique -- and shameful -- occurrence among free and democratic societies of the world.
Flashpoints In History Of Canadian Labour
Few Canadians realize it, but Labour Day is as Canadian as maple bacon. It all began in 1872, when the Toronto Typographical Union went on strike to demand a nine-hour workday. When Globe and Mail chief George Brown had the protest organizers arrested, Prime Minister John A. Macdonald passed a law legalizing labour unions. Thus, a Conservative prime minister became a hero to the working class, and Canada became among the first countries to limit the workday, doing so decades before the U.S. The typographers' marches became an annual event, eventually being adopted by the U.S., becoming the modern day Labour Day.

The end of World War I brought social instability and economic volatility to Canada. On May 15, 1919, numerous umbrella union groups went out on strike in Winnipeg, grinding the city to a halt. Protesters were attacked in the media with epithets such as "Bolshevik" and "Bohunk," but resistance from the media and government only strengthened the movement. In June, the mayor ordered the Mounties to ride into the protest, prompting violent clashes and the death of two protesters. After protest leaders were arrested, organizers called off the strike. But the federal mediator ended up ruling in favour of the protesters, establishing the Winnipeg General Strike as the most important strike in Canadian history, and a precursor to the country's modern labour movement.

During the Great Depression, the only way for a single male Canadian to get government assistance was to join "relief camps" -- make-work projects set up by the federal government out of concern idle young men were a threat to the nation. The relief camps, with their poor work conditions, became breeding grounds for communists and other radicals. The "On-To-Ottawa Trek" was organized as a protest that would move from Vancouver across the country to Ottawa, to bring workers' grievances to the prime minister. The trek halted in Regina when Prime Minister R.B. Bennett promised to talk to protest organizers. When talks broke down, the RCMP refused to allow the protesters to leave Regina and head for Ottawa, and on June 26, 1935, RCMP riot officers attacked a crowd of protesters. More than 100 people were arrested and two killed -- one protester and one officer.

In May, 1938, unemployed men led by communist organizers occupied a post office and art gallery in downtown Vancouver, protesting over poor work conditions at government-run Depression-era "relief camps." In June, the RCMP moved in to clear out the occupiers, using tear gas inside the post office. The protesters inside smashed windows for air and armed themselves with whatever was available. Forty-two people, including five officers, were injured. When word spread of the evacuation, sympathizers marched through the city's East End, smashing store windows. Further protests against "police terror" would be held in the weeks to come.

In 1992, workers at Royal Oak Mines' Giant Mine in the Northwest Territories went on strike. On September 18, a bomb exploded in a mineshaft deep underground, killing nine replacement workers. Mine worker Roger Warren was convicted of nine counts of second-degree murder. The Giant Mine closed in 2004.

The Canadian Labour Congress, representing numerous labour groups, participated in protests in Toronto during the G20 summit in June, 2010. When a handful of "Black Block" anarchists rioted through the city core, it brought an overwhelming police response that resulted in the largest mass arrests in Canadian history. More than 1,000 people were arrested, with most never charged with any crime. Numerous allegations of police brutality have been made, and the Toronto police are now the target of several multi-million dollar lawsuits. So far, two police officers have been charged with crimes relating to G20 policing, and charges against other police officers are also possible.

When Vancouver-based magazine Adbusters suggested the public "occupy Wall Street" to protest corporate malfeasance, New Yorkers took the suggestion seriously, and occupied Zuccotti Park in Manhattan. Canadians followed suit, sparking copycat occupations in all major Canadian cities in September, 2011. By December, most of the occupations had been cleared, all of them non-violently. Though the protests achieved no specific goals, they did change the political conversation in North America. What their long-term legacy will be remains to be seen.
Follow Michel Kelly-Gagnon on Twitter: www.twitter.com/iedm_montreal