Actually, You Don't Need Carbohydrates for Energy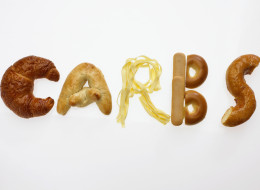 Of all the nutrition and fitness misconceptions I hear, this is the front-runner for most ridiculous:
"I need carbohydrates for energy."
If that's the case, how did we survive and thrive as hunter-gatherers on less than 80g of carbohydrates per day? While still managing to chase down a wild boar, climb a tree to escape a pack of wolves, walk five miles and back to gather fresh water, and gather sticks and logs to build a shelter?
Perhaps we subconsciously heard it in an advertisement, or maybe we took a look at our government food pyramid, but for whatever reason, we've all been trained to respond to any mention of cutting carbs with this rehearsed answer.
The reality is, humans are not meant to consume an abundant amount of carbohydrates. Not only because our daily activity is less than the hunter-gatherer, but because there is:
No dietary requirement for carbohydrates! When and if our body is ever desperate for energy, it is perfectly capable of making its own glucose through gluconeogenesis. If absolutely necessary, we are fully capable of taking non-carbohydrate sources and creating carbohydrate structures.
Unlike protein and fat, carbohydrates supply none of the elements necessary to build or repair tissue in the body, and provide no essential component. As the Institute of Medicine (IOM) states year-after-year in their Dietary Reference Intake Manual:
"The lower limit of dietary carbohydrate compatible with life apparently is zero, provided that adequate amounts of protein and fat are consumed." IOM (2002)
Although our brain requires 120g of glucose per day, it's inaccurate to think this can only be obtained from dietary carbohydrates. Because of the importance of brain fuel, our body is quite capable of creating it's own glucose, by breaking down fat. In fact, if one can reach their alternative fuel source the size of the non-carb fuel tank is significantly larger.
And the best part about using the fat, is losing the fat.
Stay Lean!
Coach Mike
In Eat Meat And Stop Jogging, Mike highlights the flaws in the prevailing advice to get fit, and outlines the negative affect on our health and body composition.
ALSO ON HUFFPOST:
Kidney, pinto, black, garbanzo -- just about any type of bean provides a hearty dose of fiber and little sugar. An ounce of black beans, for example, contains 7 total grams of carbs, 2 of which are fiber. Of course, beans have the additional benefit of providing protein, and one study found that bean eaters weighed less (but ate more!) than people who avoided beans, WebMD reported.

Squash, like butternut here, is another low-sugar, high-fiber source of carbs. A cup of cooked butternut cubes contains nearly 22 grams of carbohydrates, more than 6 of which are fiber. The bright hue of butternut and other squashes signifies the presence of carotenoids, a type of disease-fighting antioxidant.

The particular type of fiber in oats has been linked to improved heart health and weight management, as well as lower cholesterol. Just don't overdo it on the sugar-sweetened toppings!

In some of the greatest news: Popcorn is a whole grain. Stick to the air-popped variety so you don't overdo it on fat and sodium -- one cup has 6 grams of carbs, 1 of which is fiber, and has only 31 calories.

Not only does one cup contain 5 grams of fiber, but quinoa is also a complete protein. That means it contains all nine of the essential amino acids, which cannot be made by the body and therefore must come from food.

Any potato (with the skin on!) is a great source of fiber-rich carbs, but sweet potatoes are loaded with those same colorful carotenoids as squash. Sweet taters boast some vitamin C, protein and potassium, to boot.

"Nature's power bar" rivals sports drinks when it comes to providing athletes with energy (i.e. carbs) thanks to those natural sugars. But a medium banana also contains 3 grams of fiber and a hearty dose of vitamin B6, crucial for more than 100 different functions in the body.

Just about any variety will deliver some fiber and a whole host of vitamins and antioxidants. Blueberries are one of our favorite picks, since an entire cup will only set you back 84 calories. Plus, eating just one serving of the tiny superfruit a week has been linked with warding off cognitive decline as we age.
Follow Mike Sheridan on Twitter: www.twitter.com/coachmiketweets