Totally Weird and Wacky Items for Babies
New parents have a lot of purchasing decisions to make in the early years. Here are some wacky and wonderful finds (note that we're not using the word essential) to baffle even the most savvy buyer.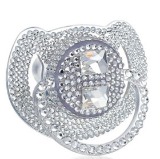 Swarovski Sparkle Pacifier
Select the most important item in your arsenal for soothing the babe, have it encrusted in pretty crystals and plan on giving it to the one human in the house who loves a never-ending game of 'dropsy' (they drop it and you pick up -- if you can find it). Sold?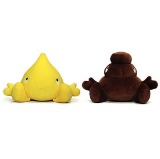 Pee & Poo
We'll try to stay above basic potty humour over these pee and poo plush dolls that are advocated to help kids get comfortable with their bodily functions. (Were they ever uncomfortable?) Appropriately they are sold as a set -- meaning you can't take one without the other.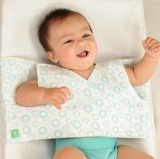 Hulabye Happy Changer
Your phone isn't the only mobile seeing some hands-free action these days. Thanks to this strap-them-in changer, you can wipe their bottom with one hand while you swipe through Pinterest photos with the other. (No worries -- their mobile isn't the talking kind, so your secret is safe with us.)
What do you think? Is the rest of this kids' stuff Wacky or Wonderful?
This post originally appeared on SavvyMom.ca. Follow Minnow and SavvyMom on Facebook for more savvy tips and solutions.
Outrageous and Unnecessary Products
You'll literally float on air when you fly in this Boeing 727 with your friends and family. Guests will experience 20 to 30 second periods of weightlessness over and over again.

This gun holds the Guinness World Record for smallest functional revolver. The weight? Less than an ounce.

Take notes and protect yourself from enemies with this clipboard.

It's a bird! It's a plane! It's a flying simulation of Superman!

It's like pool and bowling had a very complicated and very expensive baby.

Water skiing has now gone from a group event to a solo endeavor.

Built especially for you, this Star Wars-inspired bed will be made to your personal specifications.

What looks like the tiniest airplane of all time is actually a flying car.

People rich enough to afford these wild products are sure to want a pricey toilet to match.

For the child who has it all: a pirate ship for the backyard.

A classic treat with a macabre twist.

Why scuba dive when you can check out the deep sea life from the comfort of your personal submarine?

This gumball machine holds 14,450 gumballs. Jealous?

This laptop-powered chainsaw actually works.

With this boat, buyers can feel the freedom of flying through the water (and the air) like a dolphin.