What to Do Next After Being Diagnosed With Celiac Disease
You're in constant abdominal pain, feeling tired and sluggish all the time, irritable and losing weight without even trying. What's wrong? You visit the doctor's office far more times than you want to, but they can't find the problem for all this suffering. Feeling calm or happy are distant memories as you trudge through each day, sick all the time.
Back to the doctor you go, only this time she (he) has a diagnosis: celiac disease.
"Whaaat?" you think to yourself. On one hand, you feel so relieved to know you're not crazy. On the other hand, you have no idea what to do next.
Your head fills with all these questions and concerns:
• Who will advise me?
• What can I eat?
• Where can I eat safely?
• What do I do in my kitchen?
• How will I ever eat at friend's place or with family again?
• How do I know what I can and cannot eat?
• How will I learn to read labels?
• Can I survive without all my favourite foods?
You're not alone. I remember the first time the doctor called me to tell me my son had celiac disease. I was horrified! A disease? What kind of disease? What did this mean? Will he be okay? Everything was a blur. You need to keep everything as-is until the endoscopy.
It's alright to cry, get angry, lose your cool. It's alright to mourn the loss of gluten from your life. But then, you have to pull up those big girl panties and get cracking on some lifestyle changes to bring you back to healthy and thriving. Breathe, accept the diagnosis and trust that you will get there. After a few months, life gets easier and the celiac patient starts to feel better.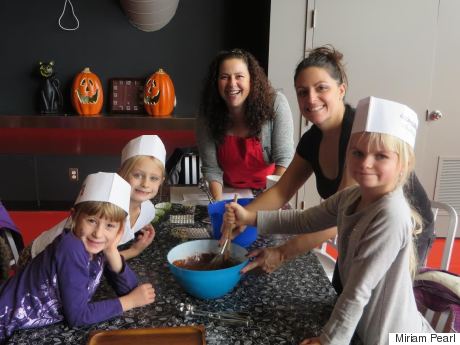 Here are 10 things you can do to help yourself or your loved one:
1. Remember to count yourself lucky: There are no drugs to take and you can lead a perfectly normal life eating gluten-free. It is not life-threatening like an allergy. If you make a mistake, you can recover.
2. Get an education: Learn what gluten is and where it can be found. Keep a list of foods you would normally reach for that have gluten in them and develop the habit of staying away from them. Put your attention on the goodies that Mother Nature provides: vegetables, fruit, meats, fish and milk products.
3. Check in with your gastroenterologist/nutritionist: A great place to start is to get professional counselling from professionals who are educated in celiac disease and the gluten-free way of life. If they can't help you they certainly can refer you to the right resources.
4. Get used to reading labels and calling companies: I shop with my phone even years later. Larger companies have 1-800 numbers on their packaging. Simply call to make sure there is no gluten in the product or on the same line as your product.
5. Reorganize and replenish your pantry: There will be much you will either be giving away or throwing out so it doesn't pay to dwell on it, Just do it! Consider it an adventure in trying new things to eat and testing new recipes. Keep a reminder list taped to the inside of the pantry door of what to stay away from.
6. Take a baking class: Find a gluten-free cooking or baking class and get cracking. It will be more fun to experiment with new recipes and meeting other people who are in the same or similar situation. The sooner you find delicious replacements, the less you will miss your favourites.
7. Find local restaurants: There are some gluten-free restaurant guides, but I prefer to call ahead and ask the owner/chef directly what I can expect from them in terms of gluten safety and food choices. More and more restaurants are working towards accommodating the gluten-free community.
8. Grow a second skin: At times we are sadly surprised with how little some of our friends and family members will do to accommodate us. Not everyone is unsympathetic, but somehow we always feel surprised by those who are, and need to toughen up so we can move on to what ultimately matters most: our health.
9. Get in touch with resources in your community: You don't need to go it alone. Your local Celiac Support Association can guide you with many resources and helpful tips. Check out your local gluten-free Facebook community to find others dealing with the same situation and you will see how easily connected you can be. I have listed some helpful resources on my website to help you. CLICK HERE.
10. Check out gluten-free bloggers online: They have many recipes and helpful, up-to-date information you will find useful. Google them and find one you like best!
You don't need to feel deprived. You do need to feel you have choices. You will restore your health, feel better than you have in a long time and, as time passes, living gluten free will become much easier to manage.
MORE ON HUFFPOST:
11 Ways To Live Gluten Free
If you spend all your time lamenting the fact that you can't ever eat pasta, bread or cookies, you'll be miserable. There are a ton of great gluten-free substitutes, even more than there were two years ago. If you're going gluten-free for the first time, remember: there are still so many things you can eat and it's much healthier to focus on that. Shauna James Ahern, who blogs at Gluten Free Girl, got the word "YES" tattooed on her wrist shortly after her diagnosis of celiac disease as a reminder to approach life with openness.

As much as you should focus on what you can have in your diet, the reality is that if you're going gluten free, you do have to avoid some grains. Wheat, rye, barley, and their derivatives are all striken. Some people have to be more careful than others about cross-contamination, whether it's in a factory or in their own kitchens. This list has the basics of what to avoid. Memorize it.

Reading food labels is a good idea for a lot of reasons, especially since gluten can hide in unlikely places. Did you know it's a main ingredient in licorice candy? Fortunately, new labelling laws that list common allergens came into effect in Canada in 2012. The list won't necessarily highlight any ingredient that contains gluten, but they do make it clear if you need to avoid something because it contains wheat.

Fruits and vegetables in their natural state never have gluten which means they're always a safe choice if you're avoiding it. A great side benefit, of course, is that fruits and vegetables are healthy. Use your gluten-free diet as an excuse to try all the exotic produce you've been curious about but haven't picked up before. Dragonfruit is still a better deal than gluten-free pretzels!

Certain cuisines are just going to be better options for dining out once you're on a gluten-free diet. Italian is obviously tough, with all that pasta and pizza, though more and more restaurants are offering gluten-free options. Anything fried is generally out, from Southern fried chicken to Japanese food. But Indian food is great — you get healthy fibre from the legumes and beans used, and the sauces are generally thickened with yogurt, not wheat. You'll have to avoid most of the breads, but some — like dosas — are made with chickpea flour instead of wheat. And the menus are usually large, which means plenty of options.

Popular superfood quinoa provides an excellent solution for not getting enough fibre. This grain-like seed contains fibre and protein, and cooks up much like couscous. It's versatile and takes on other flavours easily, and it's a great way to add some nutritional oomph to your diet. Quinoa 365 and Quinoa Revolution have dozens of great recipes.

There are some bakers who can do amazing things with gluten-free baking. If you want to try your own hand at gluten-free baking, try the Babycakes cookbooks, written by the owner of the popular NYC-originating bakeries. The recipes are also free of dairy and eggs, if you have other food sensitivities or allergies.

A lot of people assume that rice (specifically sticky rice) must have gluten, but it is fortunately gluten-free. This is helpful because it's a grain that's inexpensive, easily found, and very versatile. Rice is key in Chinese, Thai, and Indian cuisines, and its different types —brown, white, arborio, basmati, jasmine — gives you that key variety you'll be looking for. Noodles and breads made from rice flour can also help to fill some of the new gaps in your diet.

Many packaged salad dressings, sauces, and dips contain gluten —it's used as a thickener. That's okay though, because it gives you an excuse to learn how to make your own dressings, which will taste much better and are healthier. Try this: one cup of hemp oil, a half cup of apple cider vinegar, and a half cup of lemon as a dressing. It's got omega fats from the hemp oil and it's particularly delicious on kale.

Wheat can be hidden in a lot of unexpected places, and one of them is soy sauce. This is sad news for fans of Chinese and Japanese cuisine, but don't worry — there's a way to keep enjoying your California roll just as you did before. What we commonly use as soy sauce in North America contains wheat, but in Japan there are actually five main categories of soy sauces that are defined in part by how much wheat they have, which affects the taste. Most of these varieties do contain some wheat and therefore are not gluten-free. However, tamari is usually wheat free, making it safe for a gluten-free diet. It's also relatively easy to find at Asian supermarkets or larger grocery stores.

If you can't imagine not having bread in your diet regularly, now is a great time to get a bread maker and learn how to use it. There are a ton of gluten-free flours, all with different properties and tastes. There are also many gluten-free breads available in grocery stores, but you may not like the price. If you're going to be spending more to eat bread, you might as well be making it yourself. If you're especially ambitious, you can skip the bread maker altogether and oven-bake it. Gluten Free Girl has a recipe for no-knead gluten-free bread and Gluten-Free and Vegan Bread: Artisanal Recipes to Make at Home is a great book to start with.
Follow Miriam Pearl on Twitter: www.twitter.com/delishnogluten