Where Is The Accountability For Ottawa's Communications Spies?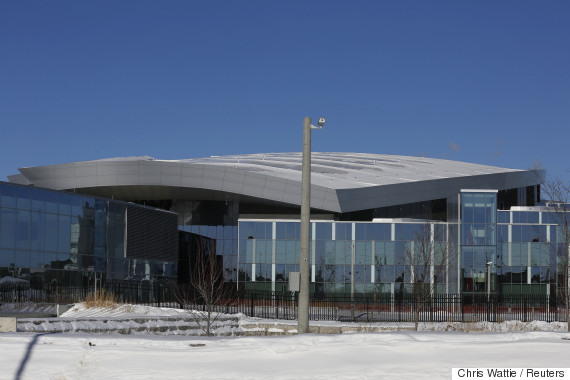 A security camera is seen outside the Communications Security Establishment (CSE) headquarters. Canada's electronic spy agency has been intercepting and analyzing data on up to 15 million file downloads a day. (Photo: REUTERS/Chris Wattie)
The Communications Security Establishment (CSE) Commissioner report has been just released. For those who don't know what the CSE is, it is the agency related to the Department of National Defence that spies on communications received from abroad.
In their own words, their work focuses on "collecting foreign signals intelligence in support of the Government of Canada's priorities, and on helping protect the computer networks and information of greatest importance to Canada." It is important to emphasize that CSE is not supposed to spy on communication of Canadians in Canada or abroad.
In that regard, the commissioner's mandate is mainly to review CSE activities and their compliance with the law, and in the case of complaints, to undertake investigation. However, the commissioner report, which is supposed to be an independent exercise conducted by a review body, seems more and more like a self-congratulatory document where criticism directed at the CSE or its activities is hard to find. The situation can be compared to a professor rating her own students in a national competition. Of course, she would like them to pass, and of course she would be lenient in marking. Rather, in such circumstances we need a professor from a different school, and the students' names should be hidden.
In previous years, two main problems became clear to the public in regard to CSE activities:
The stipulations protecting the privacy of Canadians are not always respected, as CSE was reminded by Privacy Commissioner Daniel Therrien.
The lack of safeguards when it comes to information sharing with other agencies -- the Canada Security Intelligence Agency (CSIS), for example.
Indeed, in defence of the CSE's activities, Minister of National Defence Harjit Sajjan recently minimized the amount of information revealed through metadata, usually collected by CSE during its operations. Metadata, or data on data, shouldn't be of a privacy concern for Canadians, according to minister Sajjan.
But the reality is that through the records of Internet and phone communications, even without revealing the identity of the user, much information can still be inferred and shared with other foreign agencies. There exists today a whole range of science fields and theories that can extract patterns about people behaviours without knowing their identities.
The report claims that the commissioner's office "is monitoring 14 active recommendations that CSE is working to address -- 10 outstanding recommendations from previous years and four from this year," and that the privacy issue about sharing foreign intelligence is also being looked into. Nevertheless, we can't know for sure how this is being done and if there is any proposed legislation to be submitted soon. The report doesn't tell us.
It seems from the report that, in general, the commission recommends that the minister should always be informed about controversial issues, but no specific mechanism is suggested to deal with the identified problems. The issue of transparency becomes a matter of blind trust in the hands of the minister of national defence.
Leaving it up to the minister in charge to decide what is acceptable and what is not, or what is lawful and what is not, is far from a democratic and accountable model. We need review mechanisms with the necessary autonomy, independence and structure to create true accountability.
For instance, the ambiguous relationship between CSE and CSIS, described in the report, can't be investigated by any review body. There are currently agencies to oversee respectively CSIS (SIRC) and the CSE (the office of the CSE commissioner), but there is no "super-SIRC" to oversees them both and launch investigations on both of them. The parliamentary oversight presented by the government in Bill C-22 isn't clear if this aspect will be included in its mandate.
As of yesterday, it was reported that CSE won't even reveal the number of times it shared information that could lead to someone being tortured in foreign prisons. The greater the risk of mistreatment (please note how the word "torture" isn't even used), the higher level of bureaucratic or political intervention is required.
Once again, it is up to the minister or a high-level bureaucrat to take that decision, and that risks him or her making a mistake in their assessment. If that happens, Canada will become collateral damage like it has in the past.
Follow HuffPost Canada Blogs on Facebook
MORE ON HUFFPOST:
CSEC's $1.2-Billion 'Spy Palace' In Ottawa
Canada's electronic eavesdropping agency, CSEC, is getting a new $1.2-billion headquarters in Ottawa, the most expensive government building ever built. Here are some illustrations of the finished building.

NEXT ON HUFFPOST: 24 SUSSEX DRIVE, THE PRIME MINISTER'S RESIDENCE

ALSO ON HUFFPOST: THE COOLEST HOUSES FOR SALE IN CANADA

This newly-built home just northwest of downtown Calgary not only looks cool and has excellent views of the city, it features some pretty slick amenities, such as built-in kitchen appliances, a 1,500-bottle wine cellar and five bedrooms across 5,300 square feet of living space.

This house in Montreal's old-money Westmount area was built in 1857 and, with its awesome wrap-around porch, may be the coolest heritage residential building for sale in Canada right now. It's actually three units -- a main house, a townhouse in the back and what's referred to as the "well house." Three bedrooms and two baths in the main house.

Can you say house with a view? This four-bedroom property features not only one of the best views out of anyone's living room window in the country, it also has an outdoor pool, sunk slightly below house level, with views all its own. Four bedrooms and an elevator in this house the realtor describes as an "amazing entertainment home."

Located in Vancouver's (now) prestigious neighbourhood of Kerrisdale, this house is described by the realtor as "an expression of West Coast Modernism." We're not sure what that means, but this house's situation next to an elegant outdoor pool is certainly eye-catching. Four bedrooms on 5,200 square feet of living space.

The coolest thing about this house is the location -- look at where it's sitting! Not for the faint of heart, this eight-year-old house sits perched 90 feet above the Atlantic Ocean on the Nova Scotia coast. Five bedrooms in this property that sits on 16 acres of land.

This house may look like a remade 19th-century train station, but look carefully: There's a two-car garage on one side. The house is actually only four years, and situated in pleasant Bedford, outside Halifax. The house features an elevator to the second floor, and a master bedroom with fireplace and six-piece ensuite bathroom.

Designed by Ottawa architect Barry Hobin, this 3,300-square-foot house near the city's ritzy Rockcliffe Park neighbourhood features a sixty-foot-high domed skylight and some pretty non-standard layouts.

From above, this house is shaped almost like a hexagon, but that's not the only cool thing about -- it's also located on an outer beach not far from St. John's. Dubbed "Burnt Island," the property is made of red cedar log and features three bedrooms in 3,100 square feet of living space.

This house's a unique take on the Roman column look is certainly controversial, but for those who do like the look, the home is a winner. Twelve thousand square feet of living space in this house with seven bedrooms, including two loft bedrooms, a rec room, an exercise room, a sauna and a wet bar.

The realtor describes this as a "modern day Mad Men entertainer's home," and there is definitely something "retro-modern" about this three-bedroom, 4,200-square-foot bungalow. The house has a "covered outdoor living room" -- only in Vancouver could you find that in Canada -- that features a pool with a hardtop.

This house that the realtor boasts was featured in Architectural Digest is something increasingly seen in the dense inner cores of Canadian cities -- modern architecture reflecting the traditional houses nearby. Promos for the house promise a "New York Upper East Side feel" in this five-bedroom property.

It may not look it from its industrial-modern design, but this house is, according to the realtor, a ravine oasis. Located in the city's upscale Lawrence Ave. area, the house features a 23-foot ceiling in the foyer, a glass spiral staircase, an indoor squash court and a sauna on 5,100 square feet of living space.

Not many pictures available of the exterior of this house, but just look at this pool! Possibly the awesomest indoor pool in a private residence in Canada. The rest of the house ain't bad, either: 12,000 square feet of living space, with nine bedrooms and 10 baths, a 25-foot-high ceiling at the main entrance, and underground car parking.

This is a huge house -- more than 8,500 square feet of living space. Besides the eye-catching front entrance, the house features a 22-foot barrel vaulted entrance and more than 500 feet of private waterfront. There's also a three-car garage.

The realtor promises an "indoor and outdoor lifestyle" in this oceanfront house in West Van. The house's three levels overlook a central atrium and the lower level features a heated swimming pool and jacuzzi. The house has an elevator, naturally, and a boat ramp.

Located about 100 kilometres outside Montreal, this summer "cottage" is located on a private peninsula on Lac du Nord. The house features an infinity pool, a wine cellar, and a movie theatre. And oh yeah, there are bedrooms too, six of them.
Follow Monia Mazigh on Twitter: www.twitter.com/MoniaMazigh