For A Lesson In Career Success, Look To The Humble Weeble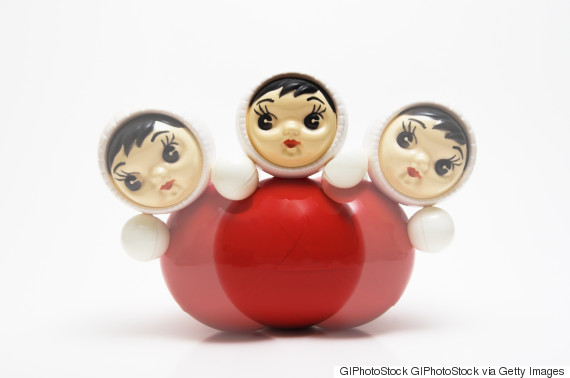 Be the Weeble.
Years ago, as a single mom I was working very hard to reinvent myself with very few credentials to my name. My financial and emotional bank accounts were constantly being drained with demands and responsibilities. There were days where I would have preferred to stay in bed for a month, but I got out of bed, painted on a smile and picked up my boxing gloves; just like every under-employed single mom I knew.
At work, I had a colleague named Raj. He had a master's degree in mathematics, came from a prominent family and was newly engaged to a professional woman. They were living the dream and had life by the balls!
On a pizza day, I let my guard down and permitted myself to share some of my challenges as a single mother. He sat silently as I joked about my circumstances. After all, if you don't laugh, you will cry; and that isn't helpful.
He quietly told me that that he realized that he was untested in life. He reflected that I was very resilient and doubted he could still be standing, much less making jokes. Then he said something that truly surprised me. "You know what you are? You are a Weeble!" And then he was called away to a client.
The catchphrase was "Weebles wobble, but they don't fall down!"
At first, I was trying to figure out if this was a compliment. "You are a Weeble." Then a genuine smile crossed my face when I realized he was right. All the things that I was doing were the things that you could learn from a Weeble.
Do you remember the Weeble? It had the most positive message for a toy. The catchphrase was "Weebles wobble, but they don't fall down!" Here's a commercial from the early 1970s:
Here are three lessons we can learn from Weebles that can help us in both life and in business.
1. Get back up.
Weebles wobble but they don't fall down. No matter how many times you fall down, learn to bounce back up and get back in the game.
2. They travelled in groups.
Hasbro put them out in groups with a theme to have more opportunities for creativity and fun. No matter what city I landed in; or new job, I learned to network and create support networks for myself. This was instrumental in dealing what life might throw my way.
3. Reinvent yourself.
In 2004, the Weebles came back to life in a children's cartoon called "Weebleville." Resilient businesses and successful people reboot and reinvent all the time. When I first finished high school, going to university was expensive and not encouraged for women.
Times have changed. When I turned 40, to catch up to the times, I went back to school to get a piece of paper that proved that I knew what I had been talking about all those years on the front lines of crisis intervention. Instead of training my bosses, I had turned the situation around. It's never too late to upgrade and rebrand.
Sometimes we need an unbiased sounding board to bounce off a few ideas in order to get back up. If you would like to speak to a professional Weeble about getting back up, you can take advantage of my free consult http://www.meetme.so/MoniqueCaissie.
The most successful leaders are not infallible when faced with someone who "drives them crazy!" Monique's strategies to empower others to stand up and take control of their personal and professional lives are appreciated by all who meet her. As a Speaker, Facilitator and Consultant helping to reduce conflict and increase collaboration, Monique Caissie draws from 30 years of crisis intervention work to help others increase their confidence to feel more heard, respected and happier. In her quest to better manage the difficult people in her life, she has studied human relations, spiritual texts, psychology and 12 step groups. Check out her website at http://moniquecaissie.com/
Follow HuffPost Canada Blogs on Facebook
Also on HuffPost:
7 Resilience Strategies For Stressful Lives
People spend over a third of their waking life at work, but levels of work satisfaction vary widely from person to person. Amy Wrzesniewski's research shows that those who consider their work to be a job are generally interested only in the material benefits from their work and do not seek or receive any other type of reward from it; those who consider their work to be a career have a deeper personal investment in their work and generally seek to advance not only monetarily but also within the occupational structure; and those who consider their work to be a calling usually find that their work is inseparable from their life.[1] Those with a calling work not for financial gain or for career advancement, but for the fulfillment that the work brings. Wrzesniewski explains that those who consider their work to be a calling generally have a stronger and more rewarding relationship to their work. To determine whether your work is a job, career, or a calling, visit Authentic Happiness to take Wrzesniewski's short assessment, entitled "Work-Life Questionnaire."

Use this four-step process when you're curious about a reaction you had, don't like a reaction you had, or simply want to find a new way of looking at a problem. This technique is based on the work of Drs. Albert Ellis and Aaron Beck, and can help you better understand why your react the way you do to certain situations. First, describe factually what pushed your buttons (who, what, where, when); second, write down your reaction -- both what you did and how you felt (I felt angry and yelled); third, write down exactly what you were thinking in-the-moment during the challenge; and fourth, ask yourself whether your reaction helped or hurt your ability to find a solution. If you find that your reactions are harming your leadership ability, relationships, or other aspects of your life, target your thinking, which is where we have the most control.

Kids have zest in abundance, but as we age, societal and organizational pressures quietly tell us that having fun and being serious don't go together. Not surprisingly, zest is a strong predictor of work and life satisfaction. In addition, fun helps you socialize, provides an outlet for learning and creativity, and has great health benefits. The Association for Applied and Therapeutic Humor posts numerous resources, including research, about the benefits of fun.

Research by Dr. Christopher Peterson and his team shows that using your strengths in new ways every day for a week increases happiness and decreases depression. In addition, Harter et al. found that those who get to do what they do best at work on a daily basis have increased loyalty, retention, and productivity.[2] Two strengths tests are the StrengthsFinder by Gallup and the VIA Inventory of Strengths.

When you hear the word "optimism," do you think of a big smiley face, Pollyana, or an ostrich with its head stuck in the sand? That is not the kind of optimism that builds resilience. Optimism as a resilience ability is about a thinking style and not about a personality trait. Optimistic thinkers are able to identify what's in their control during a setback. Second, optimistic thinkers know "this too shall pass." They know that a stressor might be around for awhile, but it likely won't be around forever. Finally, optimistic thinkers know how to compartmentalize. For example, if they have a setback at work, the fallout does not bleed into other areas of their life. Conversely, pessimistic thinkers think the cause of a problem will be around for a very long period of time, affect many different areas of their life, and they fail to see where they have any control.

Remember the children's book The Little Engine that Could? The phrase the engine kept uttering was, "I think I can, I think I can." That is self-efficacy -- your ability to believe you can accomplish what you want to accomplish. The tendency to remember and dwell on only the times when you've failed or done less than your best often thwarts your ability to remember what you've accomplished. To build your self-efficacy, keep a journal of "wins." Write down all of the times in your life when you have exceeded expectations, accomplished tough goals, and were in control of your life. Review this list often and keep adding to it. Encourage your kids to start building their list now. In addition, don't be afraid to start small. Small victories create momentum, which is a great foundation from which to succeed at more complicated tasks.

Shelly Gable's research shows that how you respond to a person's good news actually does more for building a relationship than how you respond to bad news.[3] This applies across the board, from personal relationships to business interactions. Responding in an active and constructive way -- that is, helping the bearer of good news savor it -- is the only response that builds good relationships. Killing the conversation by offering a terse response or hijacking the conversation by making it about you are quick ways to weaken a relationship.
Follow Monique Caissie on Twitter: www.twitter.com/MoniqueCaissie