Ontario's Urban Growth Shouldn't Be An Either-Or Proposition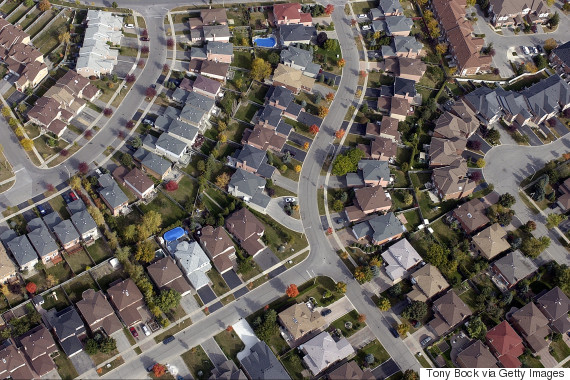 Urban sprawl in the area north of Toronto. This photo shows new development in Markham. (Photo: Tony Bock/Toronto Star)
Have stringent growth controls made housing affordability worse in Canada? George Carras, a real estate expert, believes so. The Prices (Places) to Grow Act in Ontario has caused housing to make more money than households, quipped Carras about the inflated housing prices and stagnant wages in the GTA.
As the Ontario government considers how the Greater Toronto Area should develop, two competing visions of urban growth present a choice. One calls for Smart Growth, representing high-density, mixed land use neighbourhoods. The other is the typical lower density suburban development of single-family homes.
The province should favour land use and growth policies that embrace the positive virtues of Smart Growth while providing for the shelter needs of growing households with children.
The proponents of Smart Growth often cite many benefits, including walkable communities, less auto dependency and greater public transit use compared to the traditional suburbs. Our analysis of two neighbourhoods in Markham -- Cornell, an archetypical Smart Growth community, and Woodbine North, a typical suburb -- reveals that despite the differences in built form, the two neighbourhoods exhibit similar travel behaviour characteristics.
Monday marked the deadline for feedback on Ontario's coordinated Land Use Planning Review. It is pertinent that the province should base policy on evidence rather than conjecture. Further, planning for future growth should not be an either/or choice. Instead, the province should favour land use and growth policies that embrace the positive virtues of Smart Growth while providing for the shelter needs of growing households with children.
My colleagues and I compared four Smart Growth (new urbanist) neighbourhoods with comparable suburbs for CMHC. We studied two communities in Montreal, two in Markham and four in Calgary. We documented design characteristics of the neighbourhoods and, through surveys, collected information on demographics and travel behaviour of 2,043 families who lived there.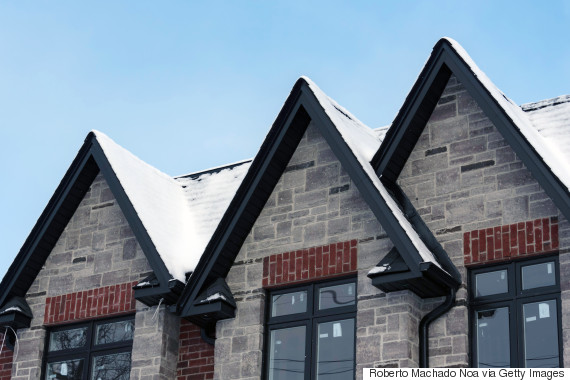 Newly constructed townhouses. (Photo: Roberto Machado Noa/LightRocket via Getty Images)
While the findings, when averaged over the eight areas, reveal positive outcomes for Smart Growth neighbourhoods, the magnitude of differences in travel behaviour between the two built forms was negligible for the two communities in Ontario. Also, Cornell was home to smaller-sized families than those living in Woodbine North. The differences in household demographics at times matter more than the differences in design when comparing travel behaviour.
Our study revealed that the average daily vehicle kilometres travelled (VKTs) by each household were quite similar for the two neighbourhoods. Whereas Cornell residents reported on average 48 VKTs per weekday, those in Woodbine North reported 49. Similarly, both communities reported 85 per cent of the work trips made by car and 12 per cent of the work trips by public transit. Cornell residents were more engaged in walking than their counterparts and also considered their neighbourhood to be safe for walking, with retail and recreational amenities within walking distance. Furthermore, Cornell residents reported a slightly lower average trip time of 23 minutes than those in Woodbine North at 25 minutes.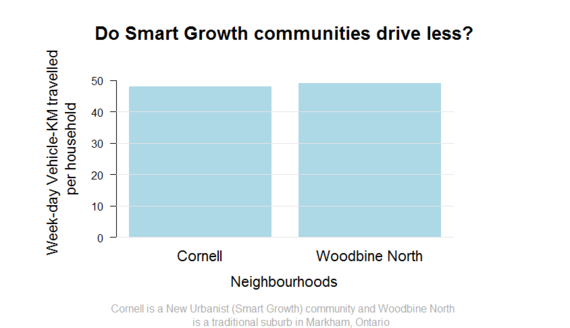 Our analysis revealed that Cornell residents were more socially engaged with their neighbours than those living in Woodbine North. The indicators of social interaction included the frequency of greeting neighbours, in-person socialization and knowing neighbours by their name.
Underlying the differences in behavioural outcomes are perhaps the demographic differences. Cornell families were a lot smaller in size than those in Woodbine North. Whereas 40 per cent of the families in Cornell comprised one or two persons, only 23 per cent of the Woodbine North residents were of the same size. The large-sized families in Woodbine North cited accessibility to work, and quality and size of housing to be the primary determinants of their neighbourhood choice. Cornell residents' choice was influenced by architectural style, affordability, and community spirit.
The smaller family sizes in Cornell were essentially an artefact of housing size. Almost 75 per cent of the homes in Cornell featured three bedrooms or less compared to only 34 per cent in Woodbine North. The differences in housing sizes thus create a self-selection bias where smaller-sized, youngish families preferred Cornell, where row/townhouses were the dominant house type compared to Woodbine North where single-family detached homes dominate.
The continuous erosion of housing affordability in the GTA and the lack of sufficient new housing construction highlight the need for an appropriate growth strategy. A balanced growth policy that respects and promotes sustainable development along with supplying more affordable shelter for families will help to ensure that the GTA grows while maintaining its competitive advantage in the global marketplace.
Follow HuffPost Canada Blogs on Facebook
Also on HuffPost:
Canadian Homes You Can Buy With A Median Income (September 2016)
This big brick box in Empress, a village about 350 kilometres from Calgary, could use a little work on the inside. It's a historic building with potential for a business to run on the main floor and have a residence on the top one. The inside has mostly been torn apart, so you certainly have your work cut out for you.

This three-bedroom P.E.I. home sits on a large, 1.18-acre lot in Duvar, about 120 kilometres from Charlottetown. And it's a fixer-upper. The basement needs foundation. But if you're willing to buy the home as is, it's there for you.

This 625-sq.-ft., one-bedroom apartment is located in Tahsis, a western Vancouver Island community about 150 kilometres from Campbell River. For just under $20,000, you can own a unit that has river and mountain views and comes with a spacious living room. The building has three common barbecue areas. The home's listing pitches it as a "great getaway for fishing."

Sintaluta. It's a small town about 45 minutes away from Regina. And a "motivated" seller wants you to have a piece of it with this three-bedroom, one-bathroom, 1,000-sq.-ft. home that is being sold in as-is, where-is condition. The listing doesn't come with any photos of the interior and it's being pitched as a project for renovators who can "bring life back" into the home. So you likely have some real grunt work to do.

How about that, an affordable home in a major Canadian city! This 626-sq.-ft., one-bedroom apartment is being pitched by an out-of-town seller who's "looking at liquidating his holdings" in Winnipeg. He owns three units, and one of them is this one, which is currently being rented out to tenants who are paying $675 per month plus hydro. So there's a chance to have someone else pay your mortgage. The unit is also assessed at $79,800, so maybe someday you might be able to sell it for what it's worth, at a significant profit to yourself.

"With a little TLC the opportunities are endless." That's how the ad concludes for this 991-sq.-ft. home in Matheson, which is just over 350 kilometres north of Sudbury. It has an "open concept main floor" and an upstairs big enough to build your own little office. It's being sold as is and there are no interior photos attached to the listing.

A giant, two-bedroom home just over the U.S. border in Maine can be yours, if you're willing to put the work into it. It also comes with a dining room, living room, den and laundry room. And one bathroom.

The listing is as honest as they come: "Bring your ideas and tools, this home is in need of a lot of work." It's an 864-sq.-ft. home located in Canso, a small coastal community about 320 kilometres from Halifax. The kitchen has pretty wooden cabinets and the home, overall, looks a tad outdated but could be quite nice with some love. Not too bad for $16,900.

Travel 270 kilometres away from St. John's and you'll find yourself in Dunfield, where you'll find a 994-sq.-ft., two-bedroom home that could be yours with some renovation. Listings show that some windows are missing on the home, and the interior could use some sprucing up too. But it's priced to sell, so if you know how to use your tools, it might be worth a shot.
Follow Murtaza Haider on Twitter: www.twitter.com/@regionomics