Welcome To The Island Of Beautiful People
Bronzed bikini goddesses gaze through mirrored sunglasses over ocean waves.
Bleach-haired surfers with six-pack abs you could see from space look as cool and unperturbed as Roman statues.
You are in Bali.
Specifically, you are in Canggu, Bali; and currently, you are at the beach with your friend and fellow Montrealer, Melissa, who is 29, gorgeous and without body fat, but also funny and unapologetically honest. She's been here since January. The first piece of advice she gives you about Canggu: "Don't fall in love."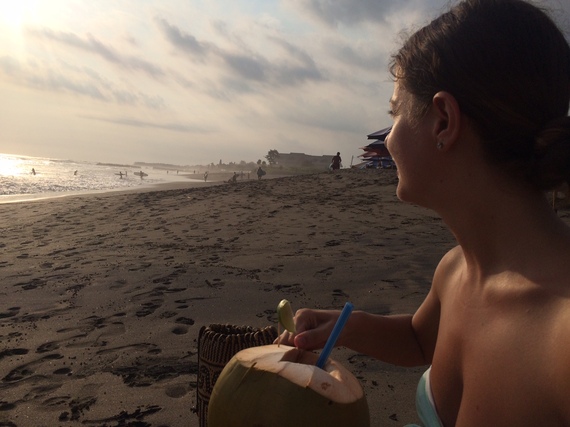 The two of you have just watched the sun set while drinking coconut water out of actual coconuts. Now you're at the beach bar, where a guy one barstool over strikes up a conversation.
With Melissa.
He asks if she teaches yoga. Where she's from. How long she's been here. He not only doesn't speak to you, he doesn't even make eye contact. If you'd just arrived, you might be shocked. But this is Canggu. At 39, you are not only over the hill but down the other side, across a stream, and pretty much on another continent altogether.
Canggu is a visually stunning paradise where rice paddies meet ocean. Like most of Bali, it is full of kindness, and very relaxed. Out on the roads, cars, trucks, buses and scooters press up against each other, snaking through black exhaust in an unhurried manner, everyone just emanating this "we'll get there eventually" vibe. A friend tells of seeing a scooter driver come within millimeters of a full frontal crash with an old man on a loaded bicycle. They both made sure each other was okay, smiled, and went about their respective days.
And then there are the foreigners.
So many. So beautiful. Travellers, expats, digital nomads. Models. Surfers. So much Instagramming, of cellulite-free bums in bikini bottoms, of chaise lounges next to infinity pools, of breakfast bowls that cost enough to feed a Balinese family for a week. A recent article called "Eat, Pray, Colonize" perfectly captures how the Bali for which foreigners claim their love often has little to do with the actual Balinese or their culture. It's not like you're not guilty of this. You have come to Canggu to try out a co-working space -- a place where aforementioned digital nomads (i.e. you) can get a reliable connection, and, if you're lucky, meet a few like-minded souls. Your commute to work in the morning looks like this: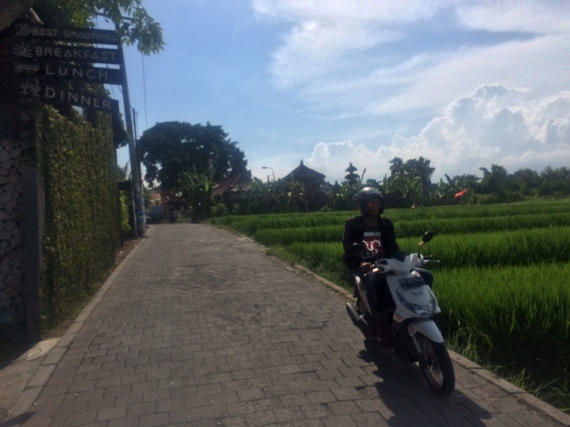 On your first day there, like a good little expat, you order a smoothie at the adjacent café. A girl sitting nearby has just received her breakfast bowl.
"I ordered extra mango," she says to the (Balinese) waiter.
He smiles so genuinely that your heart melts.
"I am so sorry," he says, "but we are out of mango."
The girl says she paid extra for mango. The waiter apologizes and says he doesn't think she has. The girl asks why you would have a breakfast bowl with mango on your menu when you don't have mango? The waiter apologizes once more. You are riveted -- had this happened in Montreal, he would have spat in her food by now, or worse. The girl asks to see the bill. The total cost of the extra mango is about $0.50 Canadian. You burn with shame at being a white person in Bali.
Incidentally, $0.50 is how much it costs to print one page at the co-working space. A few streets over, it costs $0.03.
The vast span in the price of things is telling. A street food dinner for four comes to $10. You try a Mexican restaurant, where two tiny tacos -- the kind where you're already hungry before you've finished them -- cost $14. You can pay $1.50 for a coconut on the local beach, or $400 for a day of eating and drinking for two at a beach resort, accommodations not included.
Street food in Canggu
There are a thousand opinions on this. It supports the local economy -- of course. Bali is still magical -- it is. Bule (white people) are ruining Bali -- we are. Bali is changing, rapidly -- it is. You write this as you use the air conditioning and connect to the Wi-Fi and drink the filtered water.
You notice that Canggu sometimes brings out the worst in you. You, Ms. Positive Body Image, have not in years been more disdainful of your poor stomach and crow's feet. It doesn't matter that the average age here is 23, and that you are, well, not that. All the perfection and toned muscles have you vowing at least twice never to even look at another cheeseburger again for the rest of your life.
But more often, it brings out the best in you. Every day since arriving Canggu you have met more of another kind of beautiful people. You've learned about the courageous leaps they've taken, the businesses they've created, how they've supported local tradespeople and the environment. Sharing these stories leaves you feeling like a young backpacker again.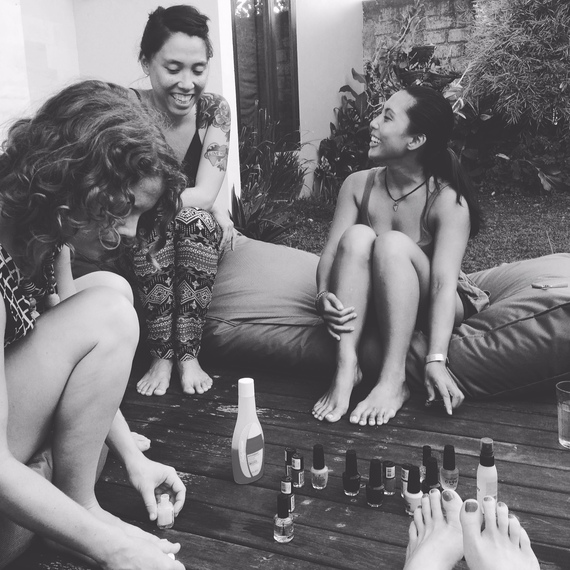 Brainstorm and beauty sesh with Sarah, Casha and Leannah
One afternoon, you go for a walk on the beach. You pass people selfie-ing next to surfboards, flexing butt cheeks that defy laws of gravity. Three girls, each more model-like than the last, are spread out on a sarong. One obsesses over a boy; another about her (non-existent) thighs.
And then, you remember that, while you never looked as flawless as these women, you were once their age. Also, you had zero confidence. Maybe minus four. You wouldn't go back to being that person for all the tacos in Indonesia. You wouldn't go back five years, or even two. But also, you wouldn't trade any of it. Because right now, at 39, in Canggu, you are more at peace than you've ever been.
You hop aboard your trusty scooter and drive off: away from the sunset, and full of gratitude. You're not in love. Not yet. But you might stay just a little bit longer.
Follow HuffPost Canada Blogs on Facebook
ALSO ON HUFFPOST:
10 Ways to Win at Budget Travel
You booked a dream vacation and ended up spending way more than you expected. What happened? Yes, it's your vacation and you should make the most of it, but it's also important to make sure you can pay the bills when you get home. Here are 10 money saving tips to follow when planning your next vacation.

When it comes to booking, timing is everything. Prices on both flights and accommodations can vary wildly depending on when you book. Follow these three guidelines to maximize your chances of getting the cheapest options: Book in Advance: Whether it's a flight or accommodation, you're more likely to get a better price booking ahead of time—but, that isn't to say that you can't find last minute deals. The exact amount of time to book in advance will vary by destionation—check out TripAdvisor's "Best Time to Book" for upcoming summer travel—but many hotels will offer up to 20 percent off for booking in advance, and according to CheapAir.com, 54 days in advance is the magic number for booking the cheapest flights. Of course, timing is everything and there is no "golden rule", but earlier does tend to prove to be cheaper. Book a Stopover: If you're going on an international trip, consider taking a stopover to make the most of your journey by getting to experience a second destination for a much lower cost. Here are the top airlines that offer free stopovers. Book Travel for Midweek: If you can avoid travel on a weekend, you're going to have instant savings in most destinations. Fares are usually lowest on Tuesdays and Wednesdays, so it might be worth evaluating if the money you'll save makes up for using a few extra vacation days. RELATED: 14 Myths About Booking Cheap Flights (Photo: Thinkstock/iStock)

From couch surfing to house sitting, there are dozens of ways to cut travel costs or trade a service for accommodations. Hostels are a more traditional low-cost option, and new higher-end brands like Safestay and Generator Hostels offer hotel-like amenities. Couch surfing, staying in a university dorm, and KOA camping are other budget-friendly ways to save on accommodations while traveling, if you're willing to sacrifice a bit of comfort and added amenities. WWOOFing (World Wide Opportunities on Organic Farms) is one way to travel and stay for free in exchange for your work on a farm. Another alternative is to pet or house sit in exchange for accommodations through a site like TrustedHousesitters, or to house swap (HomeExchange) or night swap (NightSwapping). (Photo: Thinkstock/iStock)

Savvy travelers know that you can't just take any regular ATM or credit card abroad. Foreign transaction fees and ATM fees can add up quickly, so it's important to choose your cards wisely. Many credit cards now offer cards without foreign transaction fees, which will save you the two to three percent that other cards tack onto every purchase, so make sure the card you are primarily using abroad doesn't have these fees. ATM fees can also take a heavy hit on your wallet, so check with your bank to see what its ATM access fee is in foreign countries. Choosing a bank that is part of the Global ATM Alliance is also a good option for frequent travelers, as it will not charge an international ATM access fee—but beware: Depending on the card, you might still end up with international transaction or foreign currency fees. Another alternative is to take out larger quantities of cash a few times during your trip to avoid racking up fees with multiple smaller withdrawls—just make sure you are carrying your money carefully. RELATED: The Worst Credit Card Gotchas to Avoid When You Travel (Photo: Thinkstock/iStock)

Walking is often the best way to see a city, plus it's free and a great way to work off those extra scoops of gelato. By walking and booking accommodation close to the sites you want to see, you'll cut costs on transportation and be less likely to spend extra cash on taxis or ride shares. Many cities also offer free walking tours, and many of the best sites in cities are parks or architectural buildings you can see for free. (Photo: Thinkstock/iStock)

From AAA cards to student and senior discounts, there are plenty of discounts out there just waiting to be used. For American frequent travelers, AAA cards are a must, as they offer discounts at most major hotel chains, on Amtrak tickets, at stores and attractions, and they provide roadside assistance. Sites like Groupon and Living Social are packed with deals on travel, restaurants, activities, and travel gear—just make sure you read the fine print in the offerings. Many U.S. tourism boards are also great resources for discounts, offering coupon books, maps, recommendations, hotel discounts, and trip planning services. And, if you qualify as a student or senior, you tend to get even more discounts for transportation, museums, and attractions. RELATED: Tried and True Student Discounts in Europe (Photo: Thinkstock/Photodisc)

Spend a little extra time preparing and packing to save money when you're on your next trip. Make sure to use a bag that fits the carry-on restrictions to avoid checked bag fees (and to save you time at the airport). And be sure to abide by weight limits if you're traveling on an airline that's a stickler for this rule (most budget airlines are). When packing, make sure to have a checklist with all necessities—especially medicine, first aid kit essentials, and proper toiletries—as certain things tend to be a lot more expensive abroad (or at the airport). Speaking of …

Everyone knows this by now; there's an airport markup on many items. While you can't do much if you forget an essential at home, don't replace forgotten items at airport shops unless you want to spend more than you need to. To avoid high airport prices, pack an empty water bottle and refill it after security, bring your own snacks, shop for books and magazines before you travel, and make sure you have all of necessary toiletries, medicines, and essentials in your personal item before you leave for the airport. Finally, take note of currency exchange rates. The U.S. dollar is particularly strong right now, so you won't really be saving any money shopping duty free in most countries. RELATED: 9 Things You Should Never Buy at the Airport (Photo: Thinkstock/iStock)

Spend a few extra hours researching and budgeting to save big on travel and follow these tips: Research public transportation options ahead of time and decide if you're going to rely on walking, the subway, or taxis. Figure out your airport transportation ahead of time so you don't just hop into a cab. Budget in advance, so you're more likely to stick to a set dinner price or limit daily expenses. Find free attractions ahead of time and decide what other sights you are willing to spend on. By making a "must-do" list, you can prioritize what you would like to see in a destination, and then if you have extra time or money, do things lower on the list. It's also important to consider that some countries are expensive to get to, but very inexpensive in terms of hotels and food. The opposite is sometimes true, too: Often, destinations that have cheaper flight options also have high hotel and food prices. To budget on-the-ground expenses, check out Expatistan's Cost of Living Index for a general idea of prices in destinations around the world. (Photo: Thinkstock/Ingram Publishing)

You won't be charged that much data to post this one Instagram … right? Data roaming charges add up quickly, and it's unrealistic for many people to rely solely on Wi-Fi. There are a plenty of ways to make a phone work abroad, but as a general rule, know that unlocking your phone and getting a foreign SIM card is usually the best and cheapest way to go. Most carriers will unlock your phone if you go into a branch store, and basic data and text plans in most countries abroad will cost you under $30 (SIM card included). This option essentially allows you to use your phone as you normally would at home, just under a different number. RELATED: How To Prepare and Use Your Cell Phone Abroad

Food is an amazing part of a destination's culture to discover, but you can save a lot by reducing how much you rely on eating out, especially for breakfast and lunch. Pack 5 to 10 of your favorite granola bars in your carry-on to have on the plane, for a snack, or for an on-the-go breakfast. If you're staying in alternative accommodations, it's a lot easier to cook your own breakfast and keep snacks in a kitchen. If you're traveling for a longer period of time, check out the local grocery store—it will save you money compared to dining out, and it's a great way to have an authentic cultural experience. (Photo: Thinkstock/Photodisc) Read the original story: 10 Ways to Win at Budget Travel by Ashley Rossi, who is a regular contributor to SmarterTravel.
Follow Natalie Karneef on Twitter: www.twitter.com/karneefn