From Farm To School Table, Feeding Disadvantaged Children In Uganda
A school feeds its entire student population with fresh, healthy, nearly organic produce, grown two kilometres away.
The school is in rural Uganda. The students are some of the most impoverished in the world.
Fifteen years ago, Twesigye Jackson Kaguri, a native Ugandan, was living the American dream -- until his brother, and then his sister, died of HIV/AIDS. Coming face to face with the scale of Uganda's HIV/AIDS pandemic, Kaguri took the $5000 he had saved for a down payment on his own home and built Nyaka Primary School. Its goal: to work on behalf of HIV/AIDS orphans, and break the cycle of poverty in this area of rural Uganda.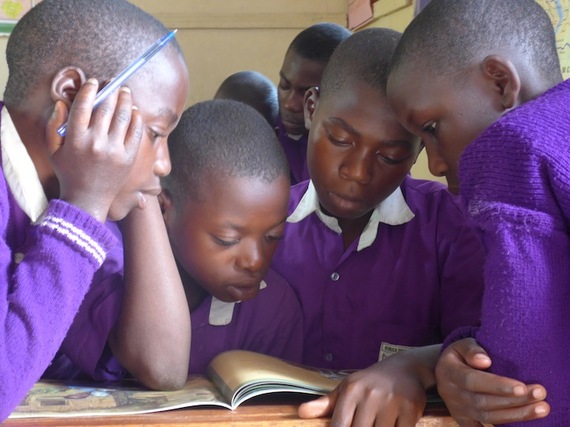 Nyaka students, hard at work
Since then, the Nyaka family has grown to include another primary school, a library, a computer lab, a medical clinic, a program for grandmothers, a vocational secondary school, and the Nyaka farm, which produces vegetables, fruit and rice, and is home to several cows, chickens and goats.
"For a child who walks 15 miles a day to and from school, a meal is a necessity," Kaguri explains. "Lack of nourishment is one reason why there are 70 million children in the world who still do not attend primary school."
The man behind the farm is 35-year-old Richard Munyakazi. Together with two other employees, Munyakazi runs a tight ship, keeping 340 students and 34 staff members fed.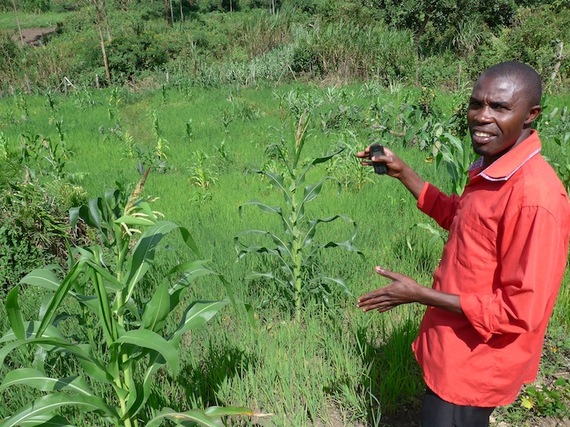 Richard Munyakazi
"But Nyaka farm isn't just about food," Munyakazi explains. "Every year, during school holidays, many local secondary school students come to here to learn how to plant crops, control pests, and manage the factors that go into growing food."
Extra produce from the farm feeds students at the other Nyaka-supported school in Kutamba, and goes to some of the Nyaka grandmothers, many of whom are raising grandchildren after losing children to HIV/AIDS.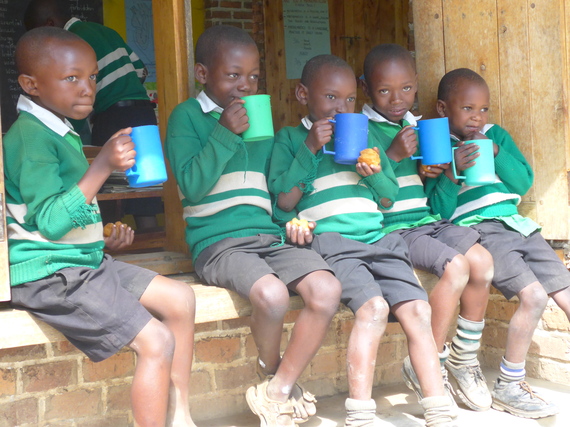 Breakfast time at Kutamba School
Organic gardening is even becoming part of the Nyaka farm, but not for health reasons. The artificial manure that was used to fertilize the farm's crops became too expensive, so Munyakazi began using something called guanomanure, which is chicken litter mixed with coffee husks. With the chickens "producing" the bulk of the product, guanomanure is extremely cheap, and, of course, chemical-free.
Still, there are obstacles. Or, as Munyakazi says, "Pray for rain." The wet season in Uganda is becoming shorter and drier, and droughts affect crop yields everywhere, and prevent the farm from growing tomatoes, carrots or green peppers. With an economy that's so local, and so many rural Ugandans making a living off farming, irregular weather patterns affect the country's food security in a very serious way.
Days after my visit to the farm, there is a torrential rainfall, which, within the space of a couple of hours, kills acres of banana plantations across the region -- a major food source for most residents.
For now, though, the Nyaka farm continues to serve its purpose. And this year on Earth Day, as we discuss how to feed our planet locally and sustainably, we might look towards other parts of the world, where this is simply a way of life.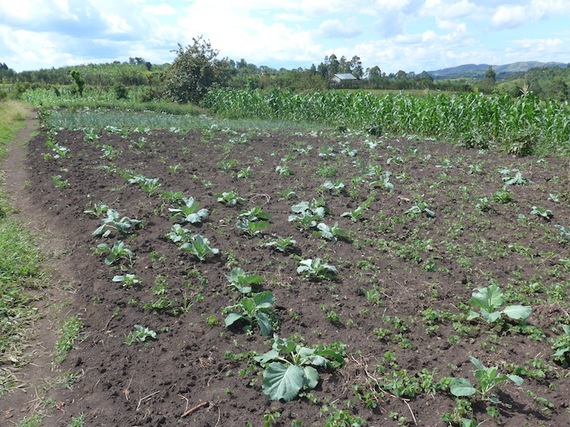 Nyaka partners with Beautiful World Canada, an organization that funds, supports and encourages higher education for children in Rwanda, Uganda and Sierra Leone. Beautiful World-sponsored senior high school, college and university students are required to volunteer at the Nyaka farm during their school breaks. To learn more about Beautiful World or about sponsoring a student, please visit www.beautifulworldcanada.org.
Follow HuffPost Canada Blogs on Facebook
ALSO ON HUFFPOST:
Women in Uganda represent 80% of the agricultural labor force, are responsible for about 80% of the food crop production and continue to contribute about 60% of the labor for cash crop production.

Women also work in non-farm activities to supplement household resources. This double workday often means delegating domestic responsibilities to younger females in the household.

Alice, 44 years old, is left alone to care for her ten grandchildren, after three of her daughters died of an AIDS related disease. Many girls and young women in Uganda become coerced into sex or can be obliged to trade sex for economic survival. In some districts, HIV prevalence among 13–19 year old girls is at least 10 times higher than in males of the same age.

Uganda's population (34 million) increases each year by over a million people with an average of six children per woman. Big numbers of children hamper family's savings, overwhelm Uganda's education programmes resulting to large numbers of unskilled young people that affect the country's economy and ability to generate sufficient employment.

Children line up at the village "shop" in Luwero district, in Central Uganda. The area suffers a great burden of poverty and has one of the highest rates of orphaned children that make up of the 16% of the population, most of which are left fending for themselves. Others live with their grandparents in poverty stricken homes where they lack basic commodities such as food, clothing and bedding. The district records many cases of child abuse, child sacrifices, defilement, and torture.

According to the latest available demographic data (2011) the number of deliveries attended to by a skilled birth attendant has increased from 42 percent in 2006 to 58 percent in 2011 resulting to a decrease in the number of babies dying during or just after birth from 76 per 1,000 live births in 2006 to 54 per 1,000 live births in 2011.

Although divorce is still a stigmatized act in Uganda, new legislation has made it easier for women to escape abusive marriages. According to the old legislation, a woman had to prove multiple grounds, such as cruelty and desertion in addition to adultery, in order to file for divorce, while the man only had to prove adultery. The new law requires from both men and women to prove a single ground.

A woman, carrying her baby on her back, rides her bicycle outside the town of Gulu, in northern Uganda. According to the 2011 Demographic and Health Survey, 65% of married women in northern Uganda, have experienced a form of violence from their partner; one third of married women have also reported sexual violence. It was raised that men over drink and spend little time in economically productive activities, resulting into several forms of domestic violence.

While universal primary education has made it easier for children in Uganda to attend school, it has put the school system under tremendous pressure as schools found themselves unprepared to accommodate the doubling of enrollments. Many classrooms can have up to 100 students in one room with one teacher.

Classrooms often lack basic school materials. Beyond an old blackboard, no other teaching aids or textbooks are available.

Dropout rates are extremely high, especially among the girls. Negative cultural attitudes towards girls' education, lack of sanitation facilities in the school toilets and early pregnancies are the main reasons of the high female dropout rates. Girls also lack of a female role model, as the majority of teachers are male, leading to a further increase in school dropout.

Women in Moroto town, in Karamoja region, line up for the United Nation food distribution. Karamoja is one of the most impoverished regions in Uganda with illiteracy rates up to 92 per cent. Although is forbidden by law, some 90 per cent of girls in Karamoja have suffered genital cutting before the age of 15, a procedure that often takes place in bushes and caves. The practice involves "cutting" a girl's vagina to create a seal that narrows the opening, just wide enough to allow the passing of urine and menstrual blood. In Uganda, female genital mutilation is practiced in Sebei region-Eastern Uganda, and in the Karamoja region.
Follow Natalie Karneef on Twitter: www.twitter.com/karneefn