Mothering Uganda's Generation Of Orphaned Grandchildren
Imagine a life where a saucepan is your most treasured resource.
Where having access to a single a garden hoe can make a world of difference to your family's livelihood.
Where that family consists of several orphaned grandchildren, many of whom are HIV positive. And you, an elderly grandmother, are their only hope for survival.
These are the women I meet in rural Uganda, where I am volunteering with the Nyaka AIDS Oprhans project. Three staff members in charge of distributing microloans to these grandmothers, and of following up on their progress. I join them one day when they visit the grandmothers by motorbike, zigzagging through Kanungu district across bumpy, dusty, rocky roads, then hiking through banana and coffee plantations and across muddy streams, all in overpowering heat. As the sweat pours off my face, I catch myself grumbling... before I remember that the elderly women I'm about to meet travel these same paths daily, often barefoot.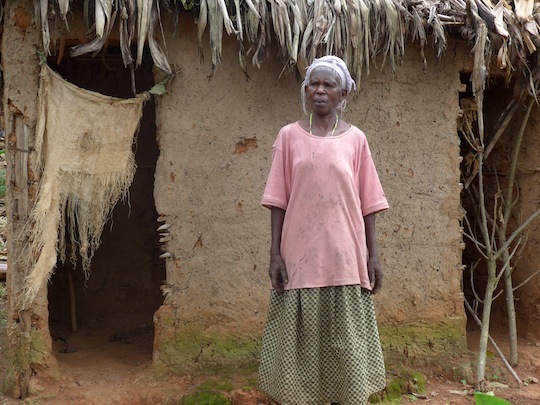 Grandmother Tibandebu, in front of her pit latrine
Fifty-three-year-old Jetu is one of these women. Jetu lives with two orphaned grandchildren, and cooks in a kitchen that's so close to collapsing, she's afraid to prepare food in it. Nyaka is in the process of building her a new kitchen, and is supplying hoes for farming to Jetu and her local group of grandmothers. They also give her support and education on how to look after her grandchildren.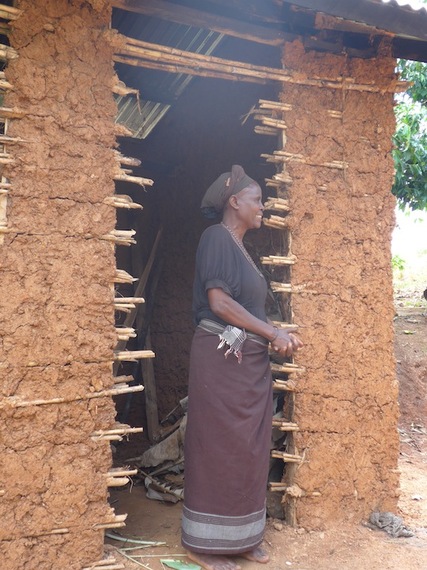 Jetu and her new kitchen
Volnic is 66 years old, and has four grandchildren, ranging in age from 3 to 18 years old. All the children but one are orphaned, are all are HIV positive.
"Nyaka tested the children for HIV," Volnic explains, as she gestures gratefully to the Nyaka staff member translating her words. "I have now attended two training sessions on how to emotionally support them." Volnic has also received support through a Nyaka microloan, which she's used to improve her food production, and to buy pigs, which she hopes will produce piglets.
Volnic with granddaughter Hanani
Eighty-five-year-old Christina has suffered life of unimaginable difficulty: 15 of her 16 children have died. She now lives alone, and suffers from psychological issues. However, Christina is still bright and strong. "Being part of the Nyaka granny group has given me a sense of belonging," she says. "My mental health has greatly improved."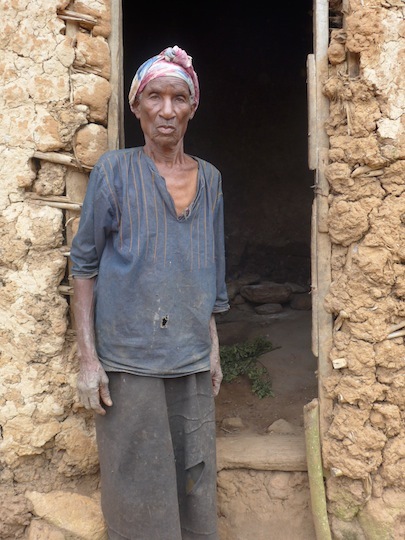 Christina
Turyamureba cares for three grandchildren -- two whose parents are still around, and one, 12-year-old Ambrose, who is an orphan. Turyamureba used Nyaka funding to buy agricultural hoes, and saucepans. Saucepans were often a rare resource to these grannies before Nyaka: they would use broken or leaky ones, or have to share between them. You can find Turyamureba's beautiful handicrafts for sale through Nyaka.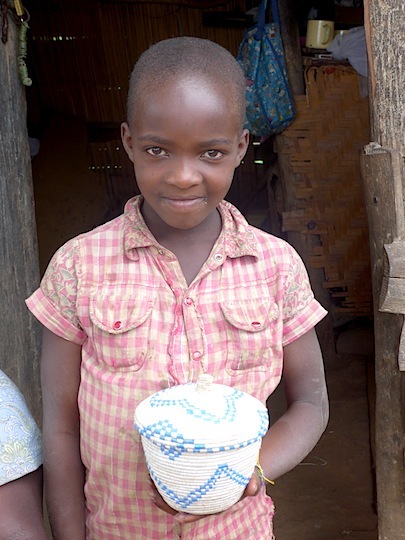 Turyamureba's granddaughter with one of her grandmother's baskets
As we drive home that evening, another Nyaka grandmother hails us from the side of the road. We pull over, and she greets us warmly, and sends us on our way with sugarcane grown in her garden. I notice how many local residents recognize the granny monitors on the motorbikes, and see how they link their presence with good things for the community. Supporting these grandmothers means supporting their grandchildren, the local economy, and that community's future. With 7000 grandmothers under the Nyaka umbrella, that's a lot of lives changed, and a lot of futures looking far brighter.
The Nyaka AIDS Orphans Project partners with Beautiful World Canada, an organization that funds, supports and encourages higher education for children in Rwanda, Uganda and Sierra Leone. To learn more about Beautiful World, or about sponsoring a student raised by one of these grandmothers, please visit www.beautifulworldcanada.org.
Follow HuffPost Canada Blogs on Facebook
ALSO ON HUFFPOST:
Women in Uganda represent 80% of the agricultural labor force, are responsible for about 80% of the food crop production and continue to contribute about 60% of the labor for cash crop production.

Women also work in non-farm activities to supplement household resources. This double workday often means delegating domestic responsibilities to younger females in the household.

Alice, 44 years old, is left alone to care for her ten grandchildren, after three of her daughters died of an AIDS related disease. Many girls and young women in Uganda become coerced into sex or can be obliged to trade sex for economic survival. In some districts, HIV prevalence among 13–19 year old girls is at least 10 times higher than in males of the same age.

Uganda's population (34 million) increases each year by over a million people with an average of six children per woman. Big numbers of children hamper family's savings, overwhelm Uganda's education programmes resulting to large numbers of unskilled young people that affect the country's economy and ability to generate sufficient employment.

Children line up at the village "shop" in Luwero district, in Central Uganda. The area suffers a great burden of poverty and has one of the highest rates of orphaned children that make up of the 16% of the population, most of which are left fending for themselves. Others live with their grandparents in poverty stricken homes where they lack basic commodities such as food, clothing and bedding. The district records many cases of child abuse, child sacrifices, defilement, and torture.

According to the latest available demographic data (2011) the number of deliveries attended to by a skilled birth attendant has increased from 42 percent in 2006 to 58 percent in 2011 resulting to a decrease in the number of babies dying during or just after birth from 76 per 1,000 live births in 2006 to 54 per 1,000 live births in 2011.

Although divorce is still a stigmatized act in Uganda, new legislation has made it easier for women to escape abusive marriages. According to the old legislation, a woman had to prove multiple grounds, such as cruelty and desertion in addition to adultery, in order to file for divorce, while the man only had to prove adultery. The new law requires from both men and women to prove a single ground.

A woman, carrying her baby on her back, rides her bicycle outside the town of Gulu, in northern Uganda. According to the 2011 Demographic and Health Survey, 65% of married women in northern Uganda, have experienced a form of violence from their partner; one third of married women have also reported sexual violence. It was raised that men over drink and spend little time in economically productive activities, resulting into several forms of domestic violence.

While universal primary education has made it easier for children in Uganda to attend school, it has put the school system under tremendous pressure as schools found themselves unprepared to accommodate the doubling of enrollments. Many classrooms can have up to 100 students in one room with one teacher.

Classrooms often lack basic school materials. Beyond an old blackboard, no other teaching aids or textbooks are available.

Dropout rates are extremely high, especially among the girls. Negative cultural attitudes towards girls' education, lack of sanitation facilities in the school toilets and early pregnancies are the main reasons of the high female dropout rates. Girls also lack of a female role model, as the majority of teachers are male, leading to a further increase in school dropout.

Women in Moroto town, in Karamoja region, line up for the United Nation food distribution. Karamoja is one of the most impoverished regions in Uganda with illiteracy rates up to 92 per cent. Although is forbidden by law, some 90 per cent of girls in Karamoja have suffered genital cutting before the age of 15, a procedure that often takes place in bushes and caves. The practice involves "cutting" a girl's vagina to create a seal that narrows the opening, just wide enough to allow the passing of urine and menstrual blood. In Uganda, female genital mutilation is practiced in Sebei region-Eastern Uganda, and in the Karamoja region.
Follow Natalie Karneef on Twitter: www.twitter.com/karneefn