The Best Wines Of The Month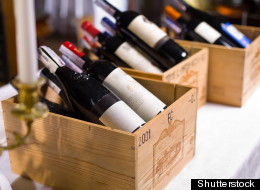 As winter sets in and holiday cocktails feel like distant memories, it can be the perfect time to investigate some of the better wine options available to Canadians. While most people tend to lean toward red wines in the winter, there's also a little something for port lovers too.
Maybe you're heading to a dinner party or just cuddling on the couch with a pizza, but I've come up with some options I love to satisfy every palate -- and with nothing over $20, to satisfy your budget as well.
Small Gully Mr. Black's Little Book Shiraz 2008
Barossa Valley, South Australia

Rich and full-bodied with fleshy ripe blackberry, mint and black olive on the nose. Layers and smooth, with polished tannins and a long finish. Terrific mouth-watering juiciness for dishes like combination pizza, pasta in meat sauce and steak.

Product No: 287979
Alcohol level: 15.2%
Price: $16.95
Score: 90/100
Quinta De Ventozelo Reserva Tawny Port
D.O.C., Douro, Portugal
Toffeed nose with toasted almond richness. Wonderful after-dinner drink, especially by a blazing fire. Pair with creme caramel, biscoti or angelfood cake, roasted nuts, blue-veined cheeses. Highly recommended. A Natalie MacLean Divine Dessert Wine
Drink: 2013-2020
Product No: 297796
Alcohol level: 20%
Sweet
Price: $16.95
Score: 90/100
RavensWood Vintners Blend Petite Sirah 2009
California, United States
A full-bodied, rich, dark red with aromas of blackberry, black plum and dark spices. Smooth on the palate. Perfect for movie night with meat lovers' pizza.
Drink: 2013-2016
Product No: 161554
Alcohol level: 13.5%
Dry
Price: $18.95
Score: 91/100
Torres Viña Esmeralda 2011
D.O., Catalunya, Spain
Simply divine even at triple the price it is. Stunningly lovely white floral notes along with some lychee and white melon. So, so pretty as an aperitif or with fresh seafood. Highly recommended.
Drink: 2013-2015
Product No: 113696
Alcohol level: 11.5%
Dry
Price: $13.95
Score: 90/100
2012's Celebrity Wines, Beers And Spirits
Xzibit has branched out from pimping rides, it would seem. The rapper recently announced the launch of his own tequila in partnership with Bonita Spirits. Unlike other tequilas, which are distilled three times, Xzibit's is distilled five.

In March, word spread that Hollywood heavyweight George Clooney is launching a tequila called Casamigos with restaurateur Rande Gerber, who also happens to be Cindy Crawford's husband. Little else is known about the spirit, except that its name was inspired by Clooney and Gerber's homes in Mexico and it will be served "at a reasonable price point."

Earlier this year, Fergie announced a family wine label, Ferguson Crest, with her father, Pat Ferguson. The line includes several types of wine including a syrah, a cabernet and two viogniers. Oh, and a red blend called "Fergalicious."

Even Richard Gere is getting into the wine game. In May, news broke that the actor would launch his own line of Tuscan wines produced by Tenuta San Filippo di Montalcino. The first batch of Tuscan red wine will be a 2007 vintage called Bedford Post.

Hollywood actress Drew Barrymore released her first wine, Barrymore Pinot Grigio, earlier this year -- and it's being received well. This summer, the vintage won a gold medal at the Le Challenge International du Vin in France.

When we think Mike Ditka, wine isn't the first thing that comes to mind. But maybe it should; the legendary coach relaunched his line of private-label wines this year.

European football star (that's soccer to Americans) Lionel Messi first foray into the wine world came early this year when Argentinian winery Bodega Valentin Bianchi named a wine after him.

Former NFL wide receiver and current ESPN analyst Keyshawn Johnson unveiled his own wine label earlier this year. Orignally called KJ1, the wine's name was changed to XIX in recent months. Whatever it's called the 2007 Cabernet from Eastern Oregon hit stores this past fall.

The Grateful Dead partnered with Dogfish Head Craft Brewery to create a new beer they're calling "American Beauty." It won't come out until October of 2013, though.

Dogfish Head really loves rock bands. The craft brewery also partnered with Pearl Jam to brew "Ten," a brew marking the band's 20th anniversary. The Belgian-style golden ale with black currants was released in October.

Food Network celebrity chef Tyler Florence jumped into the wine game earlier this year with a line of wines in partnership with the Michael Mondavi Family. Tyler Florence Wines and TF Limited-Production Wines are available for sale online.

Joël Robuchon-branded beer is now a real thing, thanks to Japan's Sapporo Brewery. The famed French chef partnered with the company on a Yebisu beer, which will be served at his restaurants in Japan and a few abroad. The beer is made with malt from France's Champagne region and will be available starting February 20.
Follow Natalie MacLean on Twitter: www.twitter.com/NatalieMacLean