An Affordable Weekend Wine Guide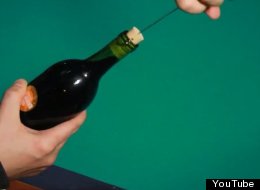 This weekend is traditionally known as one of celebration -- even with that pesky working Monday coming along before the official parties of New Year's Eve. So what better time than now to show off some wine knowledge?
Of course, with so much selection out there, it's hard to know which bottles to choose -- or for that matter, how much to spend. Try out these choices of some of the best available for a true oenophile weekend, don't be afraid to experiment, and as always, enjoy responsibly.
Santa Alicia Reserva Carmenere
Maipo Valley, Chile
Incredible for the money: Stunning! Lusciously fleshy dark fruit and some smoke. Layers of flavour unfold in your mouth and surround your senses. Close your eyes and enjoy. Pair with: turkey, stuffed peppers, spicy sausage and a variety of other meats and firm cheeses. Perfect for movie night.

Drink: 2012-2015
Product No: 309302
Price: $12.15
Score: 90/100
Mirassou Winery Pinot Noir
California

Juicy cherry-berry, smooth and medium- to almost full-bodied. Friendly like a short dress and a flirty smile.

Drink: 2012-2015
Product no: 185249
Price: $12.95
Score: 87/100
Ruffino Chianti
D.O.C.G. Tuscany, Italy

Aromas of wild tart cherries and cedar forest. Smooth, savoury, mouth-watering, full-bodied and rustic. A meaty wine that's not too heavy. Great price. Pair with: Italian pastas and sausages.

Drink: 2012-2015
Product No: 1743
Price: $14.95
Terra Noble Gran Reserva Cabernet Sauvignon
Colchagua Valley, Chile

Love the nose! Aromatic, lifted black plum and violet notes. Don't ask, just drink. Full-bodied and meaty with layers of flavour. Terrific price. Pair with prime rib or filet mignon.

Drink: 2012-2016
Product No: 46268
Price: $16.95
Score: 90/100
Top Five Tips for Finding Great Wines
When a region is stereotyped for one kind of wine, in Niagara's case icewine, look for what else it does well, such as sauvignon blanc or riesling. These are the best supporting actors that often offer stellar performances in the glass.

International trade bans are tough on any country, but it can motivate domestic industries to be more competitive afterwards. South African wine has made amazing progress quickly following the end of Apartheid and they offer extraordinary taste and value.

A bargain is not the cheapest wine but rather than best price/quality ratio, Pinot noir is expensive to grow and make. Niagara pinots are a bargain compared to those in Burgundy, which easily top $50 a bottle as a starting price.

Look for wines from warm regions, such as Chile and Argentina. Often the cost of production is cheaper because winemakers aren't battling disease, rot and weather as much as cool climate producers do. Therefore, there's less crop loss and lower costs for productio

Ultra-fashionable wine regions often get all the attention for any particular country, as do France's Bordeaux and Burgundy. The command high prices. Look for the lesser-known regions for your best value bottle, like southern France's Languedoc-Rousillon, where the deals are to be found.
Follow Natalie MacLean on Twitter: www.twitter.com/NatalieMacLean