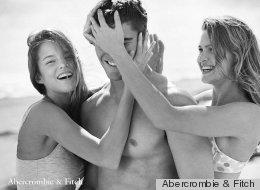 There can be no doubt that we women have a very complex and emotional relationship with our bodies and, as a consequence, with clothing. The world of fashion has, for the most part, done very little in breaking down those barriers. Most models are a size and shape that most of us are not.
But this isn't only about industry versus individuals. After all, the fashion industry is made up of many individuals. And it is supported by us; we covet and shop for clothes, we buy the magazines, we dissect the bodies of other women. And many of us -- myself included -- wallow in the no-holds-barred fantasies concocted in those Annie Leibovitz / Grace Coddington Vogue spreads.
So, we want conflicting things from fashion. We want it to be "real," relatable, directly inspiring. At the same time, we want to aspire, to fantasize and be transported away from real life; we don't necessarily want to be reminded about limitations (size, price) all the time!
This is all to say that none of it is simple.
Boundaries are breaking down all around us. And this new wave of feminism we're experiencing has impacted many of the boundaries in the world of fashion too; the idea that there are standards of beauty that we must conform to, that being beautiful is a feeling that should be available to only a few privileged few, rather than something every woman should feel, from both inside and out.
When the ground shifts like this, it can cause tensions. People examine more closely the messages around them, question the authenticity of editorials, brands and messages in general. Recently, I've noticed different brands trying to express themselves in very different ways to their customers. As a PR professional, I am of course interested in their approaches. But more, as a woman, I'm interested in how it all makes me feel!
(1) Abercrombie + Fitch CEO talks about size
The most extreme headline-making example was the declaration by Abercrombie CEO Mike Jeffries that:
"We go after the cool kids. We go after the attractive, all-American kid with a great attitude and a lot of friends. A lot of people don't belong [in our clothes], and they can't belong. Are we exclusionary? Absolutely."
His statement has been dissected and critiqued up on many media sites. You can read about it here, I also recently spoke about this on a recent Newstalk 1010 segment.
For me, the issue here isn't simply size. After all, many stores of all kinds concentrate on different sizes: there are plus-sized stores and petite-stores, "big and tall" stores. We all shop knowing the stores that stock our sizes, and that also cut their clothes in a way that flatters our shape.
The issue is that Mr. Jeffries deems those who do not fit within his store's target demo as "unattractive." Frankly, his idea of beauty is what you would expect from a high school "mean girl." But he's not some kid. He's a CEO of a major fashion retailer and, therefore, he's in a position to impact the feelings of many women, to make them feel entirely alienated and abandoned. What's worse, his attitude implies that people who don't conform to his standard of beauty simply don't deserve the same fashion choices.
(2) Dove's Campaign for Real Beauty
Contrast Mr. Jeffries with Dove's Campaign for Real Beauty. This campaign tries to send the message to women of all shapes and sizes that they are beautiful -- and yet it too has received criticism. The best -- and most balanced -- response I've read to this campaign was over on The New Inquiry and I urge you to take a moment to read it.
Even though Dove's message is a lot more positive here, the campaign is still one that exploits our bodily insecurities to sell us a product (i.e. soap). Once again, we witness a narrow definition of beauty (superficial, looks-based) as the basis for self-esteem and worth. Of course, the ad cleverly shows the women involved that they are much more beautiful than they themselves perceive.
But instead of highlighting insecurity, should we not highlight that with the everyday examples of pride and confidence? Like, women dancing like nobody's looking, women smiling at their own reflection in the mirror (yes, it sometimes happens!), women strutting the street in a new outfit (yes, we sometimes strut!). Because negative as we sometimes feel, don't we also have moments when we fully occupy and accept our own bodies!?
Addition Elle's most recent campaign seems to capture that very exuberant joy; the model poses confidently in her sexy lingerie, the "Showstopper" soundtrack is energizing and uplifting (so much so I downloaded it for my playlist!) It doesn't try to say "you're beautiful" by playing on issues and insecurities. It just does it by simply showing a beautiful woman, wearing clothes that fit, feeling confident -- just like that.
(3) H&M's swimsuit campaign with Jennie Runk
This brings me to H&M's swimsuit campaign. This campaign was a surprise: first, because I never really thought of H&M as a brand that would lead with a strong body-image stance, but also because the execution was distinctly NOT statement making. It was this simple: H&M rolled out a swimsuit campaign and the model (Jennie Runk) was not a size zero or two. There was no message or mandate, no "look at what we did." Instead they said:
"At H&M we try to show a mix of models in all our seasonal campaigns. Our aim is not to convey any particular message or ideal, rather to find a model who wears the collection in an inspiring way. This online campaign shows our H&M+ summer collection."
Perhaps the biggest statement is to make no statement at all. Instead, just to show women enjoying their body and clothes, inspiring us to look beautiful, to find joy in dressing our bodies. By omitting any message, H&M also made this catalogue entirely inclusive. These swimsuits are not just for women shaped like the model. They are for all their customers.
When we talk about fashion embracing more diversity and becoming more inclusive, we run the risk of shifting the paradigm and simply alienating a new demographic. Talk of "real, curvy women" or "normal-sized" can alienate women who do not have curves (many don't!) or who are naturally thin (many are!). The point shouldn't be to embrace a new idea of normal, but to recognize that ALL different shapes and sizes are normal and beautiful. Once we realize that, perhaps we'll also begin to see beauty that radiates from within.
xo Natasha
Meet Our Body Image Heroes
The Golden-Globe winner told HuffPost Live how her father shaped her perspective on beauty: Beauty was very much on my mind. I had a father that would -- we would look up at billboards and he would say, "That's one version of beauty. You're another version of beauty. And she's a version of beauty. And that girl? She's another version of beauty." He always said that beauty came from within, and as much as you're younger and you're [sarcastically] like, "Yeah, beauty comes from within" -- no, beauty does come from within. I've met some of the most beautiful people, and sadly their heart is just not smiling, and that destroys it all. And then other people that aesthetically aren't considered as beautiful are the most gorgeous people I've ever seen in my life.

After the media focused on her alleged weight gain in September 2012, Gaga hit back at critics by baring her body in photographs, sharing her struggles with an eating disorder, and inviting her fans to join her in a "body revolution."

Adele says she tries not to worry about her body image and doesn't want to be a "skinny minnie." "The first thing to do is be happy with yourself and appreciate your body -- only then should you try to change things about yourself."

The actress took to Twitter to say, "I'm not trying to be hot. I'm just trying to be a good actress and entertain people."

In a powerful 2012 piece for Jezebel, the comedian responded to people who criticized her appearance: I grew up hard and am still hard and I don't care. I did not choose this face or this body and I have learned to live with it and love it and celebrate it and adorn it with tremendous drawings from the greatest artists in the world and I feel good and powerful like a nation that has never been free and now after many hard won victories is finally fucking free. I am beautiful and I am finally fucking free.

After the March 2012 frenzy around Judd's "puffy face," the actress fought back in The Daily Beast, calling the media out for making women's bodies "a source of speculation, ridicule, and invalidation, as if they belong to others."

The "Orange Is The New Black" actress wrote a powerful essay for Glamour about her struggles with self-esteem and journey to body love. She's now dedicated to making sure all body types are seen on-screen: "Ideally, I want to see all beauties, all shapes, all sizes, all skin tones, all backgrounds represented in my profession. Now that I am blessed to be that reflection I was once looking for, I'm making a promise to speak out for that little girl that I used to be."

Tate's essay about body image and motherhood not only broke the Internet; it has sparked a movement of "moms who stay in the picture."

The fitness blogger and personal trainer posted a poignant video in response to online commenters' criticism of her physique. "In this video, you will experience what it feels like to be constantly bombarded with outrageous negativity," Ho wrote in a blog post introducing the video. "You will see what it looks like to have your self-esteem stripped away. You will read real comments left by real people. You will see me struggle with my own appearance."

The "Precious" actress had the most incredible comeback to cruel comments about her weight.

On her informed, thoughtful blog "The Beheld," Autumn writes about beauty, body image, appearance and her two -- that's right, two -- mirror fasts.

Gruys went on a year-long mirror fast during which she did not study her reflection in mirrors or other reflective surfaces, or look at photographs of herself.

"I am always in support of someone who is willing and comfortable in their own skin enough to embrace it," the singer said in a recent interview.

At the 2012 New Yorker Festival, the magazine's TV critic, Emily Nussbaum, asked Lena Dunham, producer, creator and star of the hit HBO show "Girls," why Dunham is naked in so many scenes. Dunham responded, "I realized that what was missing in movies for me was the presence of bodies I understood." She said she plans to live until she is 105 and show her thighs every day.

Chung responded to critics who suggested that her slight frame made her a bad role model for young women, saying: "Just because I exist in this shape doesn't mean that I'm, like, advocating it."

The NYU student started the amazing Body Love Blog, where she posted this picture of herself and wrote an open letter to those who feel entitled to shame others for the size or look of their bodies.

This 5-foot-tall, 200-pound singer spoke openly about her weight to The Advocate, saying, "I feel sorry ... for people who've had skinny privilege and then have it taken away from them. I have had a lifetime to adjust to seeing how people treat women who aren't their idea of beautiful and therefore aren't their idea of useful, and I had to find ways to become useful to myself."

In 2013 interview with Parade, Kaling said that she was tired of being discussing her appearance: "I always get asked, 'Where do you get your confidence?' I think people are well meaning, but it's pretty insulting. Because what it means to me is, 'You, Mindy Kaling, have all the trappings of a very marginalized person. You're not skinny, you're not white, you're a woman. Why on earth would you feel like you're worth anything?'"
Follow Natasha Koifman on Twitter: www.twitter.com/natashankpr