Love's Evolution Through Your Twenties, Thirties and Forties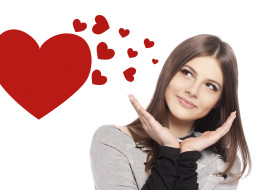 With the ubiquitous pink and red love-hearts, teddy bears and flowers... no wonder Valentine's Day makes so many people feel jaded. But, I have to admit, I am a through-and-through romantic and, although my love life has had its ups and downs (whose hasn't!?), I like Valentine's Day. Perhaps not so much in the cheesy way (though I DO love my candy and flowers!) but in the more romantic and reflective way. After all, love, the pursuit of love, the loss of love, the feeling of being in love... Whether it's romantic, platonic, parental, familial, it's really what life is all about!
But love isn't an easy concept. For me it's something that has changed as I myself have changed. No relationship ever stays the same and as we evolve and grow, so too does the love in our lives. Sometimes those changes mean we grow apart from loved ones. Other times, we change and grow together and our mutual love evolves to a new place. It's different for every person and relationship and there's no right or wrong way... like so many other things, all you can be is authentic to yourself in the moment and honest with the person you're with.
In each relationship and decade of life, love plays a different role, takes on a different hue...
BLOG CONTINUES AFTER SLIDESHOW
Misery loves company, right? What better way to tell the goth in your life that you understand that they feel emotions much deeper than us mere mortals than with this art sculpture depicting a living human and skeleton in close congress? It will be the perfect centerpiece for their dungeon.

Dressing up isn't just for Halloween. Just think of the warmth in your lover's heart (and other places) when you show up dressed as Cupid. It would make anyone quiver with excitement. Be careful where you point the arrow.

"Fifty Shades Of Gray" proved there are millions of closet sleazeballs, so at least a few of those have to be into higher culture, right? This mash-up of "Fifty Shades" with "The Picture Of Dorian Gray" shows that kinkiness has been around even longer than the mash-up.

No matter how much you love someone, it's sometimes difficult to look them straight in the eye. These glasses by Moscot make it easier since the eyes are already on the lenses. Great for hangovers.

This fork bracelet is a great way to let your beloved know you got your meat hooks into them.

No matter how much a guy likes a girl, he doesn't want to carry her purse. He also doesn't want to carry all her junk if she decides not to bring a purse. The stylish Sholdit scarf has a zippered compartment that can hold her lipstick, license, phone and other things she may need -- even a change of underwear.

What good is loving someone if the world doesn't know it? That's why we have jumbotron proposals. This T-shirt is prefect for the guy who knows he has a good thing and wants people to envy him for his choice of woman (if not his choice of shirts)

When you love someone, you want them to be safe when you're not there to protect them. This pink pepper spray gun can help a man feel that his woman is OK even when he's not there. She'll love the feeling that he cares enough to pick a color-coordinated self defense weapon.

If the way to a man's heart may be through his stomach, then the woman who gives her fella a 7 lb. hot dog is either sending a message of love or the message, "I want you to have a coronary."

Valentine's Day is usually associated with hearts, but since boobs are fairly close to that organ, this boob pillowcase could be a titillating gift for the breast man in your life.

This hot water bottle is, quite possibly, the least sexy way to let your lover know you admire their amorous abilities. Buy one for yourself just in case your Valentine isn't impressed with the gift. It will keep you warm on cold nights.

This game, which has been tested and approved by porn stars like Nina Hartley and Lexi Love, is designed to foster "an exotic journey to Fantasyland." Certainly, if your ideal Valentine's Day ends with an orgy, this may be the gift that keeps on giving. One lingering question may remain after the game: Who the hell is Uncle Don?

What is the problem facing sandwiches these days? The lack of anatomically explicit sex organs on them, silly. For only $29.95, these toasters allow to demonstrate ... oh, man, I can't even go there.

Sadly, not everyone's Valentine is living. But this heart-shaped cremation urn allows people with a deceased love to carry a small amount of their cremains with them at all times. Or, if you prefer, some cherry-flavored Pixie stix instead.

For such a vital organ, the heart can be hurt so easily. These cookie molds demostrate the glory and pain of love by featuring the heart surrounded by talons. It's the perfect way to tell a lover to proceed at their own risk.

Love is elemental to human survival, but who knew that the chemical symbols for uranium, lutetium and vanadium could be combined in such a romantic pillow? Someone who did better in science class than me, that's who!

These gloves are made for couples to wear on cold days. In case, you can't tell which glove belongs to the man, there is the helpful image of a sperm on it while the female glove has an egg on it. When the thread sperm touches the fabric egg ... nothing happens. Don't worry. It's the safest alternative to sex hipsters can have.

If you've got $10,000 to flush down the toilet for Valentine's Day, the toilet might as well cost $10K as well. This solid ash commode also plays "Le Bon Roi Dagobert" when the lid is raised and the flush is accompanied by the ringing of the bell. Accessories include a candle holder and an ashtray.

Steve Jobs may have revolutionized phones, but anyone who has tried to use the iPhone to open a beer knows he didn't go far enough. The iOpener corrects that major goof by including the opener in the phone case, and makes drunk dialing more efficient than ever before.

Be careful which lips you apply this lipstick to, ladies, because it's really a vibrator. Of course, once your friends in the powder room find out your secret, the whole room could start buzzing with excitement.

There are people who love wine and there are people who want the whole freaking bottle to themselves. But chugging straight from the bottle lacks panache so this oversized wine glass adds a touch of class to your alcohol abuse. Of course,the company that makes this sees this as a novelty vase or something, but that's their problem, not ours.

There are words of love and affection that only sound good when said by a zombie. "I love your mind" is not one of them. Still, this lifesize zombie Valentine's Day card is the perfect one for anyone with half a brain. Literally, only half a brain.

VërSpanken markets itself as the first male sex toy that lets the user customize their experience by varying things like pressure, textures, temperature and techniques with an easy clean up. It takes a special woman to say, "Here, Honey, I love you. Go spank!" Possibly too special.

If your lover is game for anything, these cookies that come shaped like Scrabble tiles will score points with them. Not as many as if the word "love" included an "x" or a "q," but blame the people that invented that word, not the cookie makers. Extra points if you use these while actually playing Scrabble.
In our 20's...
I sometimes think about the way I loved in my 20's and realize how different it is for me now. In our 20's, most of us are still "finding ourselves" -- figuring out what we want to do, finding our individual style and lifestyle. But those first steps can be tentative too... we're at once bold and brave, but also insecure. Everything is new and we feel it all so deeply.
Without the wisdom of experience, we have only our own ideas about how things should be. My idea of romance in my 20's was based more on movies and books, than real experience. I was obsessed with the movie "'Til There Was You" -- you probably have not heard of it -- but for me, this movie defined falling in love in my 20's. The synopsis is: two strangers whose paths are always crossing finally meet when fate steps in. I suppose I still believe in all the amazing possibilities life presents to us when we least expect it.
The joy of finding love in this decade is that you can grow with your partner. Twenty-something relationships are really formative and if you meet somebody who you can continue to learn with, your relationship can be long and fulfilling.
In our 30's...
In my 30's, love became much more grounded. As careers are established and roots set down, our idea of romance is more integrated with the reality of our days. Small gestures, mutual support, planning and building a life together become important. Whereas in our 20's we were more likely to be swept off our feet by charm and chemistry, in our 30's we're usually more considered in our approach to love. Compatibility becomes key -- not just in terms of personality but also lifestyle.That's not to say those butterfly feelings evaporate in your 30's (I don't think they ever do!) but romance does become a little less heady.
On the flip side, those who are still dating may begin to feel jaded about love and to worry that time is running out. At any age, I think cynicism is something to protect yourself from. I really believe love can strike at any time... there's no right or wrong template, no time-frame or plan that must be followed; keeping an open heart and mind is key to keeping that romance alive! I also believe that in our 30's we're more self-aware and have a better handle on who we are. Whether you're in a relationship or still looking, this can be an advantage and a disadvantage. Love is all about compromise, forgiveness, continuing to grow. So while it's good to know who you are and be confident in what you want, also realize that love requires flexibility and forgiveness!
In our 40's and beyond...
We change so much in our 30's and 40's. And if you've been in a relationship during those decades you've probably experienced challenging times, when you and your partner moved away from each other. Occasionally, those differences prove to be irreconcilable, but sometimes the dynamic is redefined into something better, more reflective of who you both are as individuals and as a couple.
I believe the key to success is honesty. Honesty is hard. My friend Carrie gave me some great advice: It takes more courage to be honest with yourself and others than it does to hold it in. Honesty is a two-way street; it relies on both partners being engaged and open. If you create a culture of honest and open sharing in your relationship, it really will give you a basis to grow and evolve with each other.
Falling in love (or back in love) at any age presents both joys and challenges. Relationships exist in a mysterious space between two people and they rely on both people being open, honest, loving and having each other's backs. When one person withdraws or becomes angry, it's difficult for the other person to fill in the void. Without a doubt, love requires you to push outside of yourself even when you want to stick your head in the sand, to communicate even when the words are hard to say, to listen even when what you hear might hurt you.
But the reward is so worth it! The feeling of being connected, of loving and being loved unconditionally is life's most wonderful gift. Despite the hard-to-swallow "key learnings" and the heart-ache, I've never stopped believing in love and I'll always have an open heart... and that's what I'll be celebrating this February 14.
Follow Natasha Koifman on Twitter: www.twitter.com/natashankpr