It's About the People, Not the Pipeline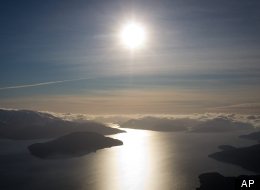 Any casual observer of the debate that has swirled around Enbridge Northern Gateway's proposal to run a diluted bitumen pipeline 1,100 km from Alberta to B.C.'s north coast might see this as a debate between competing interests: on one side, First Nations and wild-eyed environmentalists pitted against bottom-line oil industrialists on the other.
This simple telling of the tale misses the real story and the great lessons for all who might have interests in oil, energy, the land and Canada's future. Namely: everyone.
This is a story of contrasts.
In February, I attended hearings in Prince Rupert that were investigating the proposed pipeline, and Northern Gateway's ability to respond to an oil spill near Kitimat or in the open water area. By coincidence, the same week and again not long after, I was also hosting a series of sessions around my riding which explored the topic of social license in resource development. A bad pipeline is like a bad work of art -- you know it when you see it, and it's easy to say no. In our sessions, we asked a different but essential question: How do we get to yes? What conditions -- whether related to the environment, jobs, or overall legacy -- would a company have to meet in order to get the green light?
Meanwhile, at the Northern Gateway hearings, a retired teacher cross-examined Enbridge while the company's lawyers looked on, ready to interrupt and interfere whenever the questions got too uncomfortable. I myself was stonewalled during my cross-examination when I asked why Northern Gateway's oil-spill risk assessment uses a definition of a large oil spill that is six times larger than the internationally recognized industry standard -- other than to blur the numbers and downplay the likelihood, on paper, of a significant spill. Rows of experts on the company payroll faced questioners, answering so carefully and with such clinical and technical language as to discourage even the most determined observer.
At our forum, called Renewal Northwest, we talked about the concept of social license -- the gauge of whether a company has earned the trust and approval of the affected communities. How does a company (or even a government) gain or lose the trust of the broader public? Do they concern themselves with the environment, respect First Nations rights, engage the public and actually act upon what they hear? And lastly, do they tell the truth? More and more, resource companies are realizing that acquiring social license isn't optional, and it's not always an easy box to tick; but it is, nonetheless, an essential step toward earning legitimacy in the public eye.
I would argue that the so-called greatest friends of the oil and gas industry -- the Harper government -- have been no friends at all. In attempting to bully and intimidate the opponents of the Northern Gateway pipeline, calling us enemies of the state, accusing us of being "foreign funded radicals," and gutting our environmental protections, they have poisoned the well of public opinion. With friends like the Harper government, Enbridge doesn't need enemies.
But really this isn't about a pipeline or the pipe dreams of a Prime Minister. This is about the people and the lands they live on.
In December 2012, as a result of years of tireless efforts by First Nations and community members across British Columbia and around Canada, the moratorium on oil and gas exploration in the Sacred Headwaters of northern B.C. was made permanent. This profound and timely decision shelved Shell Canada's plans to drill in the Sacred Headwaters region for coal bed methane, which would have rendered this pristine and revered expanse -- known as the Serengeti of the North -- a toxic wasteland, and sent pollutants downstream for decades.
The project had no consent from First Nations, Northwesterners, and the people of British Columbia at large -- Shell knew it, and so did the B.C. government. The project was doomed from the outset.
In having to come together to defend our land and rivers, we united like never before, and we've shown governments and industry juggernauts that the will of the community must be respected.
I only wish the Harper government would drop the greenwashing and propaganda campaigns, and take the time to hold a few more meetings like the ones we have recently. The people of my home region in northwestern British Columbia are hardworking and community-minded by nature and inclination. The attacks from the Harper government, and the threats posed by Enbridge's pipeline and the supertankers they bring, have only brought us closer together, strengthening our determination to protect the values and natural wonders that we hold most dear. And that is a beautiful thing to behold.
Overheard: Northern Gateway Pipeline Hearings
(Sept. 4) - Northern Gateway president John Carruthers argues the pipeline is just as important to Canada as the St. Lawrence Seaway and the Canadian Pacific Railway..."when constructed, [they] laid the foundation for significant benefits for generations of Canadians. Our project is no different."

(Sept. 4) - Robert Mansell, academic director of the University of Calgary School of Public Policy, argued the benefits the pipeline could have for Canada. "Just imagine a situation where, if not for Northern Gateway, you had shut in 525,000 barrels per day for one year. That loss works out to $40-million a day, or $14.4-billion per year," he said.

(Sept. 4) - Leanne Chahley, a lawyer for the Alberta Federation of Labour, questioned the estimated economic gains. "It's still a social science that you're involved in, economics. How much degree of certainty should we give it?"

(Sept. 4 ) - Albert a Federation of Labour argues the $6-billion line would mean 5% less refinery in Alberta and the loss of 8,000 jobs. "China is in the midst of a building boom in terms of refineries and refining capacity, so our fear is that if our policymakers allow this pipeline to be built we'll end up in a situation where our own homegrown refineries are no longer economic and they'll close down," federation president Gil McGowan said. "We'll end up in a situation where we're sending our raw bitumen oil to China and then buying back the refined product."

(Sept. 4) - Northern Gateway president John Carruthers on the Enbridge's committment to environmental responsibility: "It involves assessing, in the same objective fashion, and according to the same standards, the information or evidence that has been presented by those who are opposed to the development of our project. And it culminates in approving the project under a framework of conditions that will promote reconciliation over division, and fact over rhetoric."

(May 2012) - B.C. First Nations leaders travel to the step of the Alberta Legislature to voice their concerns on the environmental damage. "The pipeline route that they have proposed is following the most major river system that we have and when the river is ruined, the people are ruined, the land is ruined," said Hereditary Chief John Ridsdale of the Wet'suwet'en First Nation.

(Sept. 4) - B.C. Environment Minister Terry Lake on how Enbridge plans to exceed world standards in spill prevention. "We certainly want to clarify with Enbridge some of the comments made over $500-million more of safety improvements and what exactly will that mean," Lake says. "In terms of monitoring, in terms of response capability, how can we ensure that any proponent would have to live up to what we consider world class response and mitigation measures."

(Sept. 5) - On the chance that the proposed Nothern Gateway pipeline would have a negative effect on central Canada's manufacturing sector: "It is not credible that one could argue this would cause Dutch disease." "Would it do, as has been alleged -- cause the rate of inflation to go up and then force the monetary authorities to tighten the money supply and thereby shrink the economy? The answer is no. "Monetary policy is based on what's called the Core Inflation Rate, which excludes the price of food and energy."

(Sept. 5) - In a report submitted to the hearing, Texas-based energy consultant Muse Stancil said the Northern Gateway will have an effect on oil pricing in North America: "It can be expected to have a material effect on the distribution patterns and pricing dynamics for Western Canadian crude, as crude producers for the first time will have a high-volume alternative to their historical markets within North America," said the Muse Stancil report. "Northern Gateway allows the Canadian crude producers to both stop selling to their least attractive refiner clients (from a pricing prospective) and reduces their need to ship heavy crude via comparatively expensive rail transport."

Sept. 5 - On the chance the federtal Tories could lose ground in B.C. due to unfriendly policies such as support of pipelines to the west coast: "Among the risks to their base, I would put Northern Gateway highest," Johnston said. "The risk/benefit ratio (for B.C.) is massively unfavourable in itself and if the government were to force the issue pre-emptively, they would add an additional dimension to the debate, singling out one province for ill-treatment, rather like the NEP and Alberta. I expect Conservative MPs are worrying about this aloud."

(Sept. 7) - "Are you willing to acknowledge this is a complex organizational structure that limits the liability of a corporate giant that definitely would have sufficient funds?" she asked. "What we're left with is an entity which you tell us has the financial resources necessary to cover any type of spill, but we're still doubting whether that is possible." "No, I just fundamentally can't accept that," replied Mr. Carruthers. "Because of the investment, everyone would want to make sure there's proper funding available in case of a spill," he said.

(Sept. 7) - "We're doing everything in our power to mitigate against a spill." "Believe me, Enbridge doesn't want a spill. It's not what we're in the business for. We're in the business of moving very safely, environmentally sound and in a sustainable way, product from one spot to another."

(Sept. 7) - "The question [is] whether Enbridge is actually capable of getting the kind of insurance to ensure against the risk of liability," on whether the insurance is there should an oil spill happen.

(Sept. 8) - "If free market economies aren't at play, where's the economic benefit?" asked Robinson about the economic effects of the hypothetical possibility of Chinese interests buying control of the Northern Gateway pipeline.

(Spet. 6) - The Avaaz petition "No Enbridge Tankers/Pipeline in BC Great Bear Rainforest" was started by James MacGregor and has since passed 10,000 signatures. "BC's entire Great Bear Rainforest, its wildlife and the livelihoods of coastal First Nations are all at great risk if Enbridge's Northern Gateway pipeline is approved," he said. "I know I'm not the only one out there speaking up about the pipeline, but I felt like I couldn't sit back and do nothing." (Source: Vancouver Observer)

(Sept. 17) - On who could end up with ownership stakes: "If we don't know who these investors are, we're not able to determine if they're financially viable, if they're market-force driven or if it's in the interest of Canadians," she said.

(Sept. 17)- Peters argues that an approval of the pipeline might mean a setback to Canada's national climate change policy aims to reduce such emissions to by 2020. That cost "should be recorded as a negative and a cost to the planet," said Peters.

(Sept. 17) - In the worry that in the event of a spill, Enbridge won't have tge insurance to cover the clean-up costs: "Enbridge and Northern Gateway are very aware of that concern now, so we'll look to their response. But we've made it clear that taxpayers will not be left on the hook," Lake said. "I think that the company would argue they have the resources necessary. What British Columbians want to see is an ironclad guarantee that they do have the resources necessary, that the structure and the insurance in place will protect British Columbians from the cost of any adverse event," he added.
Follow Nathan Cullen on Twitter: www.twitter.com/nathancullen