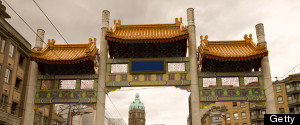 I didn't grow up in Chinatown. Neither did my mother and father. My ancestors didn't come to North America to pan for gold or build the railroad. No one in my family paid a head tax. Chinatown was just a place we visited every weekend to stock up on supplies. Even still, this neighbourhood, this community, this place we call "Chinatown" has become very near and dear to my heart.
The superstitions dictate the frenzy I and likely many others within the Chinese community are going through right now until New Year's Eve. My list has been amusing and bemusing anyone outside of the Chinese culture, as in the case of my hubby. Here are the top 9 Chinese New Year superstitions of 2013.
Every year countless women are caught off guard not realizing the impact that Chinese New Years has on shipping dates for special occasion merchandise. This holiday accounts for nearly a month of factory shut down. This translates into a far longer delivery time for orders than most customers allow for.