Propelling from the status of mixing tracks in your dorm room to locking down the official "featuring" cosign on Drake's "Hold On, We're Going Home"...
Drake handily won the re-election as hip-hop's prime minister after a recent scandal threatened to derail his rule.
The man behind the project, musician and videographer Ivan Riches, planned the project to showcase the technology to it's very best, and I feel he has succeeded far beyond his wildest dreams.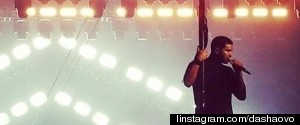 This year proved a great capper for the first stage of OVO, with Drake using the opportunity to create a "this is your life" type set list -- dude even wheeled his mom out on stage! -- but going forward Drizzy needs to make it less about him and more about the festival.
Repetition, whether functioning as feedback loop or contextualization (often both), is an integral motif in Because the Internet. Set against the album's most forcefully earnest and reassuring song, we find a confluence of paradoxes: nostalgia dovetails with cynicism.
On Thursday night Dranke returned for a hometown arena show on his birthday. "It's my birthday," he said near the end, "but I wanna show y'all some love because y'all deserve it." It's about him, it's always about him, but it's about us, too, and that's precisely how Drake ascended from the bottom to be here.
I promise I'll get to Jason Collins in a minute. Let me set it up first. There's a new trend in the NBA that's helping jump-start franchises that ha...
It's hard to put our finger on just how much fans care about the proverbial losing team. They managed a good amount of success in the Vince Carter days of the late '90s and early 2000s, and even started to look towards the championship with a couple of runs at the playoffs under Chris Bosh in the 2007 season... but since then, the Raps have found themselves in a downward spiral and constant team-building situation, disappointing fans in Toronto and around the country alike.
I'm kind of in love with Drake, or at least as in love as one person could be having never met the other person. Some recent events aside, Drizzy continues to make it easier and easier to want to be his lady.
There's a lesson in this for Brown. The short version: If you've beaten a woman in the past and ever want to near redemption, don't put yourself in positions that can lead to further violence. You will always lose.
You only live once. That's the motto. Unbeknownst to Drake, he started a care-free, buy-it-because-I-can, think-about-bills-later, live-it-up-and-drink-it-down movement.
This is really hard for me. Not because it is difficult to encapsulate the brilliance and expansiveness that is Take Care in a few paragraphs, but because this newest Drake record is so personal.