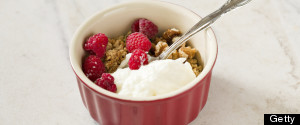 Smart snacking can be a valuable part of a healthy food plan. Choosing nutritious snacks keeps blood sugar levels stable and helps fuel the mind and body all day long at school and work. At this busy time of year, let's explore five smart snack ideas using food you already have in your kitchen.
Homemade granola is a cut above anything you can buy in the store, and you can so easily customize it by adding your favourite ingredients. Not to mention your house will smell amazing after -- like you've been slaving in the kitchen all day!
Thank goodness there is more to talk about than Rob Ford and Miley this week -- I refuse to give either one of them air time (even though I just did, right there). I found a really cute Etsy video, a delicious quinoa snack (to buy, not make), some amazing gift-wrapping ideas for the holidays, a revealing video and suggestions on how to help people in the Philippines.
There's just no way to sugarcoat this. The Heart and Stroke Foundation, and specifically their Health Check program, in their selling of check marks to so called fruit leathers and fruit gummis, is overtly harming Canadian children's health -- a generation which quite literally is the sickest generation of kids in modern history.
A traditional Pumpkin Scone from Starbucks has 480 calories, 17 g fat, 78 g of carbs, 43 g of sugar and 6 g protein. Sigh...that's like having a couple of chocolate bars. So, I wanted to create a scone that I'd eat too...and guess what...we like it even better than the original. I tested them side by side.
Dates are kind of ugly until you see them up close and yellow hanging in drupes, ripening on the tree. Trees grow about a foot per year and the low, young ones can be picked without any special equipment. After age 60, the trees still bear fruit, but there is no picking machine tall enough to reach. In this grove, the original 6 still stand but are somewhat beautifully out of reach.
The first long weekend of the summer season is almost here, and with that comes the start of the great pilgrimage up north to cottages, campsites, and the great outdoors. While you may not be able to avoid the stop and go of bumper to bumper traffic, you can avoid the need to stop for greasy service centre fare with some healthy snacks that pack up fast and travel well.
Busy men are always looking for nutritious snacks to eat when they are on the go. Unfortunately, many of you end up grabbing high-carb, high-fat and low-protein convenience store snacks, which are terrible nutritional choices.
We aren't here to debate how the potato chip came to be, but instead to compare its evolution into healthier options. With the average American eating close to 5 pounds of potato chips each year and almost 1.2 billion pounds as a nation, studies reveal that Canadians may not be that far behind. There are two important factors to remember when purchasing "healthier" products.
Going into a health food store is daunting -- even for me. There is just so much stuff, so many labels, so many claims. Multiply that by a hundred and that is what the annual Canadian Health Food Association's Trade Show is like. Out of the loads of products I taste tested, reps that I chatted with, and packaging I scrutinized, a few products stood out.
There is some real chill in the morning air all of a sudden, and the new school year is well underway. Now that it's back-to-school time here's a great crispy rice treat, sans all the yucky gelatin and refined sugars included in traditional recipes (and it's nut free, so good for lunch boxes!)
Facing the what-to-pack-for-lunch-or-snack dilemma is back. It's important to make sure the food they eat will give them the fuel they need to succeed at school. Keep their tummies full and their minds alert with these three back-to-school snacks and lunches that'll offer everyone a nice change of pace from the good old tried-and-true BP&J sandwich.