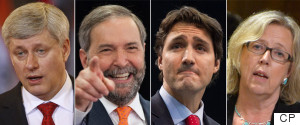 We are in the midst of the most closely contested (and lengthy) political campaign our country has seen in decades. The question every voter asks about any politician is: "Are they for real?" Many judge solely on each communication style and how they appear physically versus their beliefs on complex issues or even track record.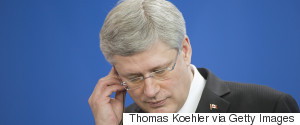 The Prime Minister is many things, but one thing he certainly is not is "an economist" -- in the world of economics, there are three conditions commonly accepted as entry requirements before someone can wear the label. Harper fails completely.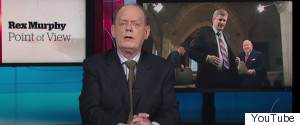 I don't care what Rex Murphy talks about. This is about good journalism and the abuse of privilege. So here's the problem to be faced by CBC managers and programmers who seem so committed to keeping Rex Murphy in the CBC public's eye and ear.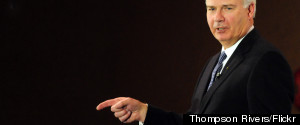 "I decided that you can't cover a controversy by being in one." That's Peter Mansbridge's revelatory explanation as to why his name no longer appears -- after many months -- as an Honourary Patron of the controversial Never Forgotten war memorial proposed for Cape Breton Island. Apart from the fact that this is one of the basic tenets of journalism -- along with get your facts right, and don't misspell someone's name -- it avoids answering the really important question in this whole fiasco.
Yesterday it was the Giller. This morning it was the Griffin and the Weston Prizes and this weekend Word On The Street. This week is the busiest time ...
What the CBC altogether missed was the most important plank of opposition to affirmative action: namely, that students should be admitted to college not according to shifting conceptions of "diversity" or to sweeping assumptions about racial-minority experience, but rather according to merit. In other words, prospective students should be judged not by the colour of their skin, but by the content of their character -- in particular their academic aptitude and personal potential.
If the CBC should soon establish a new policy to clarify if and when its journalists can make speeches to -- and be paid by -- outside organizations, if it sticks to its word. Quite bluntly, taking money from any outside organization regardless of the content of any speech, demeans the idea of journalism at the CBC as an essential independent voice in a healthy democracy.
The biggest loss to the CBC is that it will no longer be able to access a working-class crowd because this very important Canadian audience only gravitated to CBC for HNIC and the presence of Don Cherry. The loss of Cherry and Hockey Night in Canada is a lost opportunity for CBC to escape its uptight Waspish politically correct, elitist/urban/sophisticated Toronto-centric shtetl.
Trudeau is trying to find a new niche for the Liberal Party. A preliminary look indicated that he is trying to take the Conservative party's old right-of-centre spot on the ideological spectrum. With fewer differences between the two parties, Trudeau's youth and vitality may come as an asset in 2015 when Canadians go to the polls.
------------------------------------------------------------ I believe in discovery and technology and innovation and science. My profession -- wh...
Rick Salutin is a journalist, novelist, playwright and critic who's made a writer's living in and around Toronto for some 40 years. He recently wrote a column about Peter Mansbridge, anchor of CBC's flagship news program The National. It wasn't a flattering column.
In this edition of One On One, Mansbridge does a competent job debriefing the distinguished CBC foreign correspondent Susan Ormiston, back in London after her latest foreign assignment. So why do journalists like Susan Ormiston volunteer to go to all these places where people kill each other, and too often kill journalists who might as well have targets painted on their flak jackets?
There's a thread running through today's news broadcasting -- that to one extent or another, the big three of Canadian TV news are captives of the teleprompters which sits in front of their cameras and shows them the words they're paid a lot of money to read at us. Here's a summer report card of how they're doing.
For broadcast journalists, covering a party convention is the ultimate challenge. Adrenaline surges. Competition is fierce. Reputations are made and lost. At the NDP convention this weekend Mansbridge covered politics. And relished it. And chewed it up and spat it out.