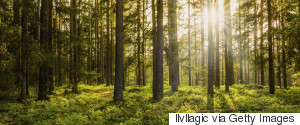 Canada's federal power shift provides us with the opportunity to view the United Nations' Sustainable Development Goals through a new lens. Our new government faces many challenges to restore the protection of Canadian ecosystems. After a decade of Conservative rule, I find myself, like many other Indigenous people in Canada, cautiously optimistic for the future social and ecological well-being of our nation and its role on the international stage. However, our new government will face significant challenges in living up to and improving upon their campaign promises.
Elizabeth Kubler-Ross wrote a book about the five stages of grief. Denial of inconvenient facts is the first stage. It is followed by anger. Clearly the Conservatives have a deep well from which to draw. Bargaining is the third stage after denial and anger. The problem however is that Mother Nature is indifferent to Prime Ministers. Mother Nature doesn't do Bargaining.
The notion of focusing on "commercialization" of scientific enterprise is based on a fundamental misconception of how science works. This misconception is largely based on confusing the role and motivation of the scientist with that of the inventor.
By choosing to shift towards industry-driven applied research at the expense of scientist-driven basic research, the Conservatives continue to undermine scientific progress - and these policies will adversely impact all of us, including the very industry they purport to be servicing.
Canada's ability to gain a competitive advantage in the global economy increasingly depends on industry's R&D intensity and the success in translating basic science and knowledge into commercial products. With this change, the National Research Council of Canada is returning to these historic roots by renewing its focus on industrial research, new growth and business development.
Imagine if you discovered that a doctor was doing open-heart surgery based on a technique they saw on the TV show. Sound far-fetched? Unfortunately, it's this kind of unscientific technique that the Harper government appears to be relying on to diagnose the health of our planet, and how they should react to it.
Earlier this week, our Minister for Natural Resources, the Hon. Joe Oliver, went to Washington on what the Canadian media mistakenly insists on calling a "charm offensive." It really cannot be described as having anything to do with "charm" when the minister, fresh from having told La Presse that scientists are less worried about global warming; that 2 degrees is not a big deal, decided to insult one of the USA's most respected scientists, James Hansen. Dr. Hansen is not just someone who used to work at NASA. He was NASA's top climate scientist. Thursday, I found this tribute to him that will give Canadians a sense of his stature south of the border and globally.
The government appears determined to challenge any information, person or organization that could stand in the way of its plans for rapid tar sands expansion and transport and sale of raw resources as quickly as possible to any country with money. The results have been astounding.
Decisions are being made these days with few nods to actual evidence-based thinking. This should not be a surprise to those who have paid attention of course, as the government has been consistently cutting funding to scientific research and development and shifting its focus instead to "industry based," private sector research and development. Essentially, the government is investing in outcomes instead of investing in possibilities.
Politics is often dominated by empty grandstanding, half-truths, and horse-race style politics that have little resonance with the general public. Th...
The federal government announced it will close the world-renowned Experimental Lakes Area in Southern Ontario in 2013. It's an odd decision, especially considering that it costs just $2-million a year to operate -- one-tenth the cost of Prime Minister Stephen Harper's security detail and about the same amount the government spent during the 2010 G20 Summit in Toronto to build a tourism pavilion with a fake lake.
We're asking all Canadians to join us to help preserve two core national values: nature and democracy. Let's keep Canada strong and free. Please visit the websites of your favourite environmental organizations on June 4th to add your voice.