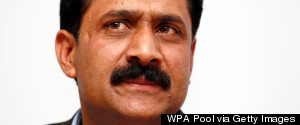 Malala Yousafzai has recovered to become a crusader for universal education. Less often do we hear about Ziauddin -- or "Zia", as he is affectionately known -- who was the family's first crusader. He is his daughter's greatest champion and confidant.
Should learning to program a mobile app take precedence over diagramming iambic pentameter in Shakespeare's sonnets?
If there were such a thing as a rock star politician, the man known affectionately around the globe as "Madiba" is one. Today's youngest generation did not witness his historic struggle, release or election. Yet they know his extraordinary messages of equality, hope and forgiveness. And they are ready to receive his torch.
What if your favourite TV show prompted you to take social action? What if, while binge-watching a full season of Friday Night Lights, a link appeared to a pledge against the use of performance enhancing drugs? Pivot TV, a cable network launched last month, is targeting millennials (ages 18 to 34) by incorporating these calls to action in its programming.
Inspired and compelled by celebrity luminaries including The Barenaked Ladies and Serena Ryder, as well as some particular youth favourites such as Demi Lovato and the Jonas Brothers, the feeling at We Day 2013 in the Air Canada Centre was electric.
It was the speech heard around the world. Martin Luther King Jr.'s "I have a dream" are some of the most recognizable words in history, and 50 years later, the March on Washington Square is an enduring example of the struggle for basic freedoms through peaceful assembly. Now, it's time for reflection.
The story of how Jesse Giddings got his break in the entertainment industry reads like the opening act of a Hollywood film: star-hopeful moves from the suburbs to the big city with nothing but a duffel bag and a dream. We caught up with Giddings to find out what motivates him, and what he would say to his high-school self.
Lights became a seasoned world traveller long before concert touring had her crisscrossing North America with hits like "Toes" and "My Boots." She told us what advice she would give her high-school self, and why she believes that education can break the cycle of poverty.
Summer vacation is well underway, and off-duty students across the country are looking for "something to do." Well, why not become Prime Minister of Canada? At the very least, practice your campaign speech, like We Day favourite -- and future prime minister -- Sydney Brouillard-Coyle.
Martin Sheen has become one of our most regular speakers at We Day events -- not for his acting résumé but for his cred as an inspiring social activist who has protested everything from the Vietnam War to nuclear weapons to the war in Iraq. We talked to him about some of the valuable lessons he has to share.