Redford, Not Clark, Needs To Take Lead On Enbridge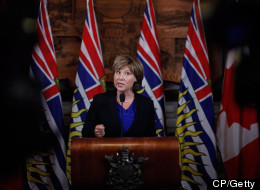 Recently, many have criticized B.C. Premier Christy Clark for her strategy regarding negotiations over Enbridge's proposed Northern Gateway pipeline. But this criticism is unwarranted. Clark has been clear on what the province requires in order to move forward with construction of the pipeline in Northern B.C. while her Alberta counterpart has given her little to work with.
Clark has presented five requirements in order to move ahead with the project. They cover the most important and vital issues surrounding the pipeline. More than half emphasize the importance of protecting and securing the environment. One touts dialogue with First Nations groups. And the last places importance on B.C. getting a fair economic benefit in exchange for the great risk the province is taking.
Clark has been clear on her stance. Since the beginning of the process, she has agreed that the pipeline must be recommended by the National Energy Board. She has demanded that if the pipeline goes ahead, nothing short of the world's best marine and land oil-spill prevention and recovery systems are available. And lastly, the premier has argued that B.C. deserves its fair share of the economic benefits for the giant risk they're taking.
Redford, not Clark, needs to take the lead on negotiations. The Alberta premier has clearly expressed emphatic support for the project. Her public statements, however, offer minimal help. She has brought little to the table for Clark to work with, leaving the B.C. leader to pick up the slack.
After Redford's brief meeting with Clark last week, the Alberta premier released this statement:
It's really important to look at the first four of those with respect to Aboriginal consultations and environmental concerns - we share those values as Canadians and Albertans. And those processes that are in place in British Columbia with respect to consultation and environmental regulation really do need to be addressed. And we have absolutely no concerns with respect to the fact that the Premier of B.C. is concerned about those.
Let us examine that statement. Redford states that Alberta shares environmental concerns in the same respect as we do in British Columbia. That statement could not be farther from the truth.
Culturally the same mentality is not prevalent in Alberta as it is in B.C. Simply looking at the environmental damage the tar sands have done to the province, one could come to the conclusion that environmental concern does not rank high in the province. That's just a simple fact.
The green mentality that is prevalent in Vancouver and the rest of the province is not prominent in Alberta. B.C. has long fostered a green mentality. Vancouver has set the goal of becoming the greenest city in the world. Attempting to say that Alberta shares environmental concerns, similar to British Columbia, is false.
Redford went on to say:
When we get to the fifth point of the letter, we continually get into the question of economic benefit. There's no doubt that Canada will benefit economically from this project, that British Columbia will benefit. And Alberta will certainly benefit. But fundamentally, our resources belong to Albertans. We are compensated as Albertans for the resources we own. And those are the economic benefits we receive.
Here, Redford comes out sounding close-minded. She mentions that there is no doubt Canada will benefit... but leads off into a small rant of how the resources are just for Alberta. Understandable, the bitumen is extracted from Alberta. And by all means they are due the benefits of that.
However, if you're expecting B.C. to allow the construction of a pipeline, the majority of which travels through B.C., you need to compensate the province fairly. And it needs to be ensured that the environment is protected.
How is it fair for B.C. to take all the risk in damaging their fragile and beautiful environment? How is it fair for B.C. to take in a larger volume of tankers travelling on their coast? Redford and Alberta expect to get away with simply shipping their dangerous oil across the province without compensating them fairly.
Redford also states: "Unfortunately, Premier Clark is sticking very closely to the original five conditions she set down."
This is not unfortunate. Clark is taking a tough stance in favour of her province. She is standing up for the environmental, First Nations, and economic rights that British Columbians expect. She's not going to simply allow the construction of a pipeline without ensuring that B.C. is protected and rewarded.
If Redford and Alberta really want this pipeline, she's the one who needs to step up to the plate. They need to start meeting the demands or negotiating with the B.C. government. They can't simply sit back and think that B.C. will take on this risky project.
They cannot expect Clark to roll over and let them decide the terms. That is not how business works. It's not Clark's job to travel to Alberta and negotiate with Redford. And when she does, Redford should jump on that opportunity.
It almost seems as if Redford isn't interested in the construction of pipeline given her lack of a clear and concise strategy to negotiate. If she isn't happy with Clark's five requirements, how about putting forth an alternative -- proposing something that would be worth negotiating with?
Ultimately if there is no middle ground met and the project fails, it will fall on Redford's shoulders. As she said herself, the resources belong to Albertans, so if Alberta wants to ship their resources to Asia, they better start strategizing.
I would imagine she would have an even harder time if Adrian Dix becomes B.C. premier this time next year. But as Clark said herself, it's her job to fight for B.C. and our environment. She's absolutely right, and we should all be in her corner cheering her on.
Top 5 Provincial Resource Spats
Before the $5.5-billion Northern Gateway pipeline contract is even inked, not to mention approved by a federal panel, a heated quarrel has erupted between Alberta and British Columbia about divvying up the revenues.It's not the first time in Canada that resources have spurred disputes between neighbouring provinces. And it likely won't be the last.Here's a look at just a few examples of provincial spats, including the Alberta-B.C. one, over issues ranging from human to energy resources. With files from CBC

Alberta vs. British ColumbiaIn the dispute over the proposed Enbridge pipeline, B.C. is calling for a share in the project's revenue to compensate it for the potential environmental risks inherent in running a crude oil pipeline across its land. Alberta has refused to share royalties, citing a province's right to income from natural resources within its own borders.The proposal involves two pipelines, stretching a combined 1,177-kilometres, that would carry 525,000 barrels of oil per day from the Alberta oilsands to the ports on the West Coast. Enbridge has estimated that public benefits would amount to $2.6 billion in local, provincial and federal tax revenues over 30 years of operation. Environmental groups and aboriginal communities have opposed the proposed pipeline, particularly over worries of an oil spill.

Newfoundland vs. QuebecPerhaps the most famous inter-provincial skirmish is the Upper Churchill Falls hydroelectric project. It's a battle that has raged between Quebec and Newfoundland and Labrador for more than half a century.In 1969, Churchill Falls Labrador Corp. signed a deal with Hydro-Quebec that secured the creation of a power corridor through Quebec, enabling access to outside markets. In return, Newfoundland and Labrador agreed to sell a large portion of the electricity at a fixed rate until 2041 to Hydro-Quebec, the provincially owned utility.The 65-year agreement did not account for inflation, nor the drastic rise in energy prices that was to come. Hydro-Quebec benefitted from the cheap price, profiting as it sold on the electricity to the U.S. and refused repeatedly to renegotiate the contract.A 1996 report by Maclean's magazine found Newfoundland received $20 million a year by selling power to Hydro-Quebec, but the utility earned $800 million annually by selling that same power to hungry U.S. markets along the eastern seabord.Since the 1970s, Newfoundland and Labrador has repeatedly tried to challenge the contract, seeking help from the federal government to the Supreme Court.

Ontario vs. QuebecIn the late 1970s, Ontario and Quebec began a tit-for-tat dispute over construction workers crossing the border to work in each other's province.Dubbed the Ontario-Quebec Construction War in some newspaper accounts, the tiff appears to have started when Quebec enacted restrictions in 1978 effectively barring Ontario construction workers from certain projects there. Ontario sought to retaliate with similar rules. Thus began a political dispute that lasted decades, flare-ups often fuelled by economic downturns.Quebec's highly-regulated construction industry has historically deterred Ontario workers wanting to work in Quebec -- while also driving Quebec workers into the more open Ontario.Frustrated by the flow of workers into Ontario, Ontario enacted a Fairness is a Two-Way Street Act in 1999, barring Quebec construction workers from Ontario government projects. The two provinces eventually settled their differences in 2006 with a construction mobility agreement.

Ontario vs. ManitobaIn Canada's early days, as boundaries were still being carved out, Ontario and Manitoba clashed for years over a tract of land on the western and northern boundaries of Ontario that each claimed as its own. An 1883 New York Times article described "frequent disgraceful conflicts" that "stopped short of bloodshed."The tract was rich in timber and minerals, and also contained a port on Lake Superior.In 1880, Manitoba extended its boundaries, with the federal government confirming them the next year.But Ontario did not agree, saying the extension gave the disputed area to Manitoba. Confusion reigned in the disputed area as it lacked not only civil courts and a registry office to record deeds, but a timber agent to protect the forest. The U.K. judicial committee of the Privy Council finally weighed in. In 1889, the boundary of Ontario was extended west of Lake of the Woods and north to Albany River.

Alberta vs. Ottawa (and Ontario and Quebec)In the wake of the energy crisis in the late-1970s, when the OPEC nations raised the price of oil, the Trudeau government introduced the National Energy Program, basically to equalize the price of oil in Canada and offset higher prices being paid the central and Atlantic provinces.Highly unpopular in Western Canada, particularly in Alberta where most of Canada's oil is produced, the NEP sought to increase the federal share of energy revenues and make Canada a self-sufficient oil producer. Alberta viewed the program as an intrusion into provincial control over natural resources, as set out in the British North America Act, then the country's constitution.Peter Lougheed, the Alberta premier at the time, retaliated against Ottawa by cutting provincial oil production. The fight caused huge uncertainty in the oil patch and essentially pitted the Western province against Eastern Canada. Lougheed said the federal government effectively "weighed Alberta's needs for markets against the economic advantages to Eastern Canada, and decided against us."Eventually Lougheed and Trudeau signed a revised energy agreement in 1981, whch rejigged the revenue-sharing arrangement and reduced the NEP export tax on Alberta.In 1982, the Supreme Court of Canada ruled Ottawa couldn't legally tax provincially owned oil and gas wells and the last vestiges of the controversial program were scrapped after Conservative Brian Mulroney was elected in 1984.