We Built A Tiny House To Live Sustainably Off The Grid
Tiny houses are a wonderful option for people who want to have their own, mortgage-free home. The tiny house movement is growing in popularity because it allows people to build homes that are more environmentally sustainable. Being compact, tiny houses require you to parse down your possessions for a simpler, cheaper lifestyle.
What is a Tiny House?
The concept behind tiny houses is that they are smaller than the minimum requirement for a building permit, which helps to keep costs low. These dimensions vary from area to area, so start by checking the maximum size a house can be before it needs a building permit in your area.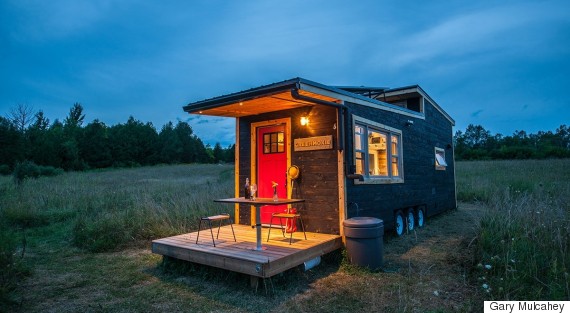 Photo: Gary Mulcahey
Many tiny houses are built on chassis so that they can be moved from place to place. Being mobile is a huge advantage and it helps to circumnavigate building permits in some areas.
Other common features are loft bedrooms which give you more living room downstairs. Storage under stairs gives you more room and compact kitchens help to give you more living area.
Check with your local building codes and authorities to see if tiny houses are permitted in your area. Some progressive jurisdictions have seen the environmental advantages and sustainability of the tiny house movement, while others do not permit the building of tiny houses at all.
How do I Start my Tiny House Build?
Every successful tiny home build requires careful planning and there are more tiny house designs than the day is long, but this shouldn't intimidate you. Instead, draw inspiration from all those clever uses of space and get design ideas from those who have gone before you. Once you have ascertained that you are able to build a tiny home in your area, you need to map out how you will use your limited space.
Remember to think practically and to maximize the use of every inch of space.
Building a tiny house is a big undertaking and you should have some experience and a designer who is able to create a plan that best suits your needs, your climate zone and your budget.
Going off grid is another way to reduce your environmental impact and your monthly bills. Renewable energy sources like solar come into play here with composting toilets and rainwater catchment or well water for your plumbing needs.
Here are some basic free tiny house floor plans that will help you to get an idea of your options. Remember to think practically and to maximize the use of every inch of space.
Tiny House Design features seven different tiny house plans for you to download.
Ana White recently undertook the building of her Quartz tiny house in Alaska where she lives with her family. Get her free tiny house plans .
Cottage Life offers you free plans for a guest bunkie complete.
Starting the Build
Once your plans are solidified, you can order all your materials. Store wood sheathing panels onsite so they can acclimate to ambient moisture conditions. This will prevent nail pops and buckling of walls, flooring and roofing once the building is done.
Keep an eye on your budget; you'll be amazed at how quickly you accrue costs. Sourcing used materials and repurposing items is part of the tiny house culture that can really save you money.
See more on our Greenmoxie Tiny House
Follow HuffPost Canada Blogs on Facebook
Also on HuffPost:
This completely sustainable shipping container house includes a bathroom, living room, kitchen, bed, wrap-around deck and dipping pool. You can hitch this mobile home on a trailer and voila, it becomes a mountain, beach or lake home. (This listing was recently removed from the market.)

This unfinished cabin is set on a one-acre lot and needs some completion work. It is located only minutes from Cherokee Lake.

A close-up look at the exterior of this unfinished cabin in Tennessee.

A look at the 12 x 24 structure of this tiny house.

A full view of this unfinished cabin.

This one-room cabin, complete with a deck overlooking the mountains, can be had for about the price of a new luxury car. (This listing was recently removed from the market.)

This tiny house comes with a deck so that you can spend time gazing at the fantastic view. (This listing was recently removed from the market.)

A sample of the view that you get with this house. (This listing was recently removed from the market.)

A view of the outside exterior of this tiny cabin. (This listing was recently removed from the market.)

A beautiful bedroom that is perfect for any couple looking to live in a scenic place. (This listing was recently removed from the market.)

The kitchen area for this "get-away" cabin. (This listing was recently removed from the market.)

This small cottage on the water is only minutes away from a marina.

The main attraction of this tiny house is its beautiful water view.

Because this house is small, owners have to be extremely efficient with their space.

This mountain cabin is only steps away from a river. While water is only available at the road spigot and there is no septic system, it's set in a beautiful spot -- and beats car camping. (This listing was recently removed from the market.)

The view and fireplace for this rustic cabin in the woods. (This listing was recently removed from the market.)

This small floating home comes with a dock for your boat. And if you want privacy . . .

Another view of this floating tiny home.

The deck outside this floating home is a great place for friends and family to gather and enjoy the water.

The futon inside this tiny, floating home.

This floating home is attached to a sheltered boat dock and includes a kitchen, sleeping loft, and skylights.

The 25 foot boatwell next to this floating home.

Inside this recently redone wood panel home.

This energy-efficient designed cabin has solar panels that retain heat in the winter and maintains comfortable temperatures during the summer.

Waterfront property, anyone? This small home may make someone's dream affordable. (This listing was recently removed from the market.)

This cozy home is located on five acres of land in an area with only 20 other houses. While the price might be high for a home that only contains a kitchen, living area, and bedroom loft, the value is in the property and setting.

Inside the living area of this Colorado cabin.

This cabin is perfect for any hunter, as it is surrounded by wildlife like deer, turkey, and elk.

A look outside this cabin provides these gorgeous views.

This hand-crafted log cabin has cathedral-style ceilings and requires minimal upkeep.

This handcrafted log cabin could be dismantled and rebuilt by a professional log builder.

The deck and view that surround this Canadian log cabin.

This very new cabin is completely portable and can be moved to your liking.

This small cabin has full-size kitchen.

This small house includes a bedroom with a queen size bed, a kitchen with all new appliances, a living room, and a parking area perfect for a boat or truck. Most of all, however, this small home is located in a great community that is only a short distance away from a beach and marina.

This house, dubbed the "villa royale," has enough space for a single resident or couple.

The side view of this "villa royale."

This one bedroom yurt is perfect for anyone who fancies themselves an adventuring nomad. While this dwelling isn't exactly family friendly, it does come equipped with four windows and a strong vinyl roof.

In addition to having a bathroom, kitchen, and living area, this small cabin has an incredible view.

The view outside this small cabin in Texas.

An inside view of this small cabin in Texas.

This one bedroom yurt comes equipped with a fully insulated panel deck and is completely portable. It is a great home for anyone not yet ready to settle down in one place.

The inside of this yurt as builders work on the finishing touches.

This small home comes on wheels and is perfect for any adventurer.

The beautiful new interior of this tiny, portable home.

Another look at the main living space for this tiny home.

Tiny house, big city.

This very tiny home makes efficient use of its space and includes a fireplace, refrigerator, sink, stove, oven, bath, and sleeping loft.

A look at how this tiny house withstands tough weather conditions.

In a tiny house such as this one, the kitchen area and living room almost overlap.

This house on wheels includes a bedroom loft, kitchen, and living room.

This tiny house comes equipped with a small kitchen area.

This portable home has a unique set-up with a large glass wall that creates solar gain.

This tiny house is designed to accommodate one full-time resident comfortably. It includes a small sleeping loft, kitchenette, living area, and bathroom.
Follow Nikki Fotheringham on Twitter: www.twitter.com/greenmoxie