How B.C. Businesses Can Innovate And Grow Throughout 2016
It seems like every business has an innovative product or service, or are adopting innovation mindsets to help level up to survive and thrive in a world where margins are getting thinner and customers are overwhelmed with choice. And, for many B.C.-based businesses, adopting this approach towards innovation is becoming a core function of their business as they strive to grow.
Collaborating and sharing ideas with others, looking to new technologies and ways of working to boost productivity, being empathetic towards customer's needs, and actively understanding the macro and microeconomic factors that affect business on a daily basis have become essential.
Here we present three key areas where business can innovate and will grow throughout 2016.
Business Productivity Through Collaboration
We all know that business moves fast these days. It's not only about first mover advantage but also how we can all be agile and innovate our businesses on a daily basis. One particular trend that is growing is to connect your teams to allow for ideas and feedback to happen instantaneously.
The Vancouver and San Francisco based company Slack is making a huge impact in the business community. They've grown from 500,000 users, in February 2015, to over 1.1 million daily users in June 2015. Users log in to Slack for over 10 hours each work day, send over 300 million messages a month, and spend over 100 million hours on the platform every month now (source: Fast Company).
Other platforms, like Ethelo Decisions, are helping businesses like Vancity, Portland House Society, and the Government of Canada tap into the wisdom and collective intelligence of their employees, stakeholders, and customers to drive faster and better decision making along with the creation of roadmaps for their business offerings and operations. It's a new way to run collaboration in your business.
There has also been an explosion of co-working spaces across the province. Spacekraft in Burnaby, Co+Lab in the Okanagan, SquareOne in Nanaimo, and initiatives like Qualicum Beach Digital Workstation connect the local talent to share ideas and build businesses in a collaborative environment. In addition to these there is the BC Acceleration Network, 13 accelerators across the province that support the growth of hundreds of startups.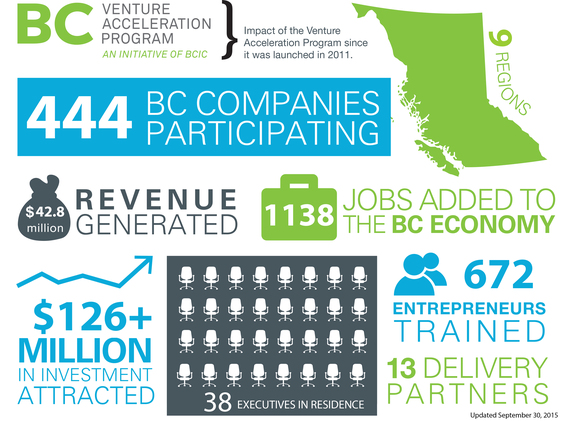 Image courtesy of BC Innovation Council
In 2016 we will see any more entrepreneurs, both young and more established, come together through these platforms, programs, and co-working spaces.
Finding Technology Talent
We often hear that it's really tough for local businesses and startups to get hold of the right technical resources they need, when they need them. This trend will only intensify in 2016. Businesses will have to get creative and look farther afield.
In 2015 a B.C.-based company, LocalSolo, saw this challenge and launched onto the world stage with a global platform for connecting your business with great business, creative, and technical talent. The platform now has over 20,000 freelancers and 5,000 employers located in in 89 major market cities around the world...and growing.
"What we're seeing is the accelerated rise of the skilled onshore freelancer as an integral part of the modern business team," explains Mark Fromson, CEO of LocalSolo
A number of companies are also helping create talent locally through accelerated learning programs called 'code camps'. Lighthouse Labs is one such B.C. code camp that is helping people across the province transition into becoming skilled developers with real career opportunities. This new curriculum-based education is highly practical; within three months students can pivot their career and become part of the tech innovation landscape. Lighthouse Labs is seeing an impressive 100% employment rate for job-seeking students within 90 days of graduation, and 9 startups have been founded by graduates of the program.
Lighthouse Labs will run a coding camp for high school students at the #BCTECH Summit in Vancouver on January 19. More than 200 students will get an introduction to this important skill that could shape their future.
The Sharing, and Crowd Economies
The Sharing Economy is all about giving people access to what you have and reducing personal ownership. The Crowd Economy is about connecting with people that want to support and see your product enter the market and be successful. Both are based in community and can be seen as true social media with a value and utility. Here in B.C. we see grass roots to larger scale ways to activate the sharing economy for businesses.
The Vancouver Public Library launched the Inspiration Lab in mid-2015. It provides a hands-on digital media hub with sound studios, video production and editing, analog-to-digital conversion, and self-publishing software. It's available to anyone - business or individual - and it's free. We also have Modo, Car2Go, Evo, Go2Gether, and even the Vancouver Tool Library helping us have to free or lower cost services. Expect more tech companies to join this movement and launch their own companies to compete in this new economy.
B.C. is also leading the way with great thinking of how to engage the crowd in raising capital. We are seeing crowdfunding platforms like FundRazr raise money for nonprofits and good causes, or businesses we have Front Fundr and Grow that use today's technology to enable entrepreneurs to raise money from a much larger investor community. It's more connective and hopes to be able to unlock the investments needed to keep pushing forward.
All of these areas will grow rapidly in 2016 with B.C. businesses engaging and adopting their platforms to help grow their teams and raise money when required. This means that there will be less of a financial burden that could hinder innovation.
ALSO ON HUFFPOST:
Most Amazing Business Images Of 2015
Traders signal offers in the Standard & Poor's 500 stock index options pit at the Chicago Board Options Exchange (CBOE) on August 24, 2015 in Chicago, Illinois. Uncertainty among traders after big losses in the Asian markets caused a sharp drop in the S&P at the open.

A view of the Tata Steel processing plant at Scunthorpe which may make 1200 workers redundant on October 19, 2015 in Scunthorpe, England. Up to one in three workers at the Lincolnshire steel mill could lose their jobs alongside workers at other plants in Scotland. Tata Steel UK is due to announce the Scunthorpe job losses this week.

The shadows of a woman and nearby trees are cast on the wall of Dongdaemun Design Plaza in Seoul, South Korea, on Sunday, May 24, 2015. South Korea is scheduled to release revised first-quarter gross domestic product figures on June 4.

Workers collect salt at Taibei saltern on September 13, 2015 in Lianyungang, Jiangsu Province of China.

A police officer stands guard at the building entrance as Maria Luisa Montiel, 47, centre bottom, cries next to a friend, during her eviction in Madrid, Spain on Tuesday, April 28, 2015.

An employee works in the distribution center of the online retailer Amazon during a guided press tour prior to the upcoming Christmas business in Leipzig, central Germany, Thursday, Nov. 19, 2015. Amazon has more than 285 million active customer accounts worldwide.

A healthy and happy themed subway train is seen on March 5, 2015 in Hangzhou, Zhejiang province of China. Hangzhou Metro is promoting healthy and happy themed subway trains.

Cooling towers emit vapor into the night sky beyond a harvested crop field at Grohnde nuclear power plant, operated by E.ON SE, in Grohnde, Germany, on Thursday, July 30, 2015. In one of the most ambitious political undertakings of a modern industrial economy, Germany is shutting down all its nuclear power plants by 2022.

An employee works on a mannequin at the 'A Top Mannequin' factory on November 11, 2015 in Kuala Lumpur, Malaysia. The company annually supplies up to 5,000 mannequins to Malaysia, Brunei, Indonesia and Singapore, where they are mainly used to display clothing in fashion outlets.

Wind turbines spin next to a giant bull advertisement for the Bodegas Osborne SA winery at a wind farm on February 19, 2015 near Zaragoza, Spain. France and Spain inaugurate the newly combined electricity project on February 20 which will connect both countries after thirty years of demands by the Spanish Government, allowing an increase of opportunities for operations with renewable energies.

Beekeeper Dave Whyman adjusts one of his hives after moving them to the site of a new apiary on August 8, 2015 in Lealholme, England.

Shipping containers sit stacked among gantry cranes in this aerial photograph taken above the BNCT Co. container terminal at Busan New Port in Busan, South Korea, on Thursday, July 30, 2015. South Korea is scheduled to release trade figures on Aug. 1.

Hand made carpets, brought from varied regions of Turkey, are laid under the sun on a field to soften their color in Dosemealti District of Turkey's Southern touristic province Antalya on July 25, 2015.

A child looks at Lego figurines from the Star Wars 'Kylo Ren's Command Shuttle', manufactured by Lego A/S, as it sits on display at the Toy Retailers Association DreamToys 2015 event in London, U.K., on Wednesday, Nov. 4, 2015. U.K. economic growth cooled as manufacturing contracted for a third quarter and construction shrank the most since 2012, a sign that Britain may be falling prey to global headwinds.

An aerial view of tea pluckers picking Mingqian Tea at a tea garden on March 24, 2015 in Hangzhou, Zhejiang province of China. Mingqian Tea, characterized by its tender leaves and rich flavors, is a highly valued tea harvested ahead of The Qingming Festival, also known as Tomb Sweeping Day.

Offices line a corridor inside the Bundesbank, Germany's central bank, in Frankfurt, Germany, on Tuesday, Sept. 29, 2015. German business confidence unexpectedly increased in September as companies benefited from strengthening domestic demand in Europe's largest economy, shrugging off risks from slowing growth in emerging markets.

A bulldozer moves almond hulls onto a pile at a Select Harvest Ltd. plant near Wemen, Victoria, Australia, on Wednesday, Sept. 23, 2015. Bees, responsible for an estimated $15 billion of crop output in the U.S. alone, play an essential role in almond production. With the nut fetching record prices, the insects have become the asset to own -- or steal -- in Australia's biggest almond-producing region.

An Aer Lingus aircraft, operated by Aer Lingus Group Plc, stands on the perimeter of the runway at London Heathrow Airport, in this aerial photograph taken over London, U.K., on Tuesday, June 16, 2015. Europe's largest hub at London Heathrow, which has been operating close to capacity since the start of the decade, and rival Gatwick have been short-listed for a new runway by the state-appointed Davies Commission, with a final recommendation due in coming weeks.

Liquefied natural gas (LNG) tankers stand under construction in this aerial photograph taken above the Hyundai Heavy Industries Co. shipyard in Ulsan, South Korea, on Wednesday, July 29, 2015. Hyundai Heavy is one of South Korea's Big Three shipbuilders.

The Samsung C&T Corp. headquarters building, bottom, stands in Seoul, South Korea, on Friday, June 12, 2015. American hedge-fund manager Paul Elliott Singer said he would oppose a proposed merger within Samsung Group, thereby laying down a challenge to the country's most powerful company and its richest family.

Dairy cows graze at a farm that supplies to Fonterra Cooperative Group Ltd. in Hamilton, New Zealand, on Thursday, March 19, 2015. Fonterra, the world's biggest dairy exporter, is scheduled to report interim results on March 25.

Traditional miner Sya'rani (54), who has been mining for 30 years, washes mud in conical bowls known as 'Linggang' as they search for diamond in Cempaka village at Martapura, also known as the City of Diamond, on November 4, 2015 in South Kalimantan, Indonesia.

Hyundai Motor Co. vehicles sit parked at a delivery center at the company's factory in this aerial photograph taken in Asan, South Korea, on Tuesday, Jan. 20, 2015. Hyundai, South Korea's largest automaker, is scheduled to announce fourth-quarter earnings on Jan. 22.

Pensioners try to get a number to enter inside a bank in Athens, Wednesday, July 1, 2015. About 1,000 bank branches around the country were ordered by the government to reopen Wednesday to help desperate pensioners without ATM cards cash up to 120 euros ($134) from their retirement checks. Eurozone finance ministers were set to weigh Greece's latest proposal for aid Wednesday.

Airbus aircraft landing gear is tested at the Airbus aircraft manufacturer's Filton site on November 19, 2015 in Bristol, England.

A scale model of a plane is prepared for testing in the Airbus Filton's low speed wind tunnel facility at the Airbus aircraft manufacturer's Filton site on November 19, 2015 in Bristol, England.

Mannequin hands display different types of nail art at the Atarazanas beauty mall center in Mexico City, Mexico, on Thursday, Nov. 19, 2015. Consumers are spending more as wages rise and inflation drops to record lows because of new laws that reduced phone and TV service prices.

Carles Sanmarti checks noodles drying in wood cabinets at Pasta Sanmarti factory on October 27, 2015 in Caldes de Montbui, Spain. The Sanmarti family has been involved in the production of pasta since 1700.

Steam locomotives sit at sidings as maintenance is carried out in the Grosmont railway sheds at the North Yorkshire Moors Railway on September 24, 2015 in Grosmont, England.

Cider maker Roger Wilkins, owner of Wilkins Cider Farm picks apples from a tree in his orchard at his farm in the village of Mudgley on October 2, 2015 in Somerset, England.

Police stand next to a crater created by gold miners during a police operation to eradicate illegal mining in an area known as La Pampa, in Peru's Madre de Dios region, Wednesday, Aug. 12, 2015. This past week, Peruvian security forces cleared out nearly six square miles in a crater-pocked jungle zone where some 10,000 people lived, blowing up more than one hundred gasoline engines used to extract gold from the sandy soil.

A worker passes through part of the disused Down Street underground station on May 18, 2015 in London, England. The disused underground railway station, which closed in 1932, was used by wartime leader Winston Churchill for some cabinet meetings in 1932 as his Whitehall bunker was being built. Transport for London are seeking ideas from businesses that may want to lease some of the 400 square meters available at the station. Out of 270 functioning stations in London there are at least 40, Overground and Underground stations, which still exist but are no longer used.

In this aerial view combines harvest summer wheat at a cooperative farm on August 14, 2015 near Grossderschau, Germany.

Steam rises from cooling towers at the coal-fired Kraftwerk Mehrum power plant at Haemelerwald on March 10, 2015 near Sehnde, Germany.

Finished tyres sit in a storage area inside the Vsevolozhsk tyre manufacturing plant, operated by Nokian Renkaat Oyj in Vsevolozhsk, near St. Petersburg, on Tuesday, Nov. 17, 2015. Nokian Renkaat Oyj, the biggest tyre producer in the Nordic region, exports tyres to more than 40 countries making Nokian Tyres the largest exporter of consumer goods in Russia.

Bundles of steel reinforcement rods sit in a storage area in the rolling shop at the Evraz Consolidated West-Siberian Metallurgical Plant, operated by Evraz Plc, in Novokuznetsk, Russia, on Tuesday, Nov. 24, 2015. Evraz is Russia's largest steelmaker by production.

A brand new Volkswagen Passat and a Golf 7 car are stored in a tower at the Volkswagen Autostadt complex near the Volkswagen factory on March 10, 2015 in Wolfsburg, Germany.

Visitors and journalists take pictures of the new Samsung Galaxy S6 during the Mobile World Congress 2015 March 1, 2015 in Barcelona, Spain. The annual Mobile World Congress will start tomorrow March 2 hosting some of the world's largest communication companies, with many unveiling their last phones and gadgets.

Chinese vendors pile squash to sell at a local food market on October 14, 2015 in Beijing, China.

People walk past shops in al-Moez street in Cairos Khan el-Khalili district, in Egypt on March 7, 2015. Al-Moez street is one of the oldest streets in Cairo, approximately one kilometer long, and according to a United Nations study it's found to have the greatest concentration of medieval architectural treasures in the Islamic world.

A delegate talks on his mobile phone as he walks toward a hall inside the Great Hall of the People during the opening session of the annual National People's Congress in Beijing Thursday, March 5, 2015. China announced a lower economic growth target for this year and promised to open more industries to foreign investors as it tries to make its slowing, state-dominated economy more productive.

Forklifts transport aluminum cans at the Rexam Beverage can plant in Jacarei, Brazil, on Thursday, Nov. 5, 2015. Brazil produced 61.4 thousand tons of aluminum in September and 584 thousand so far in 2015, according to a report by the Brazil aluminum association.

Loaded container trucks line-up at a gate at the Port of Seattle Tuesday, Feb. 17, 2015, in Seattle. Seaports in the U.S. West Coast that were all but shut over the weekend because of a contract dispute are reopening as the nation's top labor official tries to solve a stalemate between dockworkers and their employers that already has disrupted billions of dollars in U.S. international trade. U.S. Labor Secretary Thomas Perez plans to meet Tuesday in San Francisco with negotiators for both the dockworkers' union and the maritime association, which represents shipping lines that carry cargo and port terminal operators that handle it once the ships dock.
Follow Nikolas Badminton on Twitter: www.twitter.com/nikolasfuturist