Federal Funding For STEM Empowers A New Generation Of Canadians
Over March break, Isabella got to try her hand at engineering.
Volunteers from Tru Grit Engineering showed her and other members of Boys and Girls Clubs of Thunder Bay how to make toy cars. Technically, they were introduced to problem-solving, propulsion physics, mechanics and mathematics. But Isabella summed it up in a much simpler way: "I really loved it because it was really fun."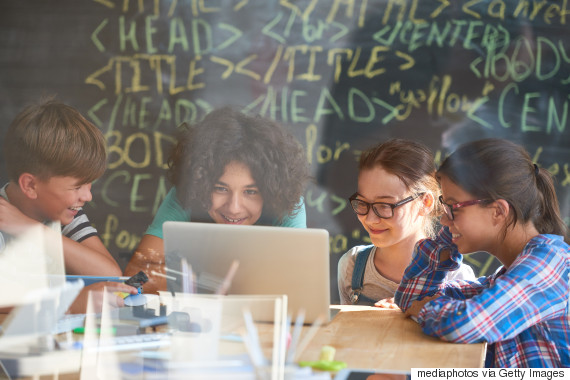 (Photo: Mediaphotos via Getty Images)
Stories like this give life to the rows of numbers that make up the 2017 federal budget and enhance the victory of an incredible $50 million over two years to teach young Canadians to code. This is a huge boost to support Canadians in developing the skills and creativity needed to compete and lead in the global innovation race.
I'm happy to see the government is committed to promoting digital skills for young people and increasing diversity in science, technology, engineering and math (STEM) fields.
Simply put, STEM education is critical to the future success of young Canadians. We currently have a shortage of girls and newcomer, indigenous and low-income youth interested in these subjects. This opportunity gap is costly for society.
Expanding access to STEM fields for underrepresented groups would benefit everyone. Happily, there are many ways to actively strengthen skills development and create pathways to STEM careers for those who risk being left behind.
This is an opportunity to help prepare young people with 21st century skills and strong, creative minds.
Introducing children to coding and digital skills early in their lives helps bolster interest in science, technology, engineering and math. Research also shows that adding art to STEM learning programs is like adding an on-ramp to STEM for underrepresented youth. The addition of art increases motivation for all types of learners and brings more diverse opportunities for communication and expression.
Informal STEAM programs (STEM with arts) strengthen creativity and encourage children and youth to develop better life skills and stronger connections to community. These programs also give young people the opportunity to experiment -- an important lesson in trying, failing and trying again.
Boys and Girls Clubs introduce computer skills to children as young as five. As their skill level increases, kids tackle more advanced challenges like web design, digital photography and movie making. These are great ways to discover career interests.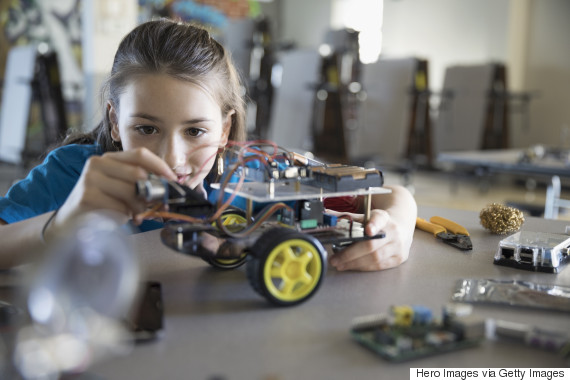 (Photo: Hero Images via Getty Images)
Creating Lego robots, mastering math games and video game design also make STEM subjects more accessible for youth who struggle with academics. Out-of-school programs that help at-risk youth find different ways to be successful boost confidence, which often leads to better results in school.
But don't just take my word for it. A youth involved in a STEAM program at one of our Clubs said it best: "I'm lucky because sometimes people don't get the chance to do these types of activities. The purpose is to learn how to engineer so when you are older, you can choose all different types of jobs you want to do."
By allocating funds to digital skills and STEM education, the 2017 federal budget empowers us to actively reach out to girls, indigenous children, newcomer children and children in low-income situations and reverse the lack of diversity in STEM fields.
This is an opportunity to help prepare young people with 21st century skills and strong, creative minds. And that's good for all Canadians.
Follow HuffPost Canada Blogs on Facebook
Also on HuffPost:
Fun STEM Activities For Your Kids
Sneak in a lesson about gravity while creating beautiful art with pendulum painting. Suspend a broomstick in between two chairs and hang a plastic cup with some string in between. Put some paint in the cup, then poke a hole in the bottom. Set the cup to swinging to get some lovely designs. (Then you can talk about why the pendulum keeps swinging back and forth, gradually creating smaller and smaller circles.) Get the details: Hand Made Kids Art

You may know the recipe for homemade slime, but have you ever made magnetic slime? This incredibly cool experiment involves a bit of parental help and supervision, but it's well worth it! Get the details: Frugal Fun For Boys

Whip up a little kitchen chemistry to teach your kids about colour changes and chemical reactions. Red cabbage juice turns blue when mixed with a base (baking soda) and red when combined with an acid (vinegar). Combine both to get bubbles! Get the details: One Time Through

The maker movement has done a lot to get people of all ages interested in DIY technology. The MaKey MaKey kit helps kids take everyday objects and turn them into keyboards! Think playing piano with a banana or playing a videogame with Play-Doh. For a demonstration of what a MaKey MaKey kit can do, check this out. Get the details: MaKey MaKey

This one's called "$7 and a Screwdriver," because Leah at Socks & Shoes Not Required spent $7 on an old VCR at a thrift store. She explained to her kids how it worked, then gave them a screwdriver and let them go to town. Older kids could even try to put it back together. Brilliant! Get the details: Socks & Shoes Not Required

Wanna check out something cool? This neat experiment involves piping drops of water (carefully) onto coins. Your kids will be amazed that the water doesn't spill over the side! It's a lesson in surface tension, and your child can measure the amount of drops each type of coin can handle until it overflows. Get the details: The Science Kiddo

LEGO and STEM go hand-in-hand, and you can use your child's favourite multi-coloured building toys to teach many science, math and engineering concepts. Here, you can tackle density with some oil, water and a brick. (More ideas on the site below.) Get the details: Science Sparks

Anyone with a child and a smartphone knows that kids love taking photos. Send your school age children on a scavenger hunt to photograph items in nature, like flowers, seeds, birds, insects or tree bark. Great for an outdoor birthday party! Get the details: Betsy's Photography

If you glue popsicles together in a particular way, they will pop apart when you drop them. This lesson in tension is a fun one, and you can even set up the "bombs" next to each other for a chain reaction (a la the domino effect). Get the details: Frugal Fun For Boys

Forget boring old regular Bingo. Teach your child about fractions in a fun way with this Fractions Bingo game. She rolls the dice to figure out what fraction she's looking for, then fills it in once she finds it. First to get five in a row wins! Get the details: School Time Snippets

Kids don't learn about simple machines until grade school, but you can introduce the important concept of levers at an early age with this fun and colourful project. Your child can investigate which lever sends the cube flying the furthest. Get the details: Munchkins & Moms

Your child will learn about kinetics, the study of forces acting on mechanisms, while creating some little funny pals to play with. Turning the wooden dowel makes the googly heads spin, as you can see here. Get the details: Left Brain Craft Brain

Get your preschooler interested in number recognition and counting by utilizing the landscape of Dr. Seuss favourite, The Lorax. Older kids can work on adding and subtraction. Get the details: Inspiration Laboratories

If you REALLY want to bring the outdoors in, why not grow mushrooms with your children? This mom of quadruplets taught her four little ones a new x-word by growing xylophagous fungi on a log in their house (in this case shiitake and oyster mushrooms). The kids cared for the mushrooms by misting them each day until finally, mom made them into a casserole. Get the details: Capri + 3

Ever heard of ichnology? It's the study of the traces of organismal behaviour, like burrows or footprints. Introduce your child to this fascinating study with some air dry clay and plastic animal figurines. Check the website for more ideas involving paint (to make animal footprints on paper). Get the details: Suzy Homeschooler

A simple mixture of oil, water and food colouring creates a colourful light show in a jar. It also teaches kids about density. (ICYDK, the food colouring is denser than the oil, so it sinks through the oil layer and starts to dissolve in the water). Get the details: I Can Teach My Child

Even preschoolers can get in on the action with this cute apple-picking counting game. Kids pick up "mini-apples" with child tweezers and place enough on each corresponding number. Get the details: Fun-a-day!

Magna Tiles are awesome building toys. But you can also get kids excited about multiplication with these colourful, versatile squares. Here, this child is demonstrating 10 x 2. Get the details: And Next Comes L

Your little ones probably love to look at the sky at night. Bring that magic into the daytime by letting them try their hand at creating each of the planets. A great introduction to astronomy for even the youngest kids! Get the details: A Little Pinch of Perfect

Set out containers of varying sizes and shapes, then have your scientists-in-training guess whether they think a full scoop of coloured rice will fit inside or overflow. You can explore volume with liquids as well. Get the details: Little Bins For Little Hands

Explore "pirate science" by freezing small bits of treasure in a baking soda, Jell-O and water solution. Your kids can "dig" for treasure by using vinegar to excavate the goods. Get the details: Fun-A-Day!
Follow Owen Charters on Twitter: www.twitter.com/BGCC_CEO