Peter Lougheed Was A Titan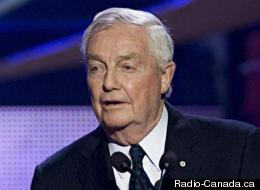 Peter Lougheed has died at the age of 84.
The former Alberta premier and Tory leader was, unequivocally, a titan.
He was an Edmonton Eskimos alumni, with a masters degree from Harvard, and with the kind of family and political pedigree the likes of which you don't see in the public arena any more.
But never mind that. Lougheed was a politician who redefined a province, who empowered Western Canada, who laid the foundation and turned Alberta from a rural bread basket into the engine that today fuels one of the world's most stable economies.
He was a man who took on Ottawa and didn't win outright. He did something much more profound. He brought Ottawa, for the most part, around to his way of thinking. Winning outright would've left lingering feelings of alienation in the rest of the country and bad blood between two governments that have to work together for the good of the confederacy.
During the days of the National Energy Program and world-wide recession, which at that point in time was the nearest thing to the Dirty Thirties the world had yet seen, Lougheed crossed swords with an enigmatic, charismatic and volatile Pierre Elliott Trudeau. The result of that colossal battle to this day shapes how Ottawa and the provinces conduct business with one another.
As far as Lougheed was concerned, the fight was about allowing Alberta to pursue its fortunes and to have control over a resource industry recently kicked into overdrive. And so, because of his actions and motivations, Alberta started down its path towards becoming an economic powerhouse.
Other premiers would've stood back and pumped their chest in an "I showed them" display of power that lesser politicians think will get them re-elected.
As he never seized to reiterate, it was never about winning for the sake of winning or about giving the Alberta of the 1960s and '70s a badly needed ego boost -- although he did that. It was about making Alberta stronger and, by extension, making Canada stronger.
Later in life he never failed to miss the opportunity to say that he was "Canadian first and Albertan second." And therein lies the essence of the man, someone who so tirelessly championed his home province but who had an unrivaled love for his country.
Thus is the essence of a man who championed Alberta's non-renewable resources industries but who created, and by extension made it possible to protect the pristine mountain haven that is Kananaskis Country.
Thus is the essence of a man who wasted no time in using royalties to build roads and schools and roads and parks but who, through the creation of the Heritage Fund, found a way to ensure that Alberta's wealth didn't run out when the oil did.
Perhaps he was the walking definition of pragmatism or perhaps he was the last of his kind in Alberta and a dying breed around the world -- a true statesman.
There is a reason why there is now a massive provincial park named after him, a Calgary hospital that bears his name and why he can help a beleaguered Alison Redford election campaign with a heartfelt endorsement.
After he left office, Lougheed didn't live in the limelight but had no problems stepping into it when his convictions called for him to do so.
He never backed down from a fight but never punched below the belt. Lougheed could argue passionately and loudly but never came across as anything less than classy.
He often said in later years that he was successful because he believed in the concept of the team, because he listened and because he loved Canada without reservation.
He lived his life in the name of service, using his love of Alberta and Canada as his compass, and one achievement at a time.
Maybe that's why today we see voter apathy, because we no longer have people like Peter Lougheed to vote for.
Peter Lougheed On Being Premier
On being named Canada's best premier by Policy Options magazine poll: "The attribute that really pays off is listening ability. Both listen to the people that are involved with you working in the Office of the Premier, listening to the media...listening to your party and the general public."

"My whole life, 365 days a year, was team sports and I found anything in my public life we really accomplished that was worthwhile we accomplished as a team."

"I chose provincial politics because I though that's where the action was and you could get a lot more done"

"Our whole approach as a political party was to talk not-so-much negatively, but we wanted to talk about the future of the province and we wanted to talk postively."

"We got Albertans to think as Canadians. We didn't think of ourselves as just provincial, we thought of ourselves nationally and we contributed nationally - not just in public life and in government but we contributed in a multitude of other ways - the arts and culture and sports, in writing and business and science. All of those were contributions by Albertans into Canada."

"Because we had the resource revenues (we were able to) save those resource revenues for the future and create the Alberta Heritage Savings Trust Fund."

"I'm a community person, I think in terms of community before individual. That's the essence of Albertans and to a large extent that's the essence of Canadians as well."

"I think it's important Albertans know the battles that we had in terms of the jurisdictional battles over the control of energy resources and secondly that we have a government that reflects the various provinces and differences and strengths of the provinces."
Follow Pablo Fernandez on Twitter: www.twitter.com/yyc_webslinger