How the Internet Can Help Young Women Empower Themselves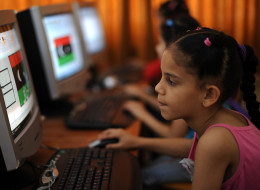 This much we know: not long ago Dalton McGuinty backed away from proposed changes to Ontario's sexual education curriculum; today, Kathleen Wynne is intent on going ahead with them. What's changed?
Evolving attitudes and new political calculations, many say. But a deeper look suggests these changes in attitudes and politics are themselves dependent on a more fundamental shift, toward new technologies. Online tools are upending entrenched power dynamics by giving voice to people long excluded from the public discourse. Both the data and the success stories we see at Change.org suggest women -- in particular young women -- are most adept at tapping into the digital age's potential and that changes everything.
Consider the debate over sexual education, specifically over including consent in the curriculum. Five years ago, politicians, parents and teachers sparred publicly over what was right. This time, we heard immediately from those most affected, those who best understand the reality of growing up and going to school in the era of sexting and cyber-bullying: 13-year-old girls.
What started for Tessa Hill and Lia Valente as an eighth grade project exploring rape culture quickly became We Give Consent, a major public campaign to put consent in the curriculum. Buoyed by a savvy digital strategy and armed with over 30,000 online petition signatures, they secured a meeting with Wynne, who then tweeted a pic of her with "two inspiring girls," adding "we are putting consent in our curriculum."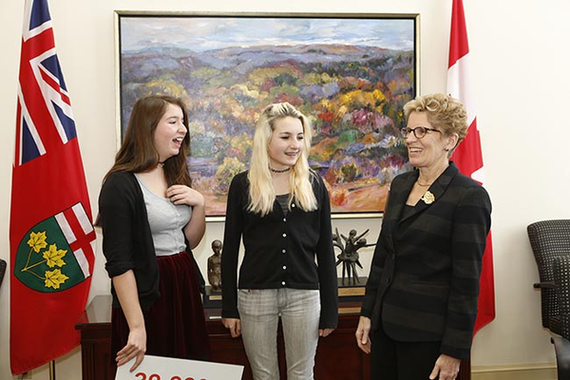 Tessa are Lia adeptly leveraged technology to bring issues affecting women to the fore, as did Nova Scotian Sherri Bain when she convinced her government to launch an independent review of Rehtaeh Parsons's case; the thousands who secured funding for a Toronto family shelter; and the young women who got Seventeen magazine to stop photoshopping models and Victoria's Secret to drop the slogan "The Perfect Body" in favour of "A Body for Every Body."
These are not trivial victories -- women are improving and even saving lives with effective online mobilization. And they've inspired others. Loretta Saunders's cousin Holly Jarrett has amassed massive support for a public inquiry into missing and murdered aboriginal women; Victoria's Merna Forster has united thousands hoping to see a Canadian woman on our banknotes (and has cleverly collected hundreds of ideas from the public online); a new petition asks federal leaders to debate issues affecting women.
A bigger picture emerges: women are effectively embracing and gaining influence through online mobilization. Might we measure this perceived "tech effect" on women's empowerment?
At Change.org, our internal research reveals fascinating insights: while slightly more petitions on our site are created by men, petitions launched by women more often "win" the change they are seeking. Campaigns led by women tend to better mobilize networks and get significantly more support -- upwards of two and a half times more. And women account for an astounding 70 per cent of signatures globally.
The effect is real. For clues to understanding it, we can look at what sorts of behaviours are well-suited to the online world:
The digital age favours the consensus-builder. The web allows us to share more and better information more widely. Successful online campaigns tend to have broad, cross-partisan appeal.
They seek common ground and are framed around notions most of us understand and admire: fairness, justice, peace.
The digital age favours the collaborator. It is difficult to "own" anything online. If you want your idea to succeed, you need to be open to working with and trusting others.
Most importantly, the digital age favours the storyteller. Today anyone can publish anything, but what rises above noise and chaos? Stories -- compelling personal stories that evoke empathy while illustrating a need for systemic change.
In this light, the kinship between women and the web is not so surprising, nor is the fact many top tech companies -- Facebook, YouTube, Yahoo, and yes, Change.org -- are headed by women.
Back to Lia and Tessa. They likely didn't change Premier Wynne's mind -- surely she already favoured a modernized curriculum -- but they altered the discourse. They told their story, emboldened supporters, and helped attitudes evolve. They demonstrated broad support and allowed a political leader (who owes some of her own success to effective online tactics) to make a different political calculation.
Above all they proved what's possible. Women are more likely to win but likely to think they will win, our research shows. But confidence builds from seeing others succeed. Already, young women are demanding consent be included in other provinces' curricula.
Full disclosure: I have a personal stake. Almost two months ago our first child was born, a daughter. March 8 marked her first International Women's Day, and I can't help but be optimistic. She'll grow up in a world she'll be able to shape -- a world where new technologies give women more power than ever, be they premiers or pupils.
ALSO ON HUFFPOST:
Ontario Sex Education By Grade
In Grade 1, students should be able to identify body parts, including genitalia like the penis, testicles, vagina, vulva, and use correct terminology.

By Grade 2, students will outline the basic stages of human development, including an infant, child, adolescent, adult, older adult, for example, and related bodily changes. They will also identify factors that are important for healthy growth.

In Grade 3, students will be able to describe how visible differences (like facial features, body size and shape, physical aids or different physical abilities. for example) and invisible differences (like learning abilities, personal or cultural values and beliefs, gender identity, sexual orientation, for example), make each person unique. Students will also learn ways of showing respect for differences in others.

In Grade 4, students will describe the physical changes that happen during puberty for males and females — the growth of body hair, breast development, changes in voice and body size, production of body odour, and skin changes, for example. They will also learn about the potential emotional and social impact of these changes.

In Grade 5, students will identify the parts of the reproductive system, and describe how the human body changes during puberty. They will expand their vocabulary with words like cervix, uterus, fallopian tubes, ovaries, endometrium, and clitoris, as well as scrotum, urethra, testicles, prostate gland, seminal vesicles, and vas deferens.

Students in the sixth grade will assess the effects of stereotypes — including homophobia and assumptions regarding gender roles and expectations, sexual orientation, gender expression, race, ethnicity or culture, mental health, and abilities, among others. They will also propose appropriate ways of responding to and changing some of these stereotypes.

In Grade 7, students will touch on consent and the importance of having a shared understanding with a partner about delaying sexual activity, for example. They will go over genital contact, vaginal or anal intercourse and oral sex (including choosing to abstain from these activities). They will also go over reasons for not engaging in sexual activity and the concept of how consent can be communicated in a relationship. Grade 7 students will also touch on the understanding of physical, emotional, social, and psychological factors that need to be considered when making decisions related to sexual health, including STIs, pregnancy, desire, pleasure, gender identity among others. Students will also delve into areas of cyber-bullying, harassment and behaviours like sexting.

In Grade 8, students learn about all six genders including male, female, two-spirited, transgender, transsexual and intersex. They also cover topics of sexual orientation (heterosexual, gay, lesbian, bisexual). When it comes to sex, students will learn about contraception and condom use for pregnancy, STI prevention, consent, and what it means to be in a healthy sexual relationship. For further development, Grade 8 students will also touch on the benefits or attractions of being in a relationship, along with drawbacks and risks like breaking up.

In Grade 9, students will be able to describe how to prevent unintended pregnancy or sexually transmitted infections (STIs), including HIV/AIDS. A further understanding of gender identities and issues around stigma, culture, religion, media, stereotypes, homophobia, self-image, and others.

Students should be able to describe factors that influence sexual decision making, including personal values, having limits, peer and family expectations, and myths and norms related to sexual activity or safe sex. Students will demonstrate an understanding of how to use decision-making and communication skills effectively to support choices related to sexual health. Discussions on misconceptions about sexuality in our culture, as well as what it means to be in a exclusive relationship.

Understanding a variety of mental illnesses and addictions including: eating disorders; major depression; anxiety disorders; psychotic disorders, and tobacco, alcohol, drug, gambling, gaming, or Internet addictions. Students in Grade 11 will cover proactive health measures like breast and testicular examinations, Pap tests, regular medical check-ups, stress management techniques, among others.

In addition to cyber-bulling, students in Grade 12 will also cover stalking, sexual assault, abuse within a family, extortion, and workplace harassment, for example. Further discussion on healthy relationships, developing healthy sexual relationships with others, and looking at relationships and stereotypes in the media.
Follow Pascal Zamprelli on Twitter: www.twitter.com/PascZamp