In The Digital Age, I'm No Longer Alone In My Postpartum Depression
Sometimes I wonder how I ever got through postpartum depression (PPD) the first time around without Facebook, Google, mommy blogs and my smartphone.
That was seven years ago, i.e. the olden days, when everyone didn't own a smart phone and there weren't any live online PPD support groups to access.
The only the thing I could do then at 3 a.m. in the middle of the night on the verge of a panic attack while the rest of the world slept was grab my cell phone and dial 911.
Nowadays, however, thanks to the rapid evolution of social media and web-based technology, whenever I feel a strange symptom coming on or wonder if my PPD misery will ever end, instead of waking up my husband to tell him I've called an ambulance and seeing the look of "Why, why, why? Again?" on his face, I lean over, grab my smartphone and connect with other moms going through the same thing in real time.
And I calm down.
The first thing I do is leave a comment about how I'm feeling in a couple private PPD Facebook groups and wait for other moms to reply. It only takes a couple of minutes. Soon enough there's a plethora of responses from moms who have either been through or are currently going through the same thing. This instantly provides comfort to me knowing that what I'm experiencing is normal in the context of my journey through PPD and more importantly, that I'm not alone.
I begin to take take breaths and feel my heart rate slowing down.
My husband continues to snore.
Next, I Google my symptoms and find so many amazing mommy blogs openly talking about PPD and all its forms; and once again I feel so good knowing that I'm not the only one going through it and experiencing all these weird and scary symptoms no one except a mom going through PPD can ever really understand.
I take another deep breath and feel the tightness in my chest and stomach begin to subside.
Thanks to the Internet, I begin to actually believe that the terrifying nightmares that wake me up in a panic are not real and that the terrifying intrusive thoughts still running through my head are not real.
I learn that PPD is not my fault, that it's a result of hormonal and biochemical changes that occur in pregnancy and postpartum, that the meds I'm taking will take effect soon, and that one day, just like the moms in the Facebook groups who've been saying it all along, I will get better and be well again.
I lie back down next to my peaceful baby, close my eyes and feel the possibility of sleep returning.
Welcome to the digital age of PPD.
As long as you have access, you can enlist the support of other moms from wherever you are, at any time of the day.
The technical term for what I'm doing is called peer support, a highly valued, evidence-based tool in the fight against PPD which the Internet is managing to provide organically.
A study by the University of Western Ontario monitored comments from moms in an online support group for six months and found that they "provide women experiencing postpartum depression a safe place to connect with others and receive information, encouragement and hope".
I remember desperately searching for a face-to-face PPD peer support group in my community and was dismayed that there weren't any. I started my own Facebook support group and joined countless others. I even tried starting one that would meet regularly in-person but only two other moms showed up. I could understand why. Meeting at a certain place and time is hard enough when you're dealing with the irregular schedule of a newborn. Add to that PPD, and the chances of getting out of the house are slim to none.
That's the beauty of the Internet. As long as you have access, you can enlist the support of other moms from wherever you are, at any time of the day.
According to Edison Research, "mom's time with the Internet is almost eight times what it was in 2000", spending an average of three hours daily online. And Canadians are the ones spending the most time online. Our gadget of choice? A smartphone or tablet. According to Baby Centre, "the percentage of Canadian millennial moms who owned a smartphone grew from 59 percent in 2012 to 94 percent in 2014."
The medical community is catching on. Because wouldn't it be wonderful to have trained medical professionals monitoring our comments and providing expert feedback and links to further resources?
Earlier this week, Women's College Hospital in Toronto launched it's first ever online support group as part of the Reproductive Life Stages Program for moms with PPD in Ontario. It's called, "Mother Matters" and they're currently recruiting 50 moms for the first 10-week program beginning in June and set to run again this fall.
"Women can create anonymous screen names to address issues related to shame or stigma and highly-trained psychotherapists can provide care to women in areas where specialty mental health care might not otherwise be available," says Mother Matters program psychiatrist, Dr. Simone Vigod. "It is a low-cost intervention that is already reaching women across Ontario, and pending a demonstration of efficacy, can be scaled up and adapted for other centres."
And coming to Canada soon, I hope, is an online program and future app called Mevoked that moms and doctors can use together to track a mom's online behaviour in real time. Mevoked founder, Arun Ravi created the software after witnessing his wife struggle with access to care after the birth of their son.
"We believe that this program can help treat those moms in between the mild to moderate range of postpartum depression while identifying those at severe risk," says Arun Ravi. "We just want to create a better funnel and make sure every mom gets help."
Each time a mom goes online, the software keeps track of what sites she's visiting, the time of day, and what keywords she's typing into her search browser, much the same way Google does in order to target its ads to us.
But instead of getting us to buy more stuff, what Mevoked does with the data is provide doctors a window into the emotional health of the mom at various times of the day over an eight week period. It also provides real time wellness advice for moms and a chance to provide information on how she's currently feeling via smart pop-ups that appear intermittently whenever she's onscreen.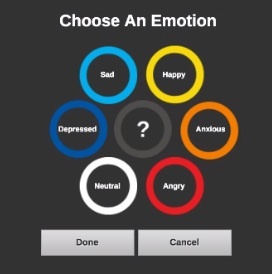 Right now, the largest PPD study using smart phones is currently underway in the U.S. with Canada set to hop aboard soon. That's the one where DNA spit kits are being mailed to moms with PPD to study whether PPD has a genetic component.
"We have started working on it," says Dr. Vigod.
Can't wait.
If you live in Ontario and struggle with PPD, register here for the Mother Matters online support group.
While you wait to see if you qualify, here are five private PPD Facebook groups in Canada and abroad with 24/7 PPD peer support:
2. Postpartum Support International
3. Postpartum Anxiety Support Group
4. Postpartum Depression Awareness Saskatoon
5. Sault Ontario Postpartum Anxiety & Mood Disorders
Follow HuffPost Canada Blogs on Facebook
ALSO ON HUFFPOST:
10 Biological Causes of Postpartum Depression
The sudden drop of estrogen and progesterone following labour may play a role in the onset of PPD. According to the authors of a 2012 Swedish study, "downregulation of endogenous hormon production in women with PPD history elicits depressive symptoms in more than 60% of cases." Hypoestrogenism, as it's called, has also been shown to cause depressive symptoms at other times of a woman's life. However, there are other studies which challenge this concept and more research is needed.

A number of studies have shown that women with PPD have hypoactivation of the hypothalamic-pituitary-adrenal axis (HPA). The HPA axis controls your reaction to stress and women with PPD have have higher levels of corticotropin-releasing-hormone (CRH), better known as the cortisol, the stress hormone which is released by the HPA axis.

Though it's not yet known why, research is showing that "failed or discontinued lactation" is associated with the onset of PPD symptoms and that it could have something to do with the feel good hormone, oxytocin, that's released during milk let-down.

Women with PPD have been found to have lower tryptophan and serotonin levels. Tryptophan is an amino acid and serotonin is a neurotransmitter. Both work together to reduce anxiety and alleviate stress. It's not known why women with PPD have lower levels of tryptophan and serotonin and researchers are looking into genetics as a possible reason.

Women with PPD reportedly have lower brain-derived neurotrophic factor (BDNF) levels. BDNF works with serotonin, the feel good neurotransmitter, also known to be low in women with PPD. Authors of a 2012 Swedish paper report that "PPD is likely to be the results of an interaction effect between hormonal changes and these brain neurotransmitter systems."

Our circadian rhythm is our body clock which tells us when it's time to sleep and when it's time to be awake and alert. Melatonin, the sleepy hormone, is involved in this process. While melatonin levels should be highest in the evening, it's been shown that women with PPD have significantly higher melatonin levels in the morning suggesting their circadian rhythm is out of whack. Of course this makes sense as new mothers often go hand in hand with a lack of sleep as their care for their babies but researchers note that it's important to consider that insomnia can also be the consequence as well as a cause of depression.

Many people with depression experience a worsening of their symptoms during the fall and winter months. This is known as Seasonal Affective Disorder (SAD) and is more common among women. Some studies have shown that women who give birth in the fall or winter have an increased rate of PPD than women who give birth in spring or summer. It's also been reported that there's a "significantly higher risk" for PPD symptoms to present themselves at six weeks or six months postpartum in women who have given birth in the months from September-December.

Lower vitamin D levels have been found in postpartum women compared with pregnant women and women with mood disorders have been shown to have a vitamin D deficiency. Researchers are wondering whether nutritional habits may play a role.

It's thought that perhaps some women suffering from PPD are actually suffering from a psycho-neuro-immunological disorder in which their inflammatory response to labour has been exaggerated. Studies show that inflammation can produce anxious and depressive symptoms.

Women with the baby blues have been shown to have higher thyroid-stimulating-hormone (TSH) levels. Women with higher TSH levels tend to have higher depression scores at four weeks postpartum. Women in a study who reported PPD symptoms six months postpartum also had hypothyroidism at the time of delivery.
Follow Patricia Tomasi on Twitter: www.twitter.com/PatriciaVTomasi