Achieving Girls' Rights Will Take More Than Removing Barriers
Despite decades of activism and global leadership, girls' rights remain unfinished business. There have been some noteworthy successes, but a recent study by Plan International shows that we have a long, long way to go.
In the build-up to the International Day of the Girl (October 11), we should take a hard look at the state of girls' rights, both here and abroad. Last March, I published a blog about India's Daughter, a documentary that focuses on protests against individuals and nations that downplayed the murder of 23-year-old Jyoti Singh, a medical student assaulted to death by six men as she took the bus home one evening. Plan's global study, Girls Speak Out, shows that fear of such violence is still a pervasive theme in girls' lives around the world.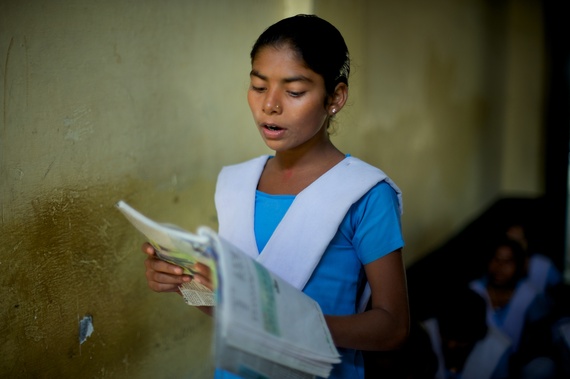 Photo: Plan International


The study is part of Plan's State of the World's Girls report for 2015, titled The Unfinished Business of Girls' Rights, the ninth in a series. This year's report shows that large numbers of girls feel that they have little control over their lives and the decisions that determine their fate. Only 37 per cent of girls believe that they're given the same opportunities as boys. The survey heard from more than 4,200 girls in Ecuador, Nicaragua, Pakistan and Zimbabwe, asking them about four barriers to their freedoms: gender-based violence at school and in the community, and early marriage and early pregnancy. Plan also conducted a small focus group with girls in Canada.
There is good news in the report: nearly 90 per cent of girls tell Plan that they have more opportunities in life than their mothers did. That's progress. But in developing countries, girls are twice as likely as boys to suffer malnutrition, and 63 million girls (many more than boys) don't attend school. As one young woman in Pakistan put it, "girls should take their own decisions about their lives. They should get a proper education and both the government and family members should agree."
Removing barriers to education, health care and other rights isn't enough. We need to focus on how girls can move beyond merely surviving, to thriving.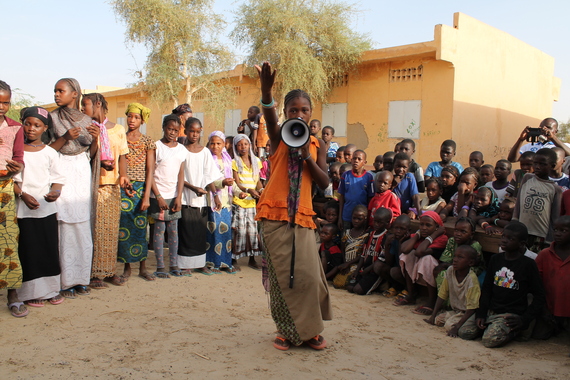 Photo: Plan International
When we spoke with girls in Canada, they said that they see inequality in their own lives in terms of a lack of acceptance for girls in male-dominated areas, such as math, sciences and sports, as well as in terms of insufficient numbers of women in leadership positions in workplaces and politics. Canadian girls also pointed to discriminatory treatment of girls and women in media and advertising, which they see as often sexist and sometimes violent. "The media perpetrates a certain image and make us feel awful," one 19-year-old woman from Ottawa said.
One solution is to change how families, communities and nations value girls. Once you start valuing girls, they develop confidence and aspirations -- aspirations that relate to their potentials, dreams and what they want to contribute to their communities.
To turn aspirations into realities, girls need more than access to schools and school supplies. They need an end to gender-based violence -- at schools and in their communities -- and they need a change in norms that treat girls as inferior to boys. Helping girls to feel confident isn't enough, because, like a bird smashing into a window, girls inevitably hit external barriers that are invisible and not of their own making. We need to break those windows -- break down those harmful norms and belief systems.
Change will come mainly from localized movements. We can talk about national and global efforts, such as the recent Sustainable Development Goals, which are important. But change will also need to come from youth supporting each other and from family members, male peers, community leaders and supportive laws and policies that protect their rights, especially when it comes to stopping violence against girls. As one girl in Nicaragua explained: "I would gather all girls to talk on this subject and tell them they should not remain silent if they are being abused."
In Plan's global study, girls talked about collective action, women's groups and breaking down taboos, as this young woman from Ecuador explained: "I would organize meetings with all the women my age to make demonstrations and march about women's rights, that we need information and to talk about topics considered by the society as taboos, to talk openly."
Girls' rights are human rights. We are all responsible for celebrating their accomplishments and standing up for their rights. This International Day of the Girl, pledge your support for girls' rights, and let's get down to the business of building the world we want.
Nidhi Bansal is the Senior Gender Equality Advisor at Plan Canada.
MORE ON HUFFPOST:
Women's Rights Protests In India
A woman holds a placard during a silent protest titled 'Women in Black for Peace' on the eve of International Women's Day in Bangalore on March 7, 2015. International Women's Day is marked on March 8 every year and is a global day celebrating the economic, political and social achievements of women past, present and future.

Indian activists hold placards during a rally organised by 'The Red Brigade - Bring Bangalore Back' to protest against the recent incidents of sexual abuse, molestation and rapes against women in Bangalore on July 20, 2014. The protestors demanded police take action against sexual offenders, child sexual abuse and rapists after several cases of sexual violence against women were registered in Bangalore in the last few days.

Indian women hold placards as they shout slogans against Tarun Tejpal, editor-in-chief of Tehelka magazine, in New Delhi, India, Tuesday, Nov. 26, 2013. The Delhi High Court Tuesday refused to grant interim protection against arrest to Tejpal, who has been accused of sexually assaulting his junior colleague on Nov. 7 and 8 at a hotel in Goa, according to a news agency. Placard in the center reads: "Stop injustice against women."

Members of All India women organisation protest against Samajwadi Party (SP) chief Mulayam Singh Yadav about his rape statement in a rally at Jantar Mantar on April 12, 2014 in New Delhi, India. Mulayam Singh Yadav said rapists should not be sent to gallows as 'young boys make such mistakes, in an election rally in Moradabad two days back.

Indians shout slogans during a protest march against gender discrimination and sexual violence in New Delhi, India, Saturday, Jan. 26, 2013. The attack and brutal rape of a 23-year-old student in the heart of New Delhi last month has brought protesters into the streets demanding that the government protect women and ensure those attacked get justice.

An Indian woman participates in a protest against the government ordinance on criminal law amendments to prevent sexual violence against women, in New Delhi, India, Monday, Feb. 4, 2013. Scores of protesters have gathered near India's parliament house to protest a new law which they say is inadequate to deter all forms of sexual violence against women.

Indian demonstrators hold candles in honour of a physiotherapy student who was gang-raped and murdered at a protest to mark the one year anniversary of her death in New Delhi on December 29, 2013. India marked the first anniversary of the death of a student savagely gang-raped on a Delhi bus -- a tragedy that sparked nationwide protests. The 23-year-old physiotherapy student died on December 29 last year, nearly two weeks after being attacked by a gang of six men on a moving bus as she returned home from the cinema with a male companion.

University students shout slogans as they form a human chain advocating safety for women, in New Delhi, India, Friday, Jan. 4, 2013. Five men accused of raping a university student for hours on a bus as it drove through India's capital were charged with murder, rape and other crimes that could bring them the death penalty. The attack on the 23-year-old woman, who died of severe internal injuries over the weekend, provoked a fierce debate across India about the routine mistreatment of females and triggered daily protests demanding action.

Students shout slogans during a protest against a leader of the ruling Congress party, who was arrested on accusations he raped a woman in a village in the early hours of the morning, in Gauhati, India, Thursday, Jan. 3, 2013. Footage on Indian television showed the extraordinary scene of local women surrounding Bikram Singh Brahma, ripping off his shirt and repeatedly slapping him across the face. A Dec. 16 gang rape on a woman, who later died of her injuries, has caused outrage across India, sparking protests and demands for tough new rape laws, better police protection for women and a sustained campaign to change society's views about women.

Indian women hold placards as they shout slogans from a flag post near the Presidential Palace during a protest in New Delhi, India, Saturday, Dec. 22, 2012. Police used tear gas and water cannons to push back thousands of people who tried to march to the presidential mansion to protest the recent gang rape and brutal beating of a 23-year-old student on a moving bus.
Follow Plan International Canada on Twitter: www.twitter.com/PlanCanada