How to Organize Your Kid's Bedroom to Help Them Sleep Soundly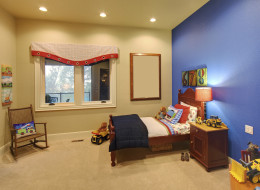 Getting a good night's rest is so important, especially as we move full force into the school year. But could your child's bedroom be doing more harm than good? According to Professional Organizers in Canada, the way your child's room is organized could be causing them to miss out on restful sleep.
In a study conducted by Professional Organizers in Canada, respondents stated that their child's bedroom was the least organized room in their home.
"Many parents believe that a bedtime routine will help their child's sleep, but often times you need more than just a routine," says Marie Potter, marketing director for Professional Organizers in Canada. "Organizing your child's bedroom can help them get that extra rest, and create the sense of security they should feel in their own room."
Children seven to 12-years-old need 10 to 11 hours of sleep per day while kids 12 to 18 need 8 to 9 hours per day. Help your child get the most of their sleep by following the rules below.

Ban electronics
The humming noise that electronics give off can be a big distraction for children -- especially light sleepers! For older children, electronics also pose an opportunity to play games. Organize your electronics in a separate room to avoid having your child get stimulated.
Create a serene space
The bedroom should act as a sanctuary for your child. Try staying away from busy colours or patterns, and choose furniture that is inviting. Pale colours, pastels or neutrals are ideal. Consider soft lighting to ease the transition from being alert to inducing sleep. Avoid mirrors as the reflection increases the visual energy in the room and can be startling if a child wakes and sees their reflection.
Create a book bin
Reading is a way to shift into sleep mode. It focuses the mind and can lead to a natural nodding off. Part of the nighttime routine can include questions of "what do you want to read?" and steering them toward a book bin near their bed. Be sure to have your child rotate books to keep fresh.
Keep toys away from the bed
The sight of a favourite toy or game can be exciting and often stimulate the brain. Organize your child's toys so that they are in a closed bin, ottoman, or dresser -- a place that isn't visible from the bed. Better yet, try to establish a play zone outside of the bedroom if space allows.
Don't overlook bed placement
Many psychologists suggest that the bed should have a view of the door, without being directly in front of the door. It's based on a protection instinct where this placement helps the child feel like they can see everything that is going on, and makes them feel more secure as they sleep - a confidence that is important to nurture at a young age.
The bedroom is an importance place in your child's life - it's the first space they call their own, it's where they learn to be independent and, perhaps most important, where they get their much needed sleep. Furthermore, good sleep routines are associated with higher performance at school - an important fact to consider as we get closer into the school year.
In addition to the above tips, organize the bedroom with your child's sleep habits in mind, and ask them what items they find distracting. Remember that small changes to your child's bedroom can make all the difference!
MORE ON HUFFPOST:
Mr. Sandman, Bring Me A Dream: The Best Canadian Bedtime Stories Ever
Stanley the dog likes adventures. Whether it's hosting the best doggone party when his people are out, racing down a hill in a wheeled thing, or going to adventures on a little red boat, this dog's adventures will charm your children. They may ask why their pet doesn't throw parties though, so be prepared for that.

Dennis Lee has written several beloved children's books, but Alligator Pie will always be his true classic. "Alligator Pie, Alligator Pie. If I don't get some, I think I might die. Give away the green grass, give away the sky…" You know how it ends. This book was written 40 years ago and is still beloved by the young and the young-at-heart.

You've heard of Goodnight Moon, the classic tale of a rabbit saying goodnight to everything he can see. Now there's Goodnight Toronto, where two children tell their favourite Toronto places, like Riverdale Farm and the CN Tower, goodnight. What more can a city-dwelling parent ask for?

Well, how about a book that lets children say goodnight to an entire country? In this Canuck lullaby, a child living in Newfoundland wonders about all the children who live in Canada and around the world. He wishes all of them goodnight. Not only does it get your children ready for bed, but it teaches them about Canada and the world.

Your older children will love the first book in the classic Canadian series about red-headed Anne and her adventures on Prince Edward Island. Her first day of school, her longing for a dress with big sleeves, and the power of her imagination; all of these are tales that will make your children beg for you to read just one more chapter.

Two sisters set off on a journey across the frozen North to see the SkySpirits' midnight dance. The younger sister finds it hard to be silent, but the journey teaches her how to treasure the peace and stillness and the girls grow closer. At the end of the journey, the sisters are rewarded with one of the most beautiful sights in the sky: the SkySpirits, AKA the northern lights. Dennis Lee once said that the best way to keep children interested in reading is to read to your kids. He recommended letting your kids pick out their favourite book and curl with them at bedtime and read. We think that's great advice!