Don't Ask, Don't Tell: Canada's Approach to Racism
Canadian media covers a string subjects with regular frequency. Hockey and weather get daily coverage. Entertainment, national and local political reports are aplenty.
Uncomfortable issues like child pornography also make the cover pages of mainstream news reports. But there is one issue that falls through the cracks in the Canadian press's editorial room: racism. Specifically when it comes to Black Canadians, the rule of Omertà reigns.
Last week, a Torontonian was published in The Guardian, a U.K. newspaper, in an op-ed audaciously entitled "Why I hate being a black man." Orville Lloyd Douglas laments the projection of negativity associated with his race and gender.
Honestly, who would want to be black? Who would want people to be terrified of you and not want to sit next to you on public transportation? A lot of the time I feel like my skin color is like my personal prison, something that I have no control over, for I am judged just because of the way I look.
While Oprah used her influence to shed light on the enduring stigmas attached to skin colour among women, this is perhaps the first time the issue is explored for men. The U.K.-based The Guardian rightfully recognized this compelling uncommonness.
Why is it that the U.K.'s newspaper is willing to publish a painfully honest editorial about race in Canada but Canadian papers aren't?
Before Mr. Douglas was published in the U.K., he submitted his personal op ed to Canadian newspapers. None of them thought this perspective was fit to print. It follows the long-standing tradition in Canada: non-stereotypical narratives of African-Canadian men are not a priority.
Douglas' fresh perspective on the black male experience was picked up days later... by American blogs and TV stations. Mr. Douglas was interviewed by none other than Don Lemon of CNN. The CNN segment was elongated on the fly, so compelling was the dialogue. As for the Canadian media, it was gripped by complete and utter silence.
This week, CBC radio's DNTO aired an episode entitled "When did you come face-to-face with race?" Tis a topic they called "touchy". CBC personalities Jian Ghomeshi, Kaj Hasselriis and Sook-Yin Lee shared their Canadian experiences with prejudice here at home. Unfortunately, the CBC bunted to the U.S. for a number of their dialogues on race.
An African-American spoke eloquently on race and the lack of education around the subject of slavery in her country. It is unclear why the Canadian perspective on this historical amnesia went untold, but it is a common tactic to pass the mic to the African-Americans, as if our experiences are identical (or close enough). By burying the CanCon, DNTO missed an opportunity to edify its listening audience.
Black Canadians took notice in August when the Canadian broadcasters brought out the red carpet for coast-to-coast coverage of the 50th anniversary of Martin Luther King's March on Washington. During the rare day-long coverage centered mostly on blackness, RDI's pundit, Donald Cuccioletta, related the thoughts of African American leaders to the Quebecois, and concluded that "Americans have not yet confronted their history of slavery and continued systemic racism".
Not a hint of irony here.
An inquisitive TV host asked a Quebecois commentator "What was it like to be a black person in America at the time of MLK's speech?" Platitudes followed. Has the question ever been asked to Black Canadians?
In September, the broadcasters gave unprecedented coverage to Black Canadian figure... Ben Johnson. How many times must Johnson be tarred and feathered? Curiously, this privilege was not bestowed upon other known Canadian dopers. Our national media devoted an entire week to commemorate the infamous Olympic cheater. When have Black Canadian civil rights heroes been given this honour?
The resurgence of blackface in Quebec and the rest of Canada have barely registered a blip in the MSM. "Petty issues" like spectacular insensitivity shown by this pair of Habs fans somehow escaped the Franco-Quebec press and the NHL. They're "just f*cking minorities so who cares! Their collective silence speaks volumes.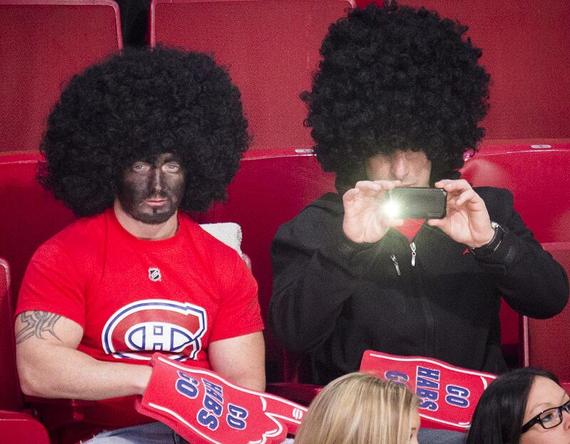 Not discussing the issue doesn't mean it is going to go away.
~Orville Lloyd Douglas
The CBC's bold attempt to "go there" was packaged in a short, summer-only series: Intersections. Producers sacrificed quality by lobbing dozens of inter-cultural issues in 30-minute segments. The content had the depth of a kiddie pool. Canadians left looking for more substance and nuance turned the dial to NPR's Code Switch, a broad collection of stories delivered by a team of American journalists fascinated by the overlapping themes of race, ethnicity and culture in the USA. In Canada, CBC banished this can of worms to the off-season. In the U.S., it is a year-round dialogue.
It seems that Canadian broadcasters prioritize reporting on Somali drug dealers Black criminals and athletes over all other portrayals of Black citizens. It seems we only exist during 28 days in February. Condemned to media hibernation during the other 11 months of the year, Black Canadians are forced to go abroad -- to the U.S. and the U.K. -- to watch and read of the stories which remain untold.
ALSO ON HUFFPOST:
Police Brutality Incidents
In this Jan. 28, 2015, frame from a dashcam video provided by the Inkster Police Department, an officer punches Floyd Dent many times in the head while another officer tries to handcuff Dent, who is on the ground in Inkster, Mich. Dent's face and shirt were bloodied. Police say Dent disregarded stop signs and refused to pull over, then resisted arrest and threatened them. (AP Photo/Inkster Police Department via Detroit News)

In this combination of still images taken from an April 4, 2015, video provided by attorney L. Chris Stewart, representing the family of Walter Lamer Scott, Scott appears to break away from a confrontation with city patrolman Michael Thomas Slager, right, in North Charleston, S.C. In the video, as Scott runs away, Slager pulls out his handgun and fires at Scott, who drops to the ground after the eighth shot. Slager has been fired and charged with murder following the release of the dramatic video. (AP Photo/Courtesy of L. Chris Stewart)

In this photo provided by the Tulsa County, Oklahoma, Sheriff's Office is Tulsa County reserve deputy Robert Bates. Police say Bates, a 73-year-old white reserve deputy, thought he was holding a stun gun, not his handgun, when he fired at 44-year-old Eric Harris in an April 2 incident. Harris, who is black, was treated by medics at the scene and died in a Tulsa hospital. (Tulsa County Sheriff's Office via AP)

An officer in Baltimore City was charged with animal cruelty after allegedly slitting the throat of Nala (pictured with owner), a pet who had escaped from her home. Nala had nipped at a woman's hand earlier in the day, but even that woman was horrified by officers' treatment of the dog. She noted that Nala was not aggressive, but had bitten her only "out of fear." Click here to read the whole story.

In April 2012, an officer in Sulphur, Louisiana approached two men on trespassing charges and, while apprehending them, tied one of the men's dog to a nearby fence. A third party witness at the scene said that the dog was rubbing up against the officer, who was petting him, but then "all of a sudden, he just jumped down and shot the dog in the head." The officer later claimed the dog had bitten him, but both the witness and the dog's owner say that's not true. Click here to read the whole story.

FILE - This July 5, 2011 file still frame from security camera video, released May 7, 2012, by the Orange County District Attorney, shows an altercation between Fullerton police officers and Kelly Thomas at the Fullerton, Calif., bus depot. Thomas died days later. Two officers, Manuel Ramos, and Jay Ciccinelli, are on trial charges related to his death. Closing arguments are scheduled to begin Tuesday, Jan. 7, 2013. (AP Photo/Orange County District Attorney, File)

Oscar Grant was shot by a Bay Area Rapid Transit (BART) police officer early on New Year's Day 2009 in Oakland, Calif. Cellphone footage shows BART cops struggling with Grant and forcing him to lay facedown on the platform after reports of a fight on the train. Officer Johannes Mehserle was seen shooting Grant in the back once, killing him. He was later convicted of involuntary manslaughter, but acquitted of second degree murder.

In one of the most notorious cases of police brutality, a bystander recorded four Los Angeles Police Department officers beating Rodney King with their batons in 1991 after they pulled him over for driving erratically. When the videotape emerged days later of the attack, the four cops were charged with assault. A jury acquitted them, sparking riots in April 1992 that killed 55 people and led to 12,000 arrests over seven days.

Off-duty Chicago police officer Anthony Abbate was sentenced to two years probation and anger management classes after being captured on video beating a female bartender in 2007.

Chicago police officer William Cozzi was sentenced to 40 months in federal prison after he was caught on camera in 2005 handcuffing a man to a wheelchair and beating him in a hospital. Cozzi claimed the victim -- a man who was seeking treatment for stab wounds -- had attacked him.

A New York City police officer was acquitted of assault and harassment after being videotaped knocking over cyclist Christopher Long during a "Critical Mass" bike ride through Times Square in 2008. Patrick Pogan resigned from the police force and was found guilty of filing false documents after video emerged that contradicted his claim that Long swerved into him.

Ahmed Amadou Diallo, 22, seen here in an undated photo, was gunned down at his home in the Bronx borough of New York early Thursday morning, Feb. 4, 1999. Four white police officers from the elite Street Crime Unit fired 41 shots at Diallo, a black West African immigrant who had no police record and was unarmed. Diallo was hit 19 times and died instantly. The officers' lawyer says Diallo gestured with his hands, leading the police to think he was reaching for a gun.

Abner Loiuma became a symbol of unchecked police force after the Haitian immigrant was sodomized with a broomstick by cops in a New York City police station in 1997. The officer responsible for the attack, Justin Volpe, was sentenced to 30 years in prison.

London newspaper vendor Ian Tomlinson died after police officer Simon Harwood hit him with a baton and knocked him to the ground as he walked away from police during a G-20 protest in 2009. Harwood will stand trial in October for manslaughter, according to The Guardian.

Michael Mineo accused an NYPD cop of sodomizing him with a baton after getting busted for smoking marijuana at a Brooklyn subway station in October 2008. A jury cleared the officer accused in the attack as well as two others charged with covering up the alleged assault.

In this May 24, 2010 file photo, former Chicago Police commander Jon Burge departs the federal building in Chicago. Burge, whose name has become synonymous with police brutality and abuse of power in Chicago, was convicted in 2010 of perjury and obstruction of justice for lying in a civil suit when he said he'd never witnessed or participated in the torture of suspects.

The trial is underway for four New Orleans police officers accused of killing two people and wounding four others in the shooting on the Danziger Bridge in the aftermath of Hurricane Katrina in 2005. The suspects, pictured left to right, are Robert Faulcon Jr., Robert Gisevius Jr., Kenneth Bowen, and Anthony Villavaso II.

Security cameras in a Manhattan apartment building recorded NYPD officer David London hitting Iraq war veteran Walter Harvin almost 20 times with a baton even after he had handcuffed him. The incident began when Harvin entered the building without a key and refused to identify himself to London. Footage shows Harvin shoved London, but the cop lied to investigators by claiming that he'd been punched before retaliating with his baton. A jury acquitted London of assault and making false statements in 2010.

Eleanor Bumpurs, a 66-year-old African American woman, was killed by NYPD officers who were trying to evict her from her Bronx public housing apartment in 1984 for falling behind on her rent. City housing authority workers called in the cops, because they claimed that Bumpurs -- shown in an undated photo -- was mentally ill and that she menaced them with a knife while refusing to vacate her home. The officer who shot Bumpers twice with a shotgun was acquitted in 1987.

The 2006 shooting of 23-year-old Sean Bell raised questions in New York City about the NYPD's use of excessive force. On what would have been his wedding day, Bell was shot and killed by police in a hail of 50 bullets outside a strip club in Queens. Officers said they thought the victim and his friends, who were celebrating Bell's bachelor party, were planning on retrieving a gun from their vehicle when they opened fire. After months of protests around the city, Officers Michael Oliver, Gescard Isnora and Marc Cooper were acquitted in 2008.
Follow Rachel Décoste on Twitter: www.twitter.com/RachelDecoste