This Canadian Stood Up to Racism Before Rosa Parks
As a Verdun resident, Fred Christie follows the Habs, as do a legion of other Quebecers. The Montrealer is even a proud season-ticket holder.
Accompanied by two friends, Mr. Christie enters the tavern at the Canadiens' hockey area, plunks down some cash and orders a few beers. The bartender refuses to serve him. The assistant manager then explains to his would-be customers that the establishment extends no courtesy to Negroes.
It is 1936. July 11, 1936.
The protagonist had resided in the Métropole for over 20 years. Mr. Christie converted to the cult of ice hockey even though the NHL had barred all coloured players. Although Mr. Christie, a Jamaican immigrant, integrated himself into Canadian culture and acclimatized himself to his adopted country, he was not treated like other customers.

Long before Canada's "multiculturalism mantra," this was an everyday scenario played out in Toronto, Calgary, Nova Scotia... just about everywhere in the Great "White" North. Aboriginals, Asians and Africans-descendants suffered overt discrimination at will.
During the hostility at le Forum de Montréal's tavern, Mr. Christie tried to explain to the manager that this race-based rule was unfair. His pleas fell on deaf ears. Mr. Christie then called the police, which only served to add insult to injury. Humiliated, Fred and his friends left the tavern thirst unquenched and empty-handed. Like most Afro-Canadians in Montreal, Mr. Christie knew which shops and theatres avoid, which jobs were denied to him, and which neighbourhoods were forbidden to "Negroes." After all, the city was then a sanctum of segregation.
But, for the man who felt at home in the Temple du Hockey, the tavern's racist rule was the straw that broke the camel's back. Fred Christie filed a discrimination case against the York corporation to court. Despite registering multiple setbacks, Christie's case went all the way to the Supreme Court.
On December 9, 1939, the Supreme Court of Canada (SCC) rendered its final decision.
It ruled that the general principle of the law in Québec is complete freedom of business. As long as a merchant did not break the law, he or she was free to refuse any member of the public on any grounds.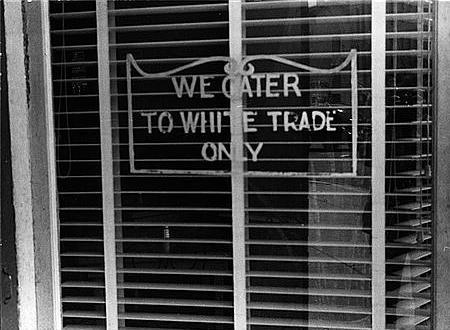 The Court proceeded to blame Christie for his own misfortune:
"The respondent was merely protecting its business interests.


It appears from the evidence that, in refusing to sell beer to the appellant [Mr. Christie], the respondent's employees did so quietly, politely and without causing any scene or commotion whatever. If any notice was attracted to the appellant on the occasion in question, it arose out of the fact that the appellant persisted in demanding beer after he had been so refused and went to the length of calling the police, which was entirely unwarranted by the circumstances." ~Justice Rinfret
Decidedly, the SCC ratified the "no service for coloureds" doctrine as being in line with the moral standards of the day.
In the social context of Canada before the Quiet Revolution (1950's), before Viola Desmond's act of defiance (1946), before Rosa Parks triggered the United States' Civil Rights Movement (1955), Fred Christie stood up to institutional discrimination.
A decade before the Universal Declaration of Human Rights (1947), Fred Christie exhibited unimaginable courage and perseverance in asserting his civil rights. Though the judicial process did not deliver the desired result, Fred Christie remains a key instigator in Canada's journey towards the establishment of universal rights. As Aboriginals, Francophones and elderly people of colour know, the Canadian justice has not always been kind to minorities. Fred Christie paved the way for us all.
Four years after the SCC's shameful ruling, Ontario heralded a new anti-discrimination era with its 1944 "Racial Discrimination Act." And sometimes anti-racism laws were even enforced! The jurisprudence would spread from coast to coast.
Fred Christie died enclosed in obscurity. He received no honours befitting of his buoyant bravery -- in life or in death.
It's about time, is not it?
This blog originally appeared in French on the Huffington Post Québec.
ALSO ON HUFFPOST:
Tips To Fight Racism And Discrimination
Even teens with the same identity -- be it racial or gender -- can be guilty of bullying and discrimination. Ontario's Ministry of Education defines bullying as "a form of repeated, persistent, and aggressive behaviour directed at an individual or individuals that is intended to cause (or should be known to cause) fear and distress and/or harm to another person's body, feelings, self-esteem, or reputation."

Social media can be a platform for bullying to continue even after school is out. Cyber bullying occurs when young people take malicious actions online. through chat rooms, email, social sites and instant messaging.

"You don't need to go into full confessional mode, but have fun with it, if that helps. Or be perfectly honest," Author Jonathan R. Miller said. Miller pens e-books with multi-ethnic characters and themes. You don't have to talk about all the nuances of your family tree every time you're asked about your background, He said. That can be exhausting. Find something that works for you personally.

"I like the word 'mixed' because it's a messy word, and in my experience growing-up mixed is exactly that," Miller said. He suggests that it's important to allow yourself to truly wrestle with questions of identity in environments you consider safe.

If you are struggling with your identity, you don't have to tell the whole world, but confide in a friend that you trust. Having someone to confide in is important. "If you can, find someone who you can talk to about your most honest, ever-evolving, often-messy answer to the question, "What am I?" Miller said.

"Maybe you don't have anyone trustworthy to talk to honestly about your experiences. Write about them. It helped me, sometimes, to get those out," Miller said. It may not make a lot of sense initially and it might feel uncomfortably personal, but write. Keep a journal, write short stories and rename the characters, try your hand at poetry -- whatever feels best.

"You are likely being told at different times, more or less, to hurry up and get off the fence, pick a side and get on with it," Miller said. It's not necessarily a bad thing to be unsure of who you are, even if your peers seem to have their acts together, he said. Teenage years are discovery years. Miller also quoted author Rainer Maria Rilke: " 'Have patience with everything that remains unsolved in your heart. ...live in the question.' That's good advice. Difficult to follow, but good."

When it comes to mixed heritage, "you don't have to be 'both' or 'other' or 'all of the above' all of the time. Sometimes the only way to figure out what you are is to choose one thing and be it for a while," Miller said. Explore how it feels to fully embrace a single aspect of your identity, for short period of time. See "what stick and what slides off." It's simply learning, Miller said.

"I can't tell you how many multi-racial people I've met who have chosen a single race or ignored race entirely and been perfectly content with the decision. A biracial friend of mine used to tell me, 'I'm black and white, yes, but I'm black. Period,' " Miller said. He said he knows many people have chosen to identify with only one aspect of their multi-background, while others have embraced the blend.

Find creative ways to occupy your time, Miller said. Join a group or do an activity (with others) where you are empowered to be who you are, instead of having to act how others think you need to be in order to fit in.

Take pride in your ethnic (culture, colour or religion) heritage. You have no control over your heritage, and you can't change that fact that this is who you are. So embrace it and learn as much as you can. "You may feel like it would be an insult to your heritage to embrace one aspect of yourself above the others, but trust me, it wouldn't be. This is important: it is not your job to uphold, with perfect equity and grace, all of the elements that went into your making," Miller said.

"Often they're the 'gatekeepers' that decide whether you're 'in' or 'out.' But what you can do is have a ready answer for the 'charges' they level against you. Whether you use humour, earnestness, or self-righteous anger, it helps to have your defense lined up and ready," Miller said. Sometimes people think all the "members" of their cultural or ethnic community must behave, dress and think a certain way. But as an individual, you can do whatever you want and find your own identity.
Follow Rachel Décoste on Twitter: www.twitter.com/RachelDecoste