The Grief Inherent In Being Black And Feminist
International Women's Day is a day to remind each and everyone us of how far the struggle for equality has come, and how far it has to go.
I was recently asked to speak about intersectional feminism and it brought up a lot of shit for me -- good and bad. As a woman, I identify with and am all for the plight of women and our quest to achieve equal opportunities to those of our male counterparts. This can and should take place (like, yesterday). But, what's become crystal clear, is that without addressing all the other "isms" -- based on race, class, age, sexual orientation, ethnicity, ability etc. -- there's no way "we" as women can band together and make shit happen.
If you're a true intersectional feminist, you already know this in your core. But in my experience, a real understanding of intersectionality and its importance is rare. And that makes being black and feminist really hard; because I feel like I spend most of my days explaining the need for true equality to other, predominantly White, "feminists" and then engaging in defensive discourse which comes down to someone saying shit like "why can't we all just get along?" or "I don't see colour"...and then I'm forced to muster all the strength I have left, which ain't much, and do my best to see this person with compassion as opposed to smacking a bitch (sorry not sorry).
I have privilege too, and I'll be the first to admit it.
It's exhausting having to constantly point out privilege, what it is, how it operates and how it's insidious and thus extremely hard to see or understand when you have so much of it; which is precisely why even those feminists with the best intentions can get caught up defending their own story instead of listening to the stories of those more oppressed. 
Being black and feminist ain't a walk in the park...I am TIRED. And I don't mean "worked a long day and need to put my feet up" kinda tired. I mean "three plus decades of fighting sexism and racism combined, meaning you take it from all angles and literally all spaces and there is no place on the entire Earth you can escape oppression or its dire consequences except maybe in your dreams every so often" kinda tired.
I have privilege too, and I'll be the first to admit it. I'm young, educated, able-bodied, heterosexual, of a solid socio-economic standing (SES) etc. Some of that I was born into, and some of it I worked my ass off to achieve. BUT. BUT. All of the privilege I possess pales in comparison to the constant mindf**k that is being a woman of colour (and shoutout to my brothers and sisters who possess fewer privileges than I...it's for all y'all that I continue to fight).
To be black and female is to be in a state of constant grief.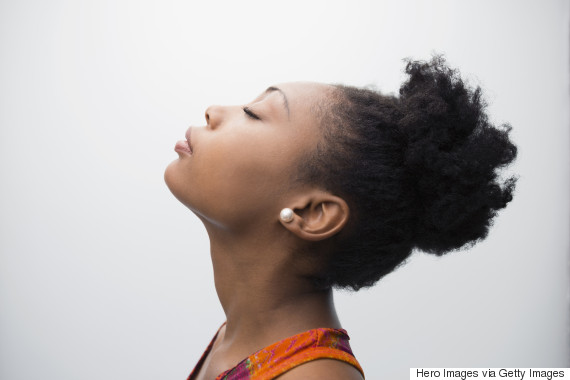 We grieve the equal pay we should be earning for the same work as our male counterparts but we also earn less than white folks of the same gender. We experience grief over the racist shit our well-intentioned white friends spew out all too often. We mourn over the constant inner chatter, like "did that manager ignore me 'cuz I'm black...or because I'm a woman?"
I grieve the ability to show emotion without being labelled as "angry" (or the ability to simply just be heard). I am traumatized by the "you're blowing this out of proportion" attitude I'm met with when I call something out as racist or sexist. I'm saddened by a culture that likes to believe we're past issues like racial profiling or modern slavery that further bring oppressed folks down and result in our bodily harm.
Every time I step out my front door I put on an artillery mask so I can handle the ceaseless plague of bullshit that undoubtedly comes streaming my way. All of this on top of dealing with the everyday ups and downs of LIFE. Yup, it's a non-stop, never-ending state of WTF!?, and it's worn me down.
This is not a pity-party, for the record, it's just the facts of my life and the lives of so many other women of colour. Facts that are too often dismissed. Well, please "stop telling people of colour that our experience is an illusion". It is not. When feminists say we need to come together and make change, I am ALL for it. But not if it fails to acknowledge that all of our experiences as women are different and some of us face way more oppression than others. Have been fighting a lot longer than others. Are more exhausted than others, and have been living in a world of grief that deserves specific attention. 
We are tired. We are grieving. And we would so love to feel like this movement really and truly has our backs.
If there's any chance for real equality to be reached, we gotta start sharing our stories with people different from ourselves, calling each other out, be willing to listen when we are, and question our perspective.
How are you part of the problem? What are you doing in your daily life to help the most oppressed? What are you willing to sacrifice? We can only run as fast as the slowest runner y'all, and right now, too many women are trying to win the race without turning around and seeing who's behind them. Ironically, those behind the pack are also the same women who have been fighting for equality long before Trump and well before "feminist" regained its cool.
We are tired. We are grieving. And we would so love to feel like this movement really and truly has our backs. With love, transparency and a genuine will to look into our own shit, I believe it can. xo R
For more on loss and grief sign up for loss&found here and follow @lossandfoundxo on Instagram.
Follow HuffPost Canada Blogs on Facebook
Also on HuffPost:
Powerful Photos Of Black And White Feminist Solidarity
Members of the National Women's Political Caucus tell a Washington news conference on July 12, 1971 one of their goals is that women comprise half of the delegates to the 1972 presidential conventions. Seated from left: Gloria Steinem, member of the Democratic National Policy Council; Rep. Shirley Chisholm, D-N.Y.; and Betty Friedan, women's rights advocate. Standing is Rep. Bella Abzug, D-N.Y.

Six women, protesting the scheduled eviction of a black family from the Parkchester housing development of the Metropolitan Life Insurance Co. in the Bronx, sit chained to chairs in a sit-down demonstration in the skyscraper office of Frank Lowe, Metropolitan Life Vice President in charge of Housing, in New York, May 20, 1953. Sophie Decatur, second from right, her husband Michael and their two children obtained a Parkchester apartment on a sub-lease. The company?s refusal to renew the lease was upheld in court. Left to right are: Florence Davis, Theresa Chayes, Shirley Shepard, Anne Palma, Mrs. Decatur and Bernice D?Antonio, all of the Bronx.

Activist, journalist and leader of the feminist movement Gloria Steinem attends a fundraiser and rally for California State Senate candidate Catherine O'Neill at actor Lorne Greene's house on October 15, 1972 in Los Angeles, California.

'Bluebird Five' present statement at news conference Tuesday The feminists are, from left, Lori Bradford, Bobbe Ross, Judy Barlow, Pandoura Carpenter and Crystal Arp on January 18, 1978.

Civil Rights March on Washington, DC. August 28, 1963. More than 200,000 attend in a peaceful demonstration. At this event, Dr. Martin Luther King Jr. gave his famous "I Have A Dream" speech.

A woman at a rally in support of the Black Panthers, holding copies of The Black Panther newspaper, New Haven, CT, November, 1969

View of the large crowd, some of whom are holding up handmade signs and banners, participating in a gay and lesbian pride parade in the Back Bay neighborhood of Boston, 1970.

Demonstrators and protesters rally in support of the Connecticut Black Panthers, and Martin Ramirez Sostre, New Haven, May 1970.

Abortion advocates rally outside the U.S. Supreme Court on June 26, 1989.

V-Day Founder and "The Vagina Monologues" playwright Eve Ensler (C) with Katrina Warriors Superlove Council Cultural Outreach Coordinator Barbara Lacen-Keller (R) marching in the "Jumpin' in the Pink - For V to the Tenth" second-line parade on March 8, 2008 in New Orleans, Louisiana. "Jumpin' in the Pink - For V to the Tenth" celebrates the efforts of the women of New Orleans and the Gulf South who are working to rebuild their lives and their communities, and launches the Katrina Warriors Network Community Festival leading up to 'V To The Tenth' which runs from Friday through Saturday, April 11-12 in the New Orleans Arena and Louisiana Superdome. V-Day, the global movement to end violence against women, will celebrate its 10th anniversary with ''V To The Tenth'' throughout the world.

Actresses Cameran Mannheim, Cybil Shepard and Whoopi Goldberg lead thousands of marchers through the streets of Washington, DC during the 2004 March for Women's Lives held on April 25, 2004.

Vanessa Kerry, left, daughter of democratic presidential candidate John Kerry speaks to Jehmu Greene,31, center, president of Rock The Vote, and Jenn Heather, 26, also of Rock The Vote. The group talkedbehind the mainstage before the 2004 March for Women's Lives began on April 25, 2004 in Washington, DC.

Maya Angelou and Gloria Steinem on their way to the March on Washington on August 27, 1983 in Washington, DC.

Members of the New York women's Liberation Army demonstrate on a street corner to demand abortion rights, circa 1972.

Whoopi Goldberg (R) shares a laugh with Christine Lahti (L) as they join tens of thousands of women 25 April 2004 in Washington, DC. marching in support of abortion rights and opposition to the Bush administration's policies on family planning.

Thousands of demonstrators gather 09 April 1995 in Washington protesting policies of the 104th US Congress regarding poor women, abortion and violence against women. Coming at the end of the first 100 days of the new GOP-led Congress, the rally focused on the conservative agenda of Republican House Speaker Newt Gingrich and fears that Congress would end abortion rights, curtail spending on welfare programs and cut funding to prevent domestic violence.

Tens of thousands of women march 25 April 2004 in Washington, DC, in support of abortion rights and opposition to the Bush administration's policies on family planning.

Thousands of pro-choice supporters take part in the March For Women's Lives April 25, 2004 in Washington, DC. Hundreds of thousands of activist demonstrated for abortion rights and opposition to the Bush Administration's policies on reproductive health issues.

Demonstrators protest outside the Hilton Hotel where New Jersey Governor Chris Christie was attending a fundraiser for Illinois Republican gubernatorial candidate Bruce Rauner on July 25, 2014 in Chicago, Illinois. About 100 demonstrators opposed to Christie and Rauner's stances on gun control, teacher and other public employee pensions and other issues chanted and made speeches outside the hotel during the fundraiser.

Nardyne Jefferies (C) of Washington DC, whose 16 year-old daughter Brishell Jones was shot and killed on March 30, 2010, is comforted by Lori Hass (L), whose daughter was shot and injured in the 2007 Virginia Tech massacre, and Christian Heyne (R) of Thousand Oaks, California, whose parents were shot (and his mother killed) in Thousand Oaks, during a gun control rally outside the National Shooting Sports Foundation's annual Congressional Fly-In fundraising dinner April 2, 2014, in Washington, DC. Demonstrators protested against what they call the corporate gun lobby's obstruction of sensible gun laws such as expanded background checks.

Demonstrators take part in a rally against gun violence on March 21, 2013 in the Harlem neighborhood of the Manhattan borough of New York City. The group Moms Demand Action for Gun Sense In America as well as gun violence victims, youth organizations, healthcare workers, unions, elected officials, faith leaders and artists demonstrated to promote New York Gov. Mark Cuomo's NY SAFE Act as a national model for federal gun control legislation.

Police arrest more than 50 demonstrators who blocked traffic on Interstate 70 outside of Ferguson to mark the one-year anniversary of the shooting of Michael Brown on August 10, 2015 near Earth City, Missouri. Last night violence erupted at a demonstration in Ferguson leaving one man shot and seriously wounded by police. Brown was shot and killed by a Ferguson police officer on August 9, 2014. His death sparked months of sometimes violent protests in Ferguson and drew nationwide focus on police treatment of black suspects.

A flower is handed out as people with the Black Lives Matter movement pass the Emanuel African Methodist Episcopal Church during a walk to commemorate the lives lost in the shooting on June 20, 2015 in Charleston, South Carolina. Dylann Roof, 21 years old, has been charged with killing nine people during a prayer meeting in the church on June 17.

Protesters rally in front of to City Hall in support of the decision to bring charges against the six police officers who arrested Freddie Gray on May 2, 2015 in Baltimore, Maryland. Gray was arrested on April 12, 2015 and later died in custody; the Maryland state attorney announced yesterday that charges would be brought against the six police officers who arrested Gray.

First Lady Hillary Rodham Clinton (2ndR) walks with Maryland state Lt. Governor Kathleen Kennedy Townsend (R) and other women during the "Million Mom March" 14 May 2000 in Washington, DC. Townsend is a daughter of the late US Senator Robert F. Kennedy, who was assassinated during a presidential campaign appearance in 1968.

First Lady Hillary Rodham Clinton (C) leads the "Million Mom March" 14 May 2000 in Washington, DC. Mothers, grandmothers and others gathered in the nation's capital and 60 other US cities demanding stronger gun safety measures to protect their children from gun violence.

Gloria Steinem and Dorothy Pitman Hughes attend the Ms. Foundation Women Of Vision Gala 2014 on May 1, 2014 in New York City.
Follow Rachel Ricketts on Twitter: www.twitter.com/lossandfoundxo