Hey Moms, Don't Expect Time Off With That Baby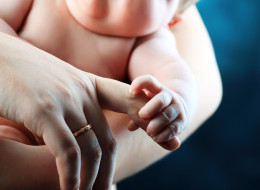 Last week, ThinkProgress, an outlet of the Center for American Progress, released an infographic illustrating "how the zero weeks of paid maternity leave in the U.S. compare globally."
Short answer: not so good.
The usual industrialized suspects -- France, Norway, Denmark, the United Kingdom, Germany, Spain, Italy, the Netherlands, Canada...to name a few -- offer anywhere from 15 to 50 weeks of government mandated, paid maternity leave. Some not-so-usual suspects, like Pakistan and Mexico, provide a lesser 12 weeks. The United States? Goose egg.
Of the 178 nations included in the global survey, the United States joined the ranks of Papua New Guinea and Swaziland as being one of the three countries not to offer citizens paid maternity leave, making the U.S. the one industrialized nation in the world not do so.
But, barring sub-par maternity leave standards, women in the U.S. fare pretty well, right? Wrong.
According to the World Economic Forum's annual Gender Gap Report, the United States ranks #17, below countries like France, the Philippines and South Africa. After all, women hold only 17 per cent of seats in U.S. Congress, and only 18 of the 100 Fortune 500 companies are led by women.
Senior Director and Head of the World Economic Forum's Women Leaders & Gender Parity Programme, Saadia Zahidi, noted that:
"Smaller gender gaps are directly correlated with increased economic competitiveness... With the world's attention on job creation and economic growth, gender equality is the key to unlocking potential and stimulating economies."
Given the greater number of women in college and, consequently, more working women than men with college degrees, it is not surprising that young twenty-something women earn more than their male peers in cities across the United States. Then --boom! -- babies.
Indeed, there are more women in higher education and the workplace than ever before. But, with a large number of women leaving the workplace once they have their first baby, a woman's median earnings are still roughly 78 per cent of a man's ($35,549 compared with $45,485).
The advancement of the U.S. as an economic player on the increasingly competitive world stage necessitates the participation of women in the workplace. However, women are never going to quell that biologically necessary urge to have babies and nurture them.
Despite the many advancements in the past few decades, the current worker compensation system in the United States still maintains zero-sum status quo for women: Career v. Family. Sure, there are women who have both, but the all-or-nothing choice is hardly one of a bygone era. My career-minded, twenty-something friends and I talk constantly about our "ideal," debating the merits of stay-at-home motherhood versus the life of a working mom.
"Well, hopefully by the time you're 30 and having kids, it'll be that much easier to work from home, and then the choice won't be so hard," offered an optimistic friend. And yes, while more and more Americans are working from home, there is little hope that this single shift will alleviate a working mother's workload. The shift needs to be one of national legislative proportions.
There are still stigmas and challenges associated with both becoming a stay-at-home mom or a working mom. Sadly, the data clearly indicates that having a baby and a job in the United States poses too much of a challenge for young mothers, many of whom still have little choice but to opt out of the workforce.
Maternity Leave Around The World (2012)
Length Of Maternity Leave: 12 Weeks Percentage Of Wages Paid: No national program but cash benefits may be provided at the state level.

Length Of Maternity Leave: 3 months for the mother, 3 months for the father, and 3 months that can be taken by either parent (total of 9 months)Percentage Of Wages Paid: 80 (up to ISK350,000 per month)

Length Of Maternity Leave: 14 Weeks Percentage Of Wages Paid: 100

Length Of Maternity Leave: 14 Weeks Percentage Of Wages Paid: 67

Length Of Maternity Leave: 14 Weeks Percentage Of Wages Paid: 100

Length Of Maternity Leave: 14 Weeks Paid, 38 Weeks UnpaidPercentage Of Wages Paid: 100

Length Of Maternity Leave: 14 Weeks Percentage Of Wages Paid: 80

Length Of Maternity Leave: 15 Weeks Percentage Of Wages Paid: 82 per cent for the first 30 days and 75 per cent for the remaining period.

Length Of Maternity Leave: 105 DaysPercentage Of Wages Paid: 70

Length Of Maternity Leave: 105 Days Percentage Of Wages Paid: 100

Length Of Maternity Leave: 16 Weeks Percentage Of Wages Paid: 100

Length Of Maternity Leave: 16 Weeks Percentage Of Wages Paid: 100

Length Of Maternity Leave: 112 Days Percentage Of Wages Paid: 100

Length Of Maternity Leave: 16 Weeks Percentage Of Wages Paid: 100

Length Of Maternity Leave: 16 Weeks Percentage Of Wages Paid: 100

Length Of Maternity Leave: 16 Weeks Percentage Of Wages Paid: 100

Length Of Maternity Leave: 119 Days Percentage Of Wages Paid: 50

Length Of Maternity Leave: 18 Weeks Percentage Of Wages Paid: Each parent can take up to 12 months of leave, of which 18 weeks are paid.

Length Of Maternity Leave: 126 DaysPercentage Of Wages Paid: 100

Length Of Maternity Leave: 126 DaysPercentage Of Wages Paid: 100

Length Of Maternity Leave: 126 DaysPercentage Of Wages Paid: 100

Length Of Maternity Leave: 126 DaysPercentage Of Wages Paid: 100

Length Of Maternity Leave: 126 DaysPercentage Of Wages Paid: 85

Length Of Maternity Leave: 120 to 150 DaysPercentage Of Wages Paid: Parental benefits paid at 100 per cent for the shorter duration of leave and 80 per cent for the longer option

Length Of Maternity Leave: 140 DaysPercentage Of Wages Paid: 100

Length Of Maternity Leave: 20 WeeksPercentage Of Wages Paid: 100

Length Of Maternity Leave: 140 DaysPercentage Of Wages Paid: 100

Length Of Maternity Leave: 5 MonthsPercentage Of Wages Paid: 80

Length Of Maternity Leave: 135 DaysPercentage Of Wages Paid:90

Length Of Maternity Leave: 24 WeeksPercentage Of Wages Paid: 70

Length Of Maternity Leave: 26 WeeksPercentage Of Wages Paid: 80

Length Of Maternity Leave: 28 WeeksPercentage Of Wages Paid: 60

Length Of Maternity Leave: 28 WeeksPercentage Of Wages Paid: 55

Length Of Maternity Leave: 9 MonthsPercentage Of Wages Paid: Not found.

Length Of Maternity Leave: 36 to 46 WeeksPercentage Of Wages Paid: Parental benefits paid at 100 per cent for the shorter duration of leave and 80 per cent for the longer option.

Length Of Maternity Leave: 365 DaysPercentage Of Wages Paid: 80 per cent prior to birth and for 150 days after and 50 per cent for the rest of the leave period. Albanian Prime Minister Sali Berisha shown here.

Length Of Maternity Leave: 1 YearPercentage Of Wages Paid: 82 per cent for the first 30 days and 75 per cent for the remaining period.

Length Of Maternity Leave: 52 WeeksPercentage Of Wages Paid: 55 per cent at 17 weeks for maternity leave, and the additional 35 weeks can be taken by either parent. Wages also depend on province.

Length Of Maternity Leave: 1 YearPercentage Of Wages Paid: 100

Length Of Maternity Leave: 52 WeeksPercentage Of Wages Paid: 100

Length Of Maternity Leave: 52 WeeksPercentage Of Wages Paid: 100

Length Of Maternity Leave: 52 weeks; however, pay is only for 39 weeksPercentage Of Wages Paid: 90% of average weekly earnings for first 6 weeks; £139.58 or 90% of average weekly earnings (whichever is lower) for next 33 weeks

Length Of Maternity Leave: 420 DaysPercentage Of Wages Paid: 80
Follow Rachel Ryan on Twitter: www.twitter.com/rachel_e_ryan