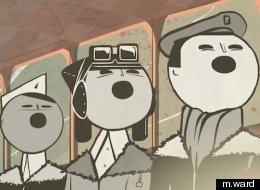 You'd be raising exactly zero eyebrows if you suggested that music videos went through a rough patch for a few years there. As music TV outlets like MuchMusic and MTV ceded airtime to a host of increasingly un-music-related reality programs in the early 2000s, videos migrated online where, at the time, really low quality bandwidth made the viewing experience akin to looking at a Picasso through a pixel-compressed viewfinder. For musicians, directors and fans, it was a pretty sordid scene.
Musicians continued making music, of course, and directors still found ways to add picture to sound, but the trickle-down effect on budgets was significant. With no mass TV audience, the mass money for music videos shriveled away.
But as with so much filmmaking, technology has made the future much rosier. Posting gorgeous high-definition videos online is no big thing, and the tools to tell fantastical stories are as accessible as they've ever been. In their new incarnation, music videos have more of a DIY vibe. Bands, labels and video commissioners can reach out directly to willing filmmakers through sites like Genero.tv or Radar Music Videos. Artists themselves can grab a camera, a few fabulous friends and whip together a video. Videos can be crowdsourced. Or photosharing technologies, such as Instagram, can provide moody montage-fodder (though please don't let this become a trend). It's all a little Wild West once again, save for the inevitable big-budget star vehicles (we're looking at you, Kanye), and the fortunate directors (and production companies) that score decent budgets from established artists.
The other piece of this puzzle of accessible filmmaking is animation. With software kits available from a few hundred to a few thousand dollars (which is miniscule in the grand scheme of things), directors both upstart and established are able to create whatever worlds their imagination (and technical know-how) can conjure. To wit, German film student Kaleb Lechowski recently made waves in Hollywood for making this mind-boggling student film for... wait for it... zero dollars. And quite frankly, when it comes to music videos it's the animated ones that are often more story-rich - not to mention pretty or hallucinatory or just in glorious defiance of the laws of physics.
With animation on the mind - I curate Packaged Goods, a bimonthly screening series featuring short form filmmaking at the TIFF Bell Lightbox, and the next one is dedicated to the art - it seemed fitting to share some of the most beautiful, bizarre, nightmarish, whimsical, and otherwise impossible to create IRL animated worlds I've found recently that were created without Kanye-sized bags of cash. Not only are these videos creatively and technically great (IMHO), they're also a bellwether for the possibilities of a creative video format that's returned from the brink only to find itself culturally relevant once again.
Watch 7 Best Animated Music Videos
Best Animated Music Videos
Experimental music producer and rapper Flying Lotus (nee, Steve Ellison) has described his track "Tiny Tortures" as his little mischievous track about trying to write music while everyone's asleep. Director David Lewandowski describes his video for the track as a story about a survivor-guilt-ridden, drug-addled amputee that's part Akira, part Enter the Void. Oh, and it stars Elijah Wood as a man who, in a hallucinatory stupor, recreates his lost arm with incidental objects. It's photoreal animation at its headtrippiest.

If Bjork's "Mutual Core" bears more than passing resemblance to director Andrew Thomas Huang's Slamdance-winning experimental short "Solipsist" it's because the Icelandic chanteuse commissioned Huang to recreate his spectacular work for her. A blend of blend of live action, puppetry and animation, the effect leaves Bjork thrashing about in quicksand amid colourful (and frankly kinda fearsome) shapeshifting creatures.

As a companion to Diplo's twitchy house jam, Ryan Staake's concept of an endless, intergalactic stripper pole is pretty bang on. The cheeky among us will say "Lazerdisk Party Sex? Strippers in space? But of course!" However, the visual effects are so well constructed (and space is so impossible to film in) you'll be hard pressed to detach the visuals from the music once you see it.

OK, there's no pretending this video is low-budget, however, it does fall in the realm of the totally impossible yet wildly convincing. Not because you've ever met anyone like the Gorillaz' 2D, Murdoc or Noodle, but because director Jamie Hewlett imbues his animated creatures with such life and personality that as soon as the suspension of disbelief takes over you'll be reaching for the bowl of ear-snacks without a second thought. Or, you'll just be repulsed by it. (As a total aside, this video is one is a series of artist collaborations backed by sneaker brand Converse.)

Directed by Sean Pecknold (brother of lead singer Robin), this video is the very definition of epic. Clocking in at over eight minutes, the story of a lonesome elk that journeys through a gruesome world that involves dancing gods, laser-shooting owls, and warring sea monsters, creates a sense of scale and fantasy that would be impossible with live action. As well, Pecknold - whose hands-on, crafty approach to animation was on display with Fleet Foxes' "White Winter Hymnal" - experimented with painstaking yet creatively rewarding multiplane animation.

Sweet, pretty and a touching story of one life's adventure, this video from director Joel Trussell doesn't overwhelm with effects or imagine a world larger than life. Instead, it marries whimsy, art and allegory to M. Ward's exceptional lyrical storytelling.

When it comes to creating the visuals for Woodkid's songs, very little gets lost in translation. Yoann Lemoine, the man behind the music, is also the man behind the video. A director first, Lemoine has directed megahits like Katy Perry's "Teenage Dream", Taylor Swift's "Back to December" and Lana Del Rey's "Born to Die". But as the visual interpreter for his musical alter ego, which he launched in 2011, Lemoine takes a much darker, slicker and altogether more fantastical turn. Kinda like a black-and-white, super-high-def, slow-mo interpretation of Where the Wild Things Are.
Packaged Goods: Artful Animation plays on Wed. Feb. 20 at the TIFF Bell Lightbox.
Follow Rae Ann Fera on Twitter: www.twitter.com/ferarah