Halloween Costumes Are Sexualizing Our Youngest Trick-Or-Treaters
My preschooler wants to be a firefighter for Halloween. She also wants to be Elsa and a strawberry, but let's focus on firefighter. In search of the perfect costume, we went to Value Village: "Your Halloween destination for the whole family."
We quickly located a firefighter costume for boys, complete with a bright red jacket, a traditional helmet and an axe. The girls' version, on the other hand, is a skin-tight, short, shiny dress that's surely flammable. It includes a fascinator (in lieu of a helmet) never before seen on a real firefighter.
The model on the package, who looks to be about the same age as my daughter, completes the outfit with heeled, calf-high boots -- not ideal for running into burning buildings, or trick-or-treating for that matter. The costume is for children four to six and it's one of several provocative costumes for the age group.
Even the pumpkin costume for preschoolers is sexy: it's sleeveless and features a black bodice with an orange ribbon that laces up the front like a corset. I found the girls' firefighter and the police officer costumes the most offensive, as they hung on the rack in stark contrast to the boys' versions.
The costumes are available exclusively at Value Village, according to the packaging, and are under the brand name Alterego. (Showing just how little thought went into these costumes, "firefighter" is misspelled on the packaging.)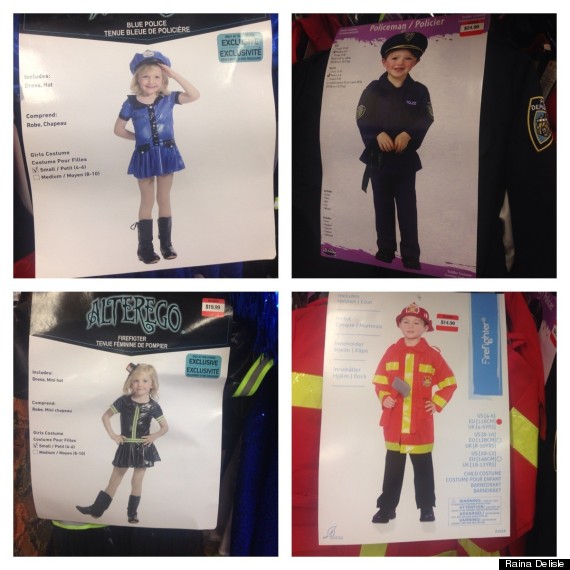 Getting an early start on sexy
Halloween costumes that put a sexy spin on uniformed occupations (or anything for that matter) have been popular among women for years, but for little girls? I would be disappointed if my 14-year-old stepdaughter wore this little number, let alone my preschooler. (My stepdaughter is, in fact, dressing up as Rosie the Riveter.)
Dr. Janni Aragon is a feminist and an assistant professor at the University of Victoria. She's also the mother of two daughters, age 10 and 16, who both dressed up as firefighters when they were little girls. They wore the boys' version of the costume.
"The hyper-sexualization of little girls and their bodies, as a mother, really bothers me," Aragon says. "It plays into the sexualization of their bodies into their teenager years and adult life. It makes them grow up faster than they need to. Let them be little girls, have fun, be able to play in the playground and not worry about going on the monkey bars because someone's going to see their underwear. Something like this constricts their movements, which affects the way they play."
Sexist and oppressive
What kind of message do these costumes send to our girls? While the boys have costumes that look like the real thing, girls are expected to dress up in spoof ensembles, thus suggesting they can't, or shouldn't, do the real job. The costumes are not only "sexy," they're also sexist.
"The girls are acting and performing, whereas the boys are doing," Aragon says. "That's usually the case -- the boys being the active verb or the subject and little girls, or women, being the object."
Even more concerning, the costumes could put girls at risk.
"There are lots of messages about the way in which to get attention is through your body, your looks and your clothes," Aragon says. "I'm not shaming body, looks and clothes, but there's good attention and there's attention that you might not want. There's the targeting of little girls by men or older boys who think they're older because of the way in which they're dressing."
The real female firefighters and police officers
Jenny Reid, a volunteer firefighter with Langford Fire Rescue, says the costume is not only offensive to women in her field, it's also damaging to the self-esteem of little girls.
"That costume is awful and it sends the wrong message," she says. "It reinforces that there are still jobs that are off-limits to women. It's not a representation of the real job. Little girls can do whatever they want. They shouldn't be restricted. Those types of costumes put so many limitations on them. They don't build the self-esteem and confidence you need to be a firefighter or police officer."
Reid doesn't remember costumes like this when she was a kid and she's glad they weren't around. At a recent open house at the fire hall, she was happy to see boys and girls equally engaged in the activities, scaling the climbing wall and playing with the fire extinguisher and hose. It's the way it should be, she says. Boys and girls alike can aspire to be firefighters. These costumes, however, send a different message.
"I don't see how you can ignore those images if you're a small child," she says. "Girls should be wearing the same costume as the boys. I wear the same gear as the guys. (Costume makers) shouldn't be creating those kinds of divides and enforcing gender stereotypes because girls will continue to grow into them."
Victoria police Sgt. Kristi Ross says she's disappointed to see her profession being sexualized and misrepresented to young girls.
"(The costume) is telling young girls to be revealing in order to gain attention," she says. "As police officers, we're here because of our strength, our brains, our confidence and our abilities, not because of what we look like. Women are getting into these roles for the same reasons men are. They're not getting in because of how much leg they're showing."
Ross, who has a seven-year-old daughter and five-year-old son, says the costume is far from realistic: "Policewomen wear pants while they work. It's hard to chase bad guys down in stiletto heels."
Corporate social responsibility
When I returned to Value Village to speak with a manager, I struck up a conversation with a member of the sales staff in the costume department. I asked him why the boys' and girls' version of the police officer and firefighter costumes were different.
"Because society says that little girls have to be sexy and little boys have to masculine," he said wryly. "It's gross. And it's everywhere. We're not very evolved as a society. Will it ever, ever change?"
He introduced me to the manager, and she was clearly taken aback when I held up the boys' and girls' version of the firefighter costume. I told her I want Value Village to stop selling the costumes.
"Oh my gosh," she gasped, telling me when she was a little girl she was a clown, a witch and a devil. "I understand how you feel."
The manager referred me to the U.S. head office for Value Village, which goes by the brand Savers in the U.S. I have left messages, but no one has returned my calls.
Value Village is a leader in the retail thrift industry and its first core value, as listed on its website, is to "embrace honesty, integrity and ethics in all aspects of our business." I don't think selling these costumes and promoting the sexualization of children is ethical -- do you?
I'm encouraging anyone who's concerned by these costumes to call Savers/Value Village at 425-462-1515. Or tweet them @SaversVVillage. Tell them little girls are #NotATreat and we're #NotBuyingIt.
UPDATE - Oct. 20, 2014: Value Village has agreed to remove the costumes. Read their statement here.
ALSO ON HUFFPOST:
Inappropriate Kid Costumes
Cute shopping cart, but really?

Although "Tha Carter III" has a baby on it, it is definitely not a children's album. We have to admit, though: he pretty much nailed it.

If you're using Google to search for the perfect "baby pimp" costume, you might want to brace yourself.

Teaching your kids to make fun of a girl who had their arm bitten off is probably a bad idea.

Now that's just uncalled for.

Somehow the sippy cup makes it that much more disturbing.

The baby's face says it all.

How could he possibly be in on the joke?

Perfect for the child whose parents have never heard the word "bullying."

As if to say: girls, you can get into the army, but your duties are going to be a little different.

What better way to teach a child about death?

So many things wrong with this costume.

Probably the most inappropriate costume on this list.

Explaining this one to your kid could be tricky.

Wow. Just wow.

Show your child you love them just as much as your addictions.

What was the designer going for with this trunk?

Dream big, kids.

His parents are really into "Boardwalk Empire."

Seriously? This is the one age where dressing as a kitten can be super cute and appropriate. Why do we have to ruin that?

Just a reminder that you should never, ever sit on a baby.

And we thought Ariel was scantily clad.

No.

"Junior" gone horribly wrong?

We'll just leave this one right here.
Follow Raina Delisle on Twitter: www.twitter.com/rainashine