All-Or-Nothing Approach To Success Makes Failures Of Us All
Is life about winning and losing for you? Are you the kind of person who bets it all on one roll of the dice?
I am a reality TV fanatic. I like the competition, the relationships, the plots and even the backstabbing on some of the shows. I am very aware that most of them are not real at all, but that clever staging and acting are used to make us think they are real. It's entertainment and that is how I take it.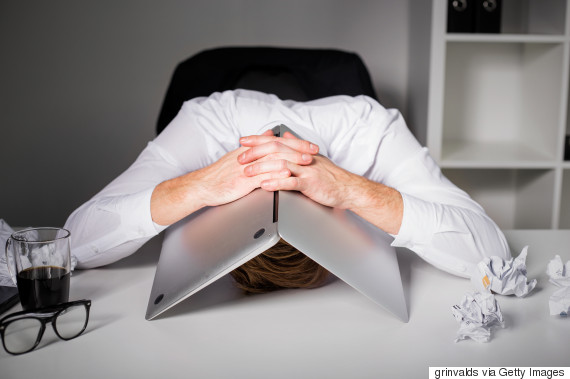 (Photo: Grinvalds via Getty Images)
The one exception in my mind is The Biggest Loser. I love that show. I find the motivation, the inspiration and the determination really addictive. The Biggest Loser selects some of the largest people as contestants each season and gives them nine months to lose about 50 per cent of their body weight to win the grand prize.
The money isn't really the prize to most contestants, though. It's the chance to make their dreams come true. A chance to put their lives on the right track by taking charge and getting healthy.
What would you do if you could make one major change to your life? Would you lose weight, would you take a different career path? What would make that much of a difference to your life as you know it?
And if you weren't able to do it -- if you were unable to do what you set out to do -- would that make you a failure?
Stop looking at life as win or lose, black or white, thin or fat.
What I find frustrating is that some of the contestants seem to consider anything less than massive weight loss a failure. It's as if their entire life rests on their ability to lose the weight.
While most of us do not hinge our success on dramatic weight loss, we still often take that roll-of-the-dice approach on other issues. When you don't get that job promotion you wanted so badly, do you feel like a failure? If you haven't found someone to spend the rest of your life with, do you feel like a failure? If life doesn't look as good as it does in the movies, do you feel like you've failed somehow?
We put so much pressure on ourselves to live up to a standard created by society (or television), that we hurt our own self-esteem and self-worth in the process. We compare ourselves to a standard that is unrealistic and we come up short. If we try (by applying for that job, going to the gym or doing something outside of our comfort zone) and don't achieve a 100 per cent success rate, we deem ourselves to have failed.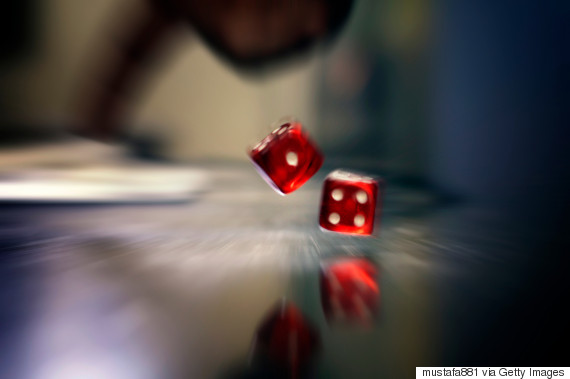 (Photo: Mustafa881 via Getty Images)
Stop comparing yourself to what society says you should be, and instead create your own measurement system. Stop looking at life as win or lose, black or white, thin or fat. There are many other ways to look at life rather than success vs. failure.
I think that anyone who tries to keep healthy, anyone who applies for a better job, goes on a date with someone new, tries something out of their comfort zone and puts any risk in their life is a winner. It doesn't matter if they are 100 per cent successful; it's the attempt that matters.
You are a winner just because you tried! Rolling the dice is what's important, not what happens after the roll.
Follow HuffPost Canada Blogs on Facebook
Also on HuffPost:
If At First You Don't Succeed...
Dr. Seuss's work was often dismissed as "nonsensical" by potential publishers and agents. It's now thought that over 600 million copies of his books have been sold worldwide.

Quentin Tarantino's film was deemed "unfilmable" by one studio, while others expressed concerns over the frequent violence. At least 3 passed on the project before Harvey Weinstein's Miramax took a chance.

Jerry experienced knock-backs both on-stage as a stand-up comedian before creating his show.

It's not just the artists themselves that get rejected y'know! Kylie Minogue was asked whether she'd like to record the track, but after after listening to a demo, she decided it wasn't for her. Britney's version then went to number one in over 6 different countries.

United Artists and Universal both decided that 'Star Wars' presented too many budget concerns. When Fox did say yes, they still remained concerned that the first movie would cost too much money.

Decca Records told the fab four that "guitar bands are on the way out". Whoops...

Andy Warhol was so desperate to get noticed that he once tried to give his work away. You'd think this would work, right? Wrong. The New York Museum Of Modern Art sent his pieces back. Ouch...

JK Rowling's first 'Harry Potter' book was turned down by multiple publishers, until Bloomsbury decided to take a chance on the author.

Meghan Trainor's track was turned down by Beyoncé and Adele, which is when songwriter Meghan decided to record it herself.

Any idea why 'Breaking Bad' ended up on Netflix? The first two series were picked by Channel 5 here in the UK, but the company then decided not to bother with the rest. Thank goodness for Netflix, eh?

Steven was rejected by the University of Southern California School of Theater, Film and Television THREE times. How wrong they were...

Simon Cowell famously said no to the Greatest Girlband Of All Time.

The classic movie was turned down by a number of studios, before a home was eventually found with Universal.

Eimear McBride's 'A Girl is a Half-Formed Thing' was knocked back by many publishers, who struggled with her testing, but nonetheless brilliant, writing style. Fast forward to 2014, and Eimear nabbed the Bailey's Women's Prize For Fiction.

Walt was once dismissed from a journalism job, being told, "he lacked imagination and had no good ideas". Walt then tried to start a number of businesses, and failed, before filing for bankruptcy. Of course, success came later when he founded the legendary film company.
Follow Rhonda Scharf on Twitter: www.twitter.com/RhondaScharf