Unintended Consequences Of Expanding The Canada Pension Plan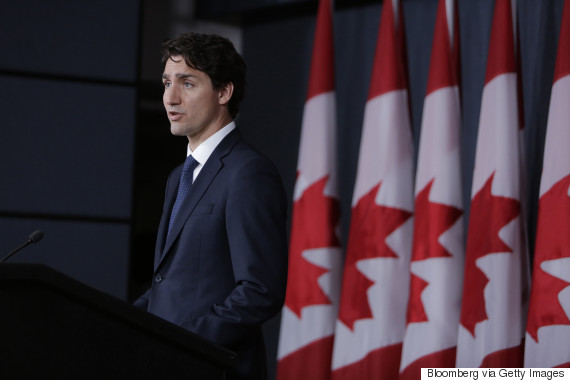 June 22, 2016: Trudeau highlighted progress during his first seven months in power on Canada's national pension plan and tax cuts for the middle class. (Photo: David Kawai/Bloomberg via Getty Images)
Amazingly, eight of 10 provincial finance ministers and the federal government have agreed to a modest increase in the Canada Pension Plan (CPP). The two provinces who have not signed on are Manitoba, where the government is only four weeks old, and Quebec, which has chosen to allow itself the option of adopting a differing strategy. Since there is already a separate Quebec Pension Plan (QPP), this should have a minimal impact -- although it will complicate administrative records for employers with multi-provincial employee groups.
While the new second-tier CPP is modest, it will have some important impacts. Some will be good, some will be bad and many may be unexpected consequences.
The new CPP will be fully funded which means everyone pays for their own benefits in full with no debt passed to the next generation. That's good since it minimizes intergenerational transfers of wealth. It also implies enhanced security to plan participants because future generations of participants are not relied upon. Finally, full funding is consistent with the existing CPP legislation (from 1996).
But it is also bad. It means that full new benefits will not be available until at least 39 years after 2025, when the initial implementation of the CPP expansion is completed (ibid). The larger fund (versus the base CPP) also means more volatility than if the plan were financed on a pay-as-you-go basis since investment returns, upon which fully funded plans are dependent, are more volatile year to year than demographic variables like fertility, mortality and migration upon which pay-as-you-go plans depend.
The new plan could discourage private savings -- not the hoped-for result. And it could stifle private sector innovation
The new CPP will be pan-Canadian except for Quebec. This is good as it will be a large enough plan to invest in alternative assets such as infrastructure and private equity. It should result in low management expenses. And the plan can collectively carry the longevity risk and pay out lifetime benefits which is a huge advantage.
But it is also bad. A plan this large will accrue a very significant asset pool. One must ask where such a large asset pool can be invested in a prudent fashion that will still earn high returns.
The new CPP will be a Target Benefit Plan. That means that benefits and contributions can be changed if the real world does not turn out the way the pricing actuaries assumed. That's good as it allows the plan to automatically balance itself so as to optimize stability and sustainability. And it is consistent with the design of the basic CPP.
But it could be bad. Will participants understand that the new tier does not bring guaranteed benefits? What will happen when you have to freeze or even reduce benefits or increase contributions? Is this politically feasible?
The new CPP may also bring some surprising consequences. Some will be good. Obviously for a worker with no pension or a very weak pension, that person now gets a new tier of (modest) benefits. Smaller plans may be well advised to close and effectively move their workers into the more effective and efficient new CPP.
But there are remaining concerns. How many small plans will respond by just closing? Many of these plans are well administered and we should not create incentives for them to terminate. Many workers will now be forced to pay a second tier of contributions, but when benefits are paid, will lose a significant portion of their Guaranteed Income Supplement and other welfare benefits.
Even with a new Working Income Tax Benefit (details not yet known), is that fair? Have we targeted the correct audience with this reform? The new plan could discourage private savings -- not the hoped-for result. And it could stifle private sector innovation. Again, an unintended consequence with negative impacts.
Is this "one size fits all" solution the best we can do? Unfortunately, we may not really know the answer for decades to come. Obviously, there is room for more discussion and debate. This story is not over yet.
Follow HuffPost Canada Blogs on Facebook
MORE ON HUFFPOST:
The World's Top 10 Retirement Havens For 2015
Ecuador is the best country in the world to retire to, according to International Living's Annual Global Retirement Index 2015. The country gets top scores (100) in the Buying and Renting and Climate categories and scores high across the board in all other categories. Expats are drawn by the low cost of living, perfect climate, the beautiful and diverse landscapes and the favorable retiree benefits.

Coming in second place in International Living's Retirement Index this year is Panama. When it comes to the "Benefits and Discounts for Retirees" category of the Index, Panama has always ranked at the top with a perfect score of 100. Simply put, no other country in the Index does more for retirees, both local and foreign, offering a host of discounts with its pensionado program.

Mexico is the third best country in the world to retire to. Due to its proximity to the U.S., the comforts of home are never far away in Mexico. Established expat havens in communities such as Puerto Vallarta and San Miguel de Allende ease the integration process, while excellent property can still be found for far less than you'd pay in the States.

Every year, more and more expats are waking up to the amazing opportunities Malaysia has to offer. The country has one of the most robust economies in Asia, and this is reflected in the consistently high standard of living available to locals and expats alike. It's just one of many factors that led to it being ranked the highest Asian nation in this year's index.

Coming in fifth position in this year's Retirement Index, Costa Rica scores high points across the board, especially in the Integration and Entertainment and Amenities categories. Costa Rica is a hugely popular retirement haven for the climate, neighborly atmosphere, low cost of living, excellent health care, stable democracy, and countless ways to have fun.

The small island of Malta enjoys plentiful sunshine year-round, on top of world-class health care (consistently ranked among the top five in the world by the World Health Organization) and tasty Mediterranean cuisine. The island also has one of the lowest crime rates to be found anywhere. All this contributes to make it the sixth best place in the world to retire.

For those seeking sun and affordable living in Europe, Spain remains by far the best option available, evidenced by its standing as one of the highest ranked European nations in the Index (tied with Malta). Although not as cheap as in most of Latin America, property in Spain is often of a high standard and far better value than in many other European countries. Likewise, Spain's cost of living is lower than what you find in much of Europe.

For North Americans heading south, Colombia is becoming an increasingly popular choice. Given all that this diverse country has to offer, it's not difficult to see why. Second only to Ecuador among South American nations this year, Colombia has an incredibly low cost of living; according to International Living Colombia Correspondent Michael Evans, a couple can live comfortably on just over $1,200 a month.

Portugal's mild climate, its low cost of living, and its largely First-World infrastructure make it an increasingly popular European option. English is widely understood, especially in the large cities, and—combined with the warm Portuguese hospitality—makes it easy to settle in and feel at home, whether you prefer sophisticated urban environments like Lisbon or one of Portugal's many beach communities.

As Asia's appeal to North American expats continues to grow, Thailand has become a popular destination. The country combines the best of authentic Asian cuisine and culture with enough North American influences to help you feel at home. Thriving expat communities already exist in the larger cities, such as Bangkok and Chiang Mai, and resort areas, such as Phuket and Hua Hin.
Follow Robert L. Brown on Twitter: www.twitter.com/evidencenetwork