If the Photo of My Period Made You Uncomfortable, Ask Yourself Why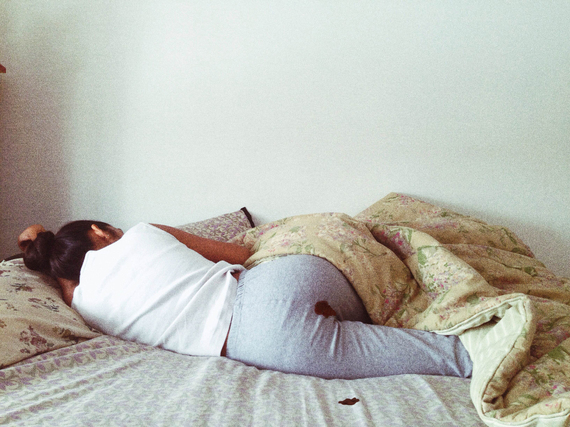 It was a school project for a course I'm taking in my senior year at college. It was an Instagram post made to dissect the way different forms of media embrace a piece of visual rhetoric. It should not have been a big deal. It should not have been a brave, nasty, or terrible thing to do. A school project should never have turned into a protest.
Yet when Instagram repeatedly removes the photo of a sleeping girl with a period stain on her pajamas, this becomes more than a class project. You are quickly pulled back into your fourth grade classroom. The constant streams of bullies run through your head. That is the moment you must decide if you are going to be the person you needed all those years ago. The alternative is to be the person that stood next to you and watched silently. However you know the pain of being silent and you cannot sit around. So you speak.
Eventually they listen.
I have just come back from a small dinner with some family and friends. I have tried not to venture out much in the past few days. Having your backside plastered onto some of the biggest headlines in the world will do that to you. But I was feeling for some Italian food and so we walked into a restaurant. Before we were seated, the cooks and waiters came to our table, thanked me for the photo and gave me a hug. And then it hit me. It was clear. The conversation had spread. The discussion had begun. Opinions were being shared. We were finally talking about the period without any shame. The word wasn't being whispered anymore.
This photo was supposed to make you feel uncomfortable. It was intended to disrupt and open dialogues which venture beyond our simplistic notions of how comfortable we feel and reach into spaces where the impact of our silence results in actual, real world problems for marginalized female populations.

Why are we so terrified of a natural process that allows for life to be brought into this world? Why do we scramble to hide our tampons when we pull them out of our purses? Why do we whisper "period," but shout "bitch," "slut," and "hoe"? What is more damaging? What is it about the ways our bodies work that makes us so ashamed?

We are content seeing sexualized bodies, but the moment we gaze upon something that does not serve our sexual egos we are offended. Highlighting the fact that the vagina is used for something other than sex is a direct attack on our idyllic conceptions of a manicured feminine identity. We are not outraged by blood. We see blood all the time. Blood is pervasive in movies, television, and video games. Yet, we are outraged by the fact that one openly discusses bleeding from an area that we try to claim ownership over.
"I wouldn't put up a picture of my semen so you shouldn't post your period."
This attempt at an equivalency became the most vocal critique in the days immediately following the piece. From classrooms, funerals, and temples to Instagram comments, a man can openly talk about "jerking it." In these public and private spheres, semen does not have the same taboo and shame associated with periods. Another comparison is made between feces or urine but these do not negatively influence the opportunities we may or may not get due to our period. We are not told we are sick. We are not told we are dirty. We are not forcefully stopped from leaving the house, going to school or attending our place of worship. These excretions do not fill us with shame or fear each time we get up from our seat wondering if we are leaking and if so, how we might be perceived by those around us.
Since the photo has been circulating, the outpouring of love and positive reactions has been astounding. It has been a move toward a better direction of open discussion and embracing what is naturally ours. One of the most poignant responses is from Mary Elizabeth Williams of Salon who wrote,
"If you're a platform that reaches millions of individuals every day, you have a unique opportunity to educate and enlighten. Maybe even help. Or you can go on treating female experiences that aren't sexy as offensive. What women are expected to endure in silence is real, and that silence hurts them. We have to fight for change. And you can't have a battle without blood."
ALSO ON HUFFPOST:
Top 10 Stupid Period Myths
TRUTH: Run, bike, dance — do whatever you want. These are just some of the so-called "strenuous" activities you can still do while you're on your period. Unless you're in a lot of pain, feel free to exercise or partake in any other type of activity. In fact, some studies even suggest exercising can help with painful periods.

TRUTH: There was a time when young girls were told strange things like if they went swimming in the ocean, their period scents would attract sharks, or their tampon would swell with water, causing them to drown. These are pure myths. Tampons, for example, make it easier for women to enjoy swimming or beach days during periods.

TRUTH: Unless you're carrying a big red sign that says "it's my time of the month," nobody will know you're on your period. If you're embarrassed about pad lines (even though you can hardly tell), try wearing a tampon. Sometimes, you may also have a period odour. Again, nobody else can smell it. If you are worried, change your tampon or pad more often.

TRUTH: Tampons are perfectly safe for both teens and adults. If you still haven't used a tampon and you're worried about discomfort, make sure you read the instructions carefully. And no, using tampons doesn't mean you lose your virginity.

TRUTH: For the first few hours/days of your period, it may seem like you're losing a lot blood. On average, women lose about 60 ml (4 tablespoons) of blood, and considering a teen who weighs 110 lbs has about 3,500 ml of blood in her body, you can see the loss isn't that big.

TRUTH: No. Just no. There is no way a tampon can "float" away inside your body. Once you insert a tampon, it will stay there until you have to take it out.

TRUTH: You CAN wear a tampon overnight. Most tampons can be worn for eight hours a day or night, keeping in mind you should change your tampon every four to eight hours.

TRUTH: Again, false. Sleep on your back, front, side, whatever makes you feel comfortable. If you're worried about leaks, try pads and tampons that are meant to be worn overnight.

TRUTH: PMS (premenstrual syndrome) can occur seven to 14 days before the period begins. During this time, women may experience acne, bloating, tender breasts/nipples or mood swings. Some studies have shown mood swings, for example, may not exist, but this again varies from woman to woman.

TRUTH: The key to using tampons is to relax. If you don't get it right the first time, don't worry. Practice makes perfect, even when it comes to tampons.

NEXT: Worst Nicknames For Periods" width="52" height="52"/>

What it sounds like: A really bad horror film about a group of teens who drive their car out into the woods and get haunted by a ghost. But what you're actually referencing: There are cramps, and yes, blood to deal with, but getting your period isn't a curse of any sort — it's part of being a woman of a certain age. Periods involve our ovaries releasing eggs, while hormonal changes prepare our uteruses for pregnancy. See ... not so scary.

What it sounds like: A really cool and urban aunt who likes to listen to hip hop and buy vinyl records But what you're actually referencing: Aunt Flo only visits once a month (a 28-day cycle to be exact). She is kind of uncomfortable, annoying and her conversations never stops flowing...

What it sounds like: Your really really really old aunt who has a kind soul. But what you're actually referencing: Similar to her sister Aunt Flo, Aunt Rose seems to be the nicer of the two: Because we all know things like rose petals and rose bushes resemble menstruation.

What it sounds like: Like you have a giant wound and you can't stop bleeding. Ever. But what you're actually referencing: You're being pretty literal here, but yes, a period means you're bleeding from your vagina.

What it sounds like: A really trendy urban cafe. But what you're actually referencing: The dot/dots that appear on your liner, pad and sometimes on your bed sheets and underwear. Also, dot = period.

What it sounds like: Not just any friend, but a really annoying friend you don't like. But what you're actually referencing: Sometimes we try to make the best of what life throws at us by staying positive and remembering our periods can be our friends.

What it sounds like: When the plumbing went wrong ... for a week. But what you're actually referencing: Again, the leak refers the constant flow of blood coming out of your body. We also assume people are referring to leaks they get on their pants or bedsheets. The worst.

What it sounds like: Time of the month sounds like a hush-hush thing that happens to your body that only you and members of a secret club understand. But what you're actually referencing: TOTM refers to time of the month when your period is taking place — just so we're all on the same page.

What it sounds like: A newsletter or a magazine that comes out once a month But what you're actually referencing: To add emphasis that everything is cool with your flow and your period only happens once a month.

What it sounds like: Teenage slang But what you're actually referencing: PMS actually stands for premenstrual syndrome, and isn't a synonym for your period at all.

What it sounds like: A dirty old cloth you use to wash your dishes and floor But what you're actually referencing: The rag is closely related to the pad or tampon we wear during periods... and how uncomfortable it is. It's also an unfortunate visual.

What it sounds like: This river in China! But what you're actually referencing: We're not sure with the obsession of words like "river," "water" or "flow" when it comes to describing your period. Our best guess? The assumption that when a woman is on her period, she is forever bleeding.

What it sounds like: It sounds like what it is, the bleeding elevator from the 'The Shining.' But what you're actually referencing: Periods are scary and women bleed and if you see/talk about this blood, something terrible will happen. Get a grip, people — the only thing frightening about periods is using phrases like "the shining" to describe it.
Follow Rupi Kaur on Twitter: www.twitter.com/rupikaur_