How To Look Amazing For An Evening Out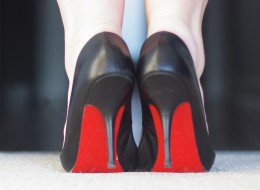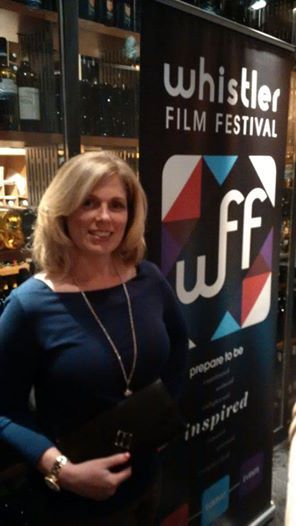 One of the things that I have the most difficult time with is dressing for an evening out. A formal function or any event that will require heels and a dress. I can easily get overwhelmed by the task of putting together the right dress with shoes and then accessories.
For the longest time, I thought of evening attire as being uncomfortable and having to put on clothes that were not really me. And to be honest, I would rather spend my money on other things. Cute ski outfits, jeans and a long sleeve T-shirt all seem much more appealing ways to be spending my income than on uncomfortable painful shoes that I will want to tear off my feet as soon as I get home.
A few months ago, I attended a very formal fundraiser event and the woman sitting next to me was in flats (while I had slipped off my heels under the dining room table) and she was in pants, looking comfy and happy. It made me pause, that it is possible to feel your best self and look the part for an evening function. From that point on I have made a pact with myself to find formal options that suit my lifestyle and personality.
Recently, I spoke with a few experts and they shared their top tips of how to put together an evening outfit that will help you feel your very best in.
Jill Fraser, Founder and CEO of Jill Milan, a luxury vegan handbag company based in California shared with me her tips on evening handbags for fall.

What are the top trends for evening bags this season?
We're still seeing a lot of metallic clutches, especially in silver. The metallics are in leathers, faux leathers and metals. Metallics are tremendously versatile because they can be worn with nearly all dress colors. Alexander McQueen and Saint Laurent also have some very nice studded bags, while Dolce and Gabbanna and Diane von Furstenberg have clutches in leopard prints.
Some designers are beginning to use chevron stitching on their clutches, too. Other designers are mixing media--a leopard fabric with leather, for instance.
In terms of colours, black is of course always popular, but there are also a number of other colours this fall--burgundy, blue, red, pink and yellow in particular.
Burgundy was enormously popular last fall and it will continue to be important this season.
Which styles are important?
For the red carpet, minaudieres are the most frequently carried. Envelope clutches, though, are also popular and for a bit more casual look, there are a lot of foldover clutches on the market this season.
For the top tips on how to accessorize, I spoke with Kim Wood, Jewellery designer and Creator at Kim's Jewellery Design.
How to pick the right jewelry for an outfit?
I think this all depends on what you're wanting to accent. If you've got a great print dress then I would go with simple yet sophisticated jewellery that compliments the print. However if you've got a great statement necklace that you want to wear, then I would tone down the outfit while complimenting the jewellery with eye makeup, a handbag or shoes.
Another thing to think about is what kind of mood you're in. If you're in an excited and confident mood then pair that with either a bold outfit or a bold piece of jewellery. If you're feeling more calm and relaxed, then go for something more quiet yet beautiful.

Do you need to match all your jewelry for an evening outfit?
Certainly not. You will actually see the opposite this season. A lot of celebrities are wearing mismatched earrings which are a big hit right now. While matching jewellery for an evening outfit is not necessary, complimenting your jewellery with your outfit is!
Be sure to stick to wearing similar metals or the same shades of colours in your jewellery so you look fashionable and not tacky.

What are the top trends for jewelry this season?
The mismatched earrings are a definite trend this season. Jewel tones are a popular colour palette as well as geometric shapes. Statement necklaces are also still very much on trend for fall 2014.

If you could pick only a few key pieces to have for jewelry that you can use for casual or formal what would they be?
For me, pearls and diamonds are classic pieces that can create immediate elegance when worn properly or can really compliment casual wear. If your budget does not necessarily allow you to flaunt beautiful double-digit carat diamond studs or pearls that are fresh-from-the-oyster, then look for quality faux options.
For tips on how to pick a fabulous comfortable evening dress I asked Jennifer Graham, Designer at Salts Clothing for the best advice on this seasons trends.
What are the top trends for evening dresses?
Blues are on trend right now. Blues are going to be big next year too. Light sea foam greens
are really trendy. The best colours are always what flatters the person wearing it. Colours flatter a woman's complexion and features, and really bring out their natural beauty.
How to choose a dress that is sophisticated but comfortable?
Choose the right cut and drape to look sophisticated while still being comfortable. Know your own body shape and what cuts/fabrics work for your personal style. If you know what styles flatter you, it makes it easy to build a wardrobe around those cuts and shapes.
I love dressing in knits, like the Bamboo viscose and organic cotton blends. They are comfortable and versatile. You can add a jacket for the office or dress it down with pretty flats for a day off.
Tips to dress curvy bodies, are there certain designs, fabrics that are more flattering?
The cut and drape of the fabric is the most important for curvy bodies (and thin ones too). Look for the fit to be looser and with a bit of flow and room. Choose silhouettes that graze you best parts. Play up your favourite parts! Proper fitting undergarments are also an necessary in many outfits. Make sure you have someone check to make sure your silhouette is smooth from all angles.
What are the best fabrics for eco friendly clothes?
Favourites are bamboo viscose with organic cotton and lycra. Its is the perfect blend of slinky with body, non clingy and a touch of stretch. It also lasts so well even through the washing machine and dryer.
Other tips you may have about putting together an evening outfit that is comfortable, kind to the planet and women can feel their very best in?
Shop second hand stores. You can find amazing pieces by shopping second hand. Mix and match them to create new looks. Turnabout has some great tips of how to shop second hand online too. Best piece of advice is to play with your look and try new things on. You might be surprised with what new looks you can come up with if you're open to playing.
Stay tuned to my blog and share your comments below. Your tips and suggestions are always welcome, as I continue on my journey to find pretty, stylish and comfortable fashion.
MORE ON HUFFPOST:
FIT Future of Fashion 2014
This dress with fox shrug started off the runway show and set the tone for the rest of the evening -- metallics, fierce but wearable jackets and lots of fun fabrics to play dress-up with.

Deep cuts were often found in asymmetrical dresses and pantsuits.

Because who doesn't need a mohair sweater and charcoal jacquard skirt with a pop of orange? Also, note the bold, oversized clutch -- the first of many.

Crop tops crowded the catwalk, and were found on more than a few models.

You could literally fit everything you need for a night out and more in this crazy cool clutch.

We get why Rachel Zoe says "I die" so many times when she attends fashion shows/talks fashion/wears fashionable things.

These pants were even more amazing in person, and the shoes reflect a popular Spring 2014 trend we've seen on both the runway and the street.

This black knit leather dotted top wowed us, and is definitely a good look for risk-takers.

White wool, "woven strips" and fringe pieces with a lot of movement were commonly seen throughout the show.

When this piece appeared on the catwalk, you could literally hear everyone gasp. This was the most memorable design for us (but maybe not the most practical).

This silk organza dress is from the FIT Milan campus, where it was hand-painted.

This looks a lot like the prints we saw at Chanel and Moschino that channeled the logos of popular fast food restaurants.

We're not quite sure what's going on with the glasses, but again, the emerald color and cut-out slip popped on the runway amidst the sea of metallic sheaths.

Or don't, because this is power-clashing done perfectly. Take note, ladies and gents!

Mohair, white snakeskin, organza, silk, wool, satin, mixed leather, suede -- any sort of fabric you could imagine was present on the runway, but this jacket was partially made from something unexpected -- shoelaces.

When the wee models came out to Pharrell's "Happy," everyone cracked a smile. One little girl had all the swag, delighting photogs with her Adriana Lima-esque attitude (her photo is featured in the slideshow below).

The last looks were other-worldly lingerie, seemingly too intimate and detailed for even La Perla. Corsets, long capes and intricate stitching set to an EDM/female/stripped-down version of "Get Lucky" made for a heavenly scene.

While Alexa Chung told us that she would definitely be willing to try out the latest socks-and-Birkenstocks trend like the Olsen twins, we could definitely see her wearing this socks-and-shoes combo.

One of the most interesting looks of the night was a white, 3-D printed dress (We have no idea how to even explain this, but they are the Fashion Institute of Technology).

By the time the show wrapped up (ending with the song "Selfie," because of course) I felt like I'd seen many, many different looks that were all not only beautiful, but also very wearable and chic. Alexa Chung closed the show, telling all of the graduates to "go get wasted." After all that hard work, pretty good advice.
Follow Sacha DeVoretz on Twitter: www.twitter.com/SDeVoretz