Top 10 Social Media Marketing Tips for Small Business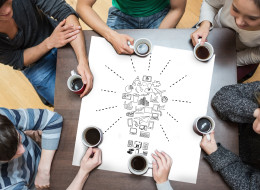 As a small business owner, social media can feel overwhelming. Twitter streams move so fast, in a blink your message can get lost. Becoming an 'Instastar' (a person whose Instagram becomes an overnight sensation with 100,000 + followers) is nearly impossible unless you have hours to spend honing the perfect photo and your audience is in their early 20s.
So what are the best methods to market your small business using social media?
To find out all the tips and secrets to effective social media marketing, I spoke with Jill Schoolenberg, Vice President of GoDaddy Canada. Jill shared with me all the top tips to help small business strategically use social media to get your message out to your target audience.
1. Start with a plan! It might sound obvious, but too often people put up a Facebook page or start tweeting without thinking about how these tactics can help their business. Doing social media well requires committing both dollars and people to the effort. (You'd be surprised what $20.00 to boost a Facebook post can do to increase eyeballs.) Nothing will turn off a customer more than old, outdated posts and skimpy content.
In fact, "going dark" for too long can cost you followers. But don't feel pressured to post every day. It's best to find a cadence that works for you and your audience and stick to it. Social media is an investment and needs to be prioritized to get maximum benefit.
2. Define your target audience and choose a corresponding social media platform. If you're trying to reach teens or tweens, then SnapChat might be the right way to go. If you're trying to reach their mothers or fashionistas, then Pinterest would be a better choice. You can also tailor your posting schedule to your audience.
Are most of your customers on the East Coast? Then schedule updates for the times they'll check their feeds. Keep it simple to start by picking one platform and doing it well. You can always add more later as you gain experience.
3. The top three elements of a robust social media plan are: content, content, and more content! Keep your content fresh and current. Blogging is a great place to start. As a small business owner you are the expert in your category -- don't be afraid to share your insights, but do so in "customer friendly" language.
Remember, you don't have to do it all yourself. To build up your content, feel free to repost or share other's content. (The fancy social media term for this is "curated content").
4. Social media isn't just about the written word anymore. Post pictures that demonstrate your product's benefits. Video is even better -- videos have twice the engagement as photos on Instagram.
You can shoot a simple video with your smartphone that shows your product in use. Consider using one of your customers in the video to build your brand's credibility and then post it on YouTube or embed right it on your Facebook page and blog.
5. Don't try to sell on social media platforms but instead aim for engagement. Getting customers to like/share your content is really important (even if it is just your sister). Social media is a way for your customers to get to know what you and your company value and are passionate about. Be authentic and put up share-worthy posts.
Get your customers to like you and they'll be more receptive to buying from you down the road. Share content that paints your worldview and bring your fans along for the ride.
6. Be responsive to customer comments made on social media. If a customer makes a comment (positive or negative) get back to them right away. Ensure they know you are listening and responsive.
Demonstrating empathy for your customer may not change their mind, but will win you kudos with other readers. Listening and responding to social media requires time and thoughtfulness -- another reason to start slowly and build into more platforms over time.
7. Social media is the journey, your website is the destination. If your social media does its job , your prospects will end up on your website to learn more or make a purchase. You'll want to have a website up and running before you start your social media activities, so you have a site to point to from your social media channels. It doesn't have to be perfect out of the gate.
8. Be authentic. Make your social media channels and website a reflection of you and your brand so they feel real and are easy for you to update regularly. Speak in your own voice, but be careful to match the tone of your content to your business. If you are selling a medical product, then your content should be factual and your tone scientific.
If you are selling a fitness product, then an energetic tone may be more appropriate. Whatever the case, always use your own customers on the site -- both in visuals as well as testimonials.
9. Customer focus - it's not about you, it's about them! Observe the language your customers use to talk about your field and engage with them on those terms. Use hashtags to join ongoing conversations on social media, and incorporate commonly used terms in your website to help customers find you through web searches.
A lot of customers type questions into their browsers ("how do I season my cast iron pan?"), so if you sell cookware you'll want to use this kind of language on your site rather than more technical terms that might be familiar to you but not your prospects.
10. Don't forget about mobile! Most tweeters use Twitter on smartphones and tablets, and half a billion Facebook users only use the site on mobile devices. And of course, the biggest social media platform -- Instagram -- is a mobile-first experience.
That means that many of your social media followers will be opening your website on mobile, so it's important to make sure it's optimized to provide a great browsing and shopping experience.
I love all of these helpful social media marketing tips and will use them as I continue to get the word out about my blog this year!
Your suggestions are always welcome, as I continue on my journey to live life to the fullest. Let's have the very best 2015!
Visit Sacha daily at SachaD.com
Facebook
Youtube
Twitter
Instagram
Tumblr

ALSO ON HUFFPOST:
Steps To Setting Up Own Business
A unique idea might not necessarily be one that no one else has thought of. It could be that someone looked into it and found it was simply not financially viable. Do extensive market research to assess exactly what your competitors are offering, and more importantly, why they don't offer the things you'd like to. Study published data for quantitative research and get feedback from your potential customer base for a more qualitative analysis. Find out why they would buy into your idea, how much they are willing and able to spend and how often to make your start-up worthwhile.

Just because you're going it alone does not mean you can operate a business without structure. A business plan is crucial to help you clarify your idea, spot problems, set out goals and measure your progress. It's highly unlikely that a bank or an investor will consider offering you a start-up loan without one. To find out how to put together the perfect plan, log on here.

Register yourself as a sole trader and start branding your product. The name of your business will be crucial – you'll need to get a logo designed, print out letterheads, business cards and register the domain name, which means changing your mind afterwards will be a waste of money and time. As well as making sure the name reflects your business and sounds appealing to potential customers, check the name isn't already taken (or too similar sounding to a competitor). Also check that nothing unsavoury pops up on search engines when you type it in! If your idea is genuinely new, get it patented for free.

Starting a business on your own doesn't mean you can do it without others. You'll need to source and build a good relationship with reliable and affordable suppliers, as well as distributors. A start-up also relies heavily on validation, so get to know people whose endorsement will make new customers take you seriously too. And don't forget, you can be a sole trader and still have partners to help share the load.

Make yourself accessible and approachable from the get go by building a website that's both professional and personable. Make it is easy-to-navigate, easy-to-understand and easy on the eye. Choose a host that provides quality support, ensure your site loads quickly, and that it works effectively on mobile devices. Find out as much as you can about SEO. Start building up followers and likes on social networking sites as soon as possible, have engaging interactions with them regularly, so by the time you're ready to launch your product, you already have a loyal base to help you spread the word.

The excitement of starting up your dream business means it's easy to overspend, but once the novelty wears off, many end up losing both money and heart. Before you start ploughing your loans or your savings into the project, be absolutely sure this isn't a vanity project, that you've assessed the market and your spending well enough to know how you'll keep your head above water until you're guaranteed a profit. Don't skimp on hiring advisors, a good lawyer and accountant will help you get your head around tax and stop you drowning in invoices, receipts and small print.

A solo venture comes with its assurances of stress, so be absolutely sure you have what it takes before you start-up. Do you have the negotiation skills to get the best deals, the communication skills to win people over, a head for figures to ensure you're on top of your finances? A lot of novice entrepreneurs give up once they start to question their product. How will you handle a customer demanding their money back, or reading a bad review online? A thick skin, the ability to come up with solutions to unforeseen problems and a solid support network are all crucial for those going at it alone.
Follow Sacha DeVoretz on Twitter: www.twitter.com/SDeVoretz