The Hottest Vegan Purse Trends For Spring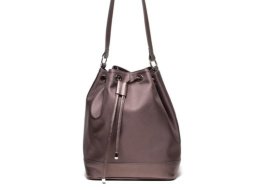 Spring fashion seems like it is in full bloom! From the runways to the magazines. I see different styles and trends popping up everywhere.
More and more there are greater options for vegan fashion. Recently, I spoke with Jill Fraser, Founder and CEO of Jill Milan, a luxury vegan handbag company based in California.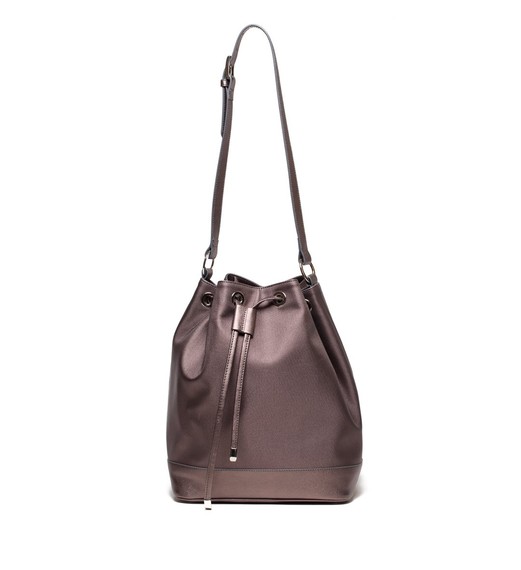 Celebrities like Anne Hathaway, Amy Poehler, Kerry Washington, Jennifer Lawrence, Eva Longoria, Rashida Jones and Carrie Underwood are just some of the stars seen carrying Jill Milan vegan handbags.
Jill shared with me some of the hottest spring trends for traditional handbags and also vegan handbags.
What are the latest trends in handbags for spring?
The '70s are still having a strong influence -- lots of updated bucket bags and saddle bags on the runways. Pucci, The Row, and many others experimented with this style for spring '15. In some cases, bucket bags were perforated or their shapes modified from last season's.
Burberry, Prada, Bottega Veneta all showed duffel bags while brands such as Nina Ricci and Yves Saint Laurent featured tiny mini bags. Many designers also featured bags that were taller than they were long.
What are the latest innovations where style meets technology?
Some interesting developments include leather manufactured in a test tube that does not harm animals. This innovation is still a few years away but there is a lot of talk about it already.
There is also, of course, a great deal of buzz about wearable tech. To date, though, the most successful applications appear to be watches and other devices that monitor heartbeat or health or fitness related issues.
What are the hot colours this spring for handbags?
Wisteria, purple haze, African violet, carnation, turquoise, sky blue, and many shades of green from a light mint to deep greens such as emerald. Lots of pastel colours but still a lot of black and often black and white together. Marc Jacobs, however, showed bags in royal blue, magenta, and other, deeper colours.
What kind of texture and materials will be hot for vegan handbags for spring?
I'm seeing a lot more denim, which can be a very nice material for handbags, also cotton canvas and some cork. Cork can be a bit fragile, though. Personally, I love micro suedes because they are so durable. I also like wood very much but there is not a lot of it out there.
Many of the larger Italian handbags manufacturers are using PVCs. The advantage of using this material in handbags is that fabrics made with PVCs are stiff and heavier. The disadvantage is, of course, that PVCs are not environmentally friendly.
Stella McCartney, on the other hand, is using a lot of Italian denims and canvases, which are very good fabrics for spring -- every rugged and long lasting.
Any other bits of advice or words on the spring trends?
In San Francisco, we are seeing lots of black faux leather shorts paired with tights and I'm also seeing much longer skirts.
People also seem to be wearing a lot of black and white gingham prints often paired with pastel skirts or tops.
How to take care of your vegan handbags?
Typically, one just needs to wipe them with a damp cloth. Faux leathers are waterproof and many of the very high quality faux are also ink-proof.
I am going to use these helpful tips as I continue to expand by style ideas this spring! I love the idea of having a pretty vegan handbag.
Your suggestions are always welcome, as I continue on my journey to live life to the fullest. Let's have the very best 2015!
Visit Sacha daily at SachaD.com
Facebook
Youtube
Twitter
Instagram
ALSO ON HUFFPOST:
Vegans have found a way to enjoy a hearty breakfast staple -- the omelet -- despite the fact that eggs are not included in their diets. Chickpea flour is a great substitute because, like eggs, it's high in protein and is gluten-free. Its subtle flavor means it can be paired with just about anything. Start out with this simple Chickpea Flour Omelet recipe by Fat Free Vegan.

Many boxed cake mixes are vegan on their own (just check the ingredient list), but lose the title when eggs or butter are added in. Vegans don't have to make their desserts from scratch (though they certainly could -- delicious ones at that!). Vegans and lazy people alike can skip the ingredients listed on the cake box and opt to use a carbonated beverage instead. The two ingredient cake is lower in calories, fat and is exquisitely simple to prepare. Check out all the cakes you can make with just a box of cake mix and a bottle of soda here.

Ice cream is fantastic and should be consumed year-round. Vegans are not excused from this rule. There are plenty of dairy alternatives to make the cool treat happen for any diet, but bananas take the cake when it comes to making ice cream in a snap. Plus, the method saves overripe bananas from being tossed in the trash. When a banana's gone mushy, peel it and store it in your freezer. When you've accumulated enough, you have pretty much everything you need to make the delicious banana soft serve: Just blend, and voila! Check out this handy guide to making vegan ice cream, and if you're drooling over the banana split pictured, get the recipe from Peachy Palate here.

Same story here, folks. Canned pumpkin (or pumpkin puree) can be used as a substitute for typical baking ingredients like eggs and butter. It supplies a moistness to recipes without altering the flavor much. Plus, it boasts a nice amount of fiber. Genius. Get the recipe for these Pumpkin Spice Latte Waffles from Minimalist Baker here. And, be sure to check out all the things you can make with a can of pureed pumpkin (not all are vegan, but you can tweak to make them so).

Like pumpkin, avocado adds a creaminess to recipes without stealing the flavor show. And its nutritional benefit is stellar. Vegans have gotten particularly inventive with avocado, transforming the typically savory ingredient into a dessert superstar. Just contemplate the Chocolate Avocado Pudding pictured (get the recipe here) and try not to salivate. Find more clever ways to cook and bake with avocado here.

This is an age-old, reliable trick. Vegans (and health-conscious folks) have discovered that the easily-found snack can work the same jobs as butter, oil or eggs in a recipe, while oftentimes cutting fat and calories. Of course, the measurements will vary from recipe to recipe, but here is the standard, via PopSugar: 1 cup oil = 1 cup applesauce 1 cup butter = 1 cup applesauce 1 large egg = 1/4 cup applesauce Get the recipe for the Vegan Chocolate Chip Oatmeal Trail cookies pictured from Healthy, Happy Life here.

Vegan bacon may sound like an oxymoron, but replicating the popular flavor of the pig product without using any actual pig is possible. "It's pretty amazing that you can replicate a baconish flavor and crispness with coconut flakes," write The Simple Veganista. Yeah, it is pretty incredible. Find the recipe here.

There are plenty of weird vegan products on the market, from scallops to "leather" skirts. Magic Vegan Bacon Grease (MVBG) is as weird as it is impressive. The stuff is made of coconut oil, non-GMO soy protein, sea salt, pure maple syrup, black pepper, onion, garlic, Torula yeast, and natural smoke flavor, and it lets vegans have their bacon grease and eat it, too. Some argue certain recipes are just better cooked in bacon fat, and this product invites herbivores to join in on the taste experience. Get more information about MVBG by visiting the product website here.

Vegan "hacks" tend to make things a little bit more nutritionally sound, but "healthy" isn't a requirement for a food to be vegan. It is both surprising and delightful to find out that Oreos, the quintessential lunchbox cookie, are in fact vegan. Nabisco probably didn't intentionally craft these cookies as cruelty-free, but that doesn't really matter. Dunked delicately into some dairy-free milk, the perfect vegan treat is born.
Follow Sacha DeVoretz on Twitter: www.twitter.com/SDeVoretz