What Customer Service People Really Wish They Could Say to You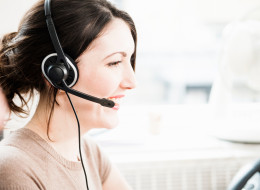 Support is your organization's front line. Customers call them with problems. If your business is a football team your sales people are your offense. Support people are your defense. They solve the customer's problems and pacify their complaints. Sales puts the points on the board, but support keeps them there. Offense gets get the glory, but defense wins the game. Here's a few things a support person wants to tell you, but can't.
"It's not intentional" -- Believe it or not we aren't scheming to interrupt your service. It's not like the IT guys and I had an Outlook calendar event set to bring your accounting software down today. I know, today is the most important accounting day in your life and you need your software. We are working on it.
"I'm not an idiot" -- I realize you have a problem. I appreciate the opportunity to fix it. Remember, you're 38 minutes into this TV show, I'm just tuning in now. Me asking you a few questions to get up to speed doesn't mean I'm incompetent. It means I'm catching up.
"I'm a human being" -- Behind that recipient name or voice on the phone is a human being. I'm doing this job to achieve some goal and look after my family, Porsche, action figure collection, try a business, travel pursuits or some other expenses/hobbies. Just like you. I know you've got pressure coming in, but be bigger and don't put that pressure on me. I get enough already. Remember, nobody calls support because they want to. Just like you don't go to the hospital unless you're sick. Nobody just drops into the hospital for a chat and nobody calls us to say hi. Break the cycle, be civil and we'll solve your problem.
"I'm not responsible for the inconvenience." -- I have nothing to do with your car being stuck in the shop for another hour. Honestly, we are short-staffed because one of our mechanics left their only uniform in the wash and the other one called in sick. This puts a burden on the people that showed up today, but of course I'll never tell you that. What would you think about our body shop if I did?
"This is out of our scope." -- You're going to hate me for this, but we, the good people at Time Warner, Bell, Rogers or Verizon, don't know why your VCR isn't working with your new TV. We can fix your cable or Internet service. That's it. Interrupting my manager's World Of Warcraft tournament to take your call won't help. They'll just tell you 'sorry' with a few more syllables. You need a one-way ticket out of the stone ages of VCRs anyway.
"You sound racist." -- Yes, despite your toddler-like temper tantrum, you still have that firm grip of the obvious intact and realize I have an accent. You had no problem calling a non-location specific, toll-free number (to save money), but still insist on knowing where I am. I may support you from Bangalore, Shanghai, Toronto, New York, next door or anywhere else people that don't look or sound exactly like you might live. However, I do know how to fix your problem and am happy to do so. My superiors invested in accent training and already force me to use a common western name instead of my given name when we communicate. That means I, Harjit Bhatt, respond to emails and phone calls with the name Harry Bhatt to pacify your need for familiarity...and juvenile sense of humour. I don't like people calling me different names any more than you. If your name was Theodore Ruxpin and you worked in India, where the 'th' sound is hard for locals to pronounce, you wouldn't like us to call you Teddy Ruxpin and confuse you with an animatronic children's toy from the late 1980s. Would you?
"My day was fine. Then you ruined it." -- You're probably a nice, good-intentioned person. I'm sure we'd crack a few jokes in line at a coffee shop together in different circumstances. Heck, I know I'd give you the way at an all-way stop in a heartbeat. The situation you're in has made you lose your patience. It's my job to stay patient, but when we disconnect and calm down, I subconsciously take part of the negativity you've so graciously shared with me out on somebody else I have authority over. In the office or out of it. The funny thing is I end up sounding just like you.
I'm sure you support customers or others in some capacity. Who doesn't? Treat people supporting you the way you'd like those you're supporting to treat you. We live in a throw-away society. The squeaky wheel doesn't get the grease. It gets replaced.
ALSO ON HUFFPOST:
10 Companies With Excellent Customer Service
Over 80 percent of respondents ranked Lowe's as "excellent" or "good," in part because of the company's commitment to honoring customer service requests both in-store and through their online channels. The company has also made it easier for DIYers to ask questions in person about projects they've found online by equipping stores with wifi and associates with iPhones reports the Los Angeles Times.

Trader Joe's doesn't carry the biggest selection, but it earns a spot on this list thanks to its drive to stock stores with products requested by the local community. The company also values staying ahead of the curve by taking steps like using allergy labels before they were required and stocking shelves with local goods before they reach a national market.

After repeated consumers called Samsung "the worst customer service ever," the electronics retailer made a serious investment in improving its reputation. In the last year, the company has wooed customers back by launching a worldwide customer service campaign and offering a free app that provides online support, troubleshooting guides, and how-to videos you can take anywhere.

Three out of four respondents believe that like a good neighbor, State Farm is there—and they're not the only ones. In a survey of insurance companies by the Temkin Group research firm, State Farm was recently ranked the No. 2 firm for customer service, just under USAA, because of their accessibility, ability to solve customer problems, and the emotional connection consumers had to the brand.

With their mantra of "Focus on the user and all else will follow," Google goes to borderline insane lengths to test how even the smallest decisions impact user experience. For example, when faced with a choice between two shades of blue for a Google toolbar, the company tested 41 shades to see what tested best reports the New York Times. Fans can expect that level of attention to detail in all Google products.

Despite the recently leaked video of a FedEx driver throwing packages, the air freight company has long held a reputation for delivering goods ranging from typical packages to a 320-pound sea turtle on time without damage. Over 40 percent of those who interacted with the brand in the last year ranked FedEx customer service as "excellent."

UPS garners a 41 percent "excellent" rating by anticipating what customers need before they need it and helping customers through social media. UPS plans to expand those efforts to workers soon. According to the Wall Street Journal, UPS will soon unveil a social networking platform where workers can address safety hazards, concerns, and company criticisms in an effort to make the firm run smoother.

Of course businesses care about their customers, but Hilton outlines its philosophy for exactly how they'll take care of you. For example, Doubletree, a franchise owned by Hilton Worldwide, maintains a CARE committee within each of its hotels that includes workers from every department and exists to monitor hotel performance and ensure that guests are satisfied. The tactic is working, at least according to Zogby's study where four out of every five respondents reported an "excellent" or "good" interaction.

This company is filled with buzz about suite attendants who leave personalized notes and door attendants who provide local homeless people with transportation to the nearest shelter. Details count at Marriott and so does rewarding repeat customers. The hotel chain has taken home numerous accolades for its loyalty program including a top spot on US News and World Report's Best Hotel Rewards Programs list.

With an initiative to hire up to 7,000 new workers, approximately 2,000 of which will be in customer service, the online giant plans to bolster its already robust service wing, reports The Washington Post. The company has long been a pioneer in e-customer service by offering policies like automatic refunds when service standards aren't abided by, free shipping on orders, and price guarantees on pre-ordered items, all of which make it a perennial No. 1 in Zogby's study.
Follow Sajeel Qureshi on Twitter: www.twitter.com/computan